New Mexico Famous People
Famous Americans: History and Biographies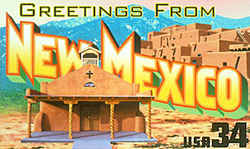 Links to histories and biographies of the famous people of New Mexico. Many famous people of New Mexico have made significant contributions to the history of our nation and the state of New Mexico. These famous Americans, famous entertainers, famous players, famous scientist, famous singers, famous statesmen, famous women, heroes, great explorers, and others New Mexico famous Americans have all made New Mexico their home. This list includes New Mexico historical figures, celebrities and those individuals of New Mexico who have influenced the lives of others.
Robert O. Anderson (1917 - ) Founder of ARCO Oil & Gas; lives in Roswell.
William Bonney "Billy the Kid" (1859 - 1881) New Mexico's most infamous outlaw.
Ralph Bunche (1903 - 1971) Nobel Peace Prize winner; lived in Albuquerque.
Edward Condon (1902-1974) was born in Alamogordo, New Mexico. He was a theoretical physicist who became well known for his research in atomic spectroscopy. During World War II he did notable work on the Manhattan Project. He later became director of a US Army Air Force study of Unidentified Flying Objects.
John Denver (1943 - 1997) Famous Singer/songwriter; born in Roswell.
William Hanna (1910 - 2001 ) was born in Melrose, New Mexico. He was a film animator and producer who teamed up with Joseph Barbera to create the Tom and Jerry cartoon characters. The duo won seven Academy Awards and set up their own production company, which created such cartoon series as The Flintstones, Yogi Bear, and Huckleberry Hound.
Neil Patrick Harris (1973 - ) TV actor who played Doogie Howser, M.D; born in Albuquerque.
Conrad Hilton (1887 - 1979) Founded the Hilton hotel chain; born in San Antonio.
Peter Hurd (1904-1984) was born in Roswell, New Mexico. He was a student and son-in-law of American artist N.C. Wyeth. Hurd is best known for his landscapes of the southwest but he was also an accomplished portrait painter and book illustrator. His portrait of President Lyndon Johnson hangs in the Smithsonian's National Portrait Gallery in Washington, D.C.
Val Kilmer (1959 - ) Actor, famous for roles in The Saint, Top Gun and Tombstone.
William Henry Bill Mauldin born in Mountain Park, New Mexico in 1921. He was a cartoonist who achieved fame with his satirical depictions of the life of an enlisted man during World War II. He won two Pulitzer Prizes for his work. In 1951, Maudlin appeared in the movie, The Red Badge of Courage.
Demi Guynes Kutcher born November 11, 1962), known professionally as Demi Moore, is an American actress, film producer, film director, former songwriter, and model. Moore dropped out of high school at age 16 to pursue an acting career, and posed for a nude pictorial in Oui magazine in 1980. After making her film debut in 1981, she appeared on the soap opera General Hospital and subsequently gained recognition for her roles in Blame It on Rio (1984) and St. Elmo's Fire (1985). Her first film to become both a critical and commercial hit was About Last Night... (1986), which established her as a Hollywood star. Moore was born in Roswell, New Mexico. Her biological father, Air Force airman Charles Harmon, Sr. left her mother, Virginia, after a two-month marriage, before Moore was born. When Moore was three months old, her mother married Dan Guynes, a newspaper advertising salesman who frequently changed jobs; as a result, the family moved many times.
Michael Martin Murphey (1945 - ) Western singer; lives on a ranch in Taos.
Georgia O'Keeffe (November 15, 1887 – March 6, 1986) was an American artist. She is best known for her paintings of enlarged flowers, New York skyscrapers, and New Mexico landscapes. O'Keeffe has been recognized as the "Mother of American modernism"
---
More Famous People of New Mexico
Find more more New Mexico famous people below. You may not even realize many of these famous people were born in New Mexico or notable associated with New Mexico, including actors, actresses, explorers, historical figures, inventors, musicians, novelists, professional athletes, important politicians, singers, sport stars and more.
Jeff Bezos - Founder of Amazon.com
Bruce Cabot actor, Carlsbad
Dennis Chavez senator, Los Chavez
Mangus Coloradas apache leader
Robert Crichton author, Albuquerque
Pete Domenici senator, Albuquerque
Harvey Fergusson author, Albuquerque
Sid Gutierrez astronaut, Albuquerque
Neil Patrick Harris actor, Albuquerque
Dolores Huerta - Civil rights activist
Ralph Kiner baseball player, sportscaster, Santa Rita
Demi Lovato - Singer and actress
John Madden sportscaster, Austin
Katherine D. Ortega - First Hispanic treasurer of the United States
Harrison Schmitt politician, Santa Rosa
Kim Stanley actress, Tularosa
Slim Summerville comedian, Albuquerque
Al Unser auto racer, Albuquerque
Bobby Unser auto racer, Albuquerque
Victorio Apache chief
Thomas Weaver anthropologist, author Greenville
Linda Wertheimer NPR correspondent, Carlsbad