Find the Right School
Online Colleges
Campus Colleges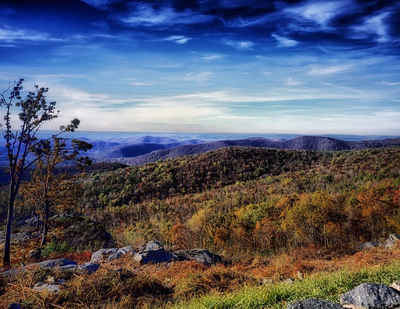 Virginia Counties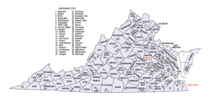 Click Image to Enlarge
Virginia Counties
The Commonwealth of Virginia is divided into 95 counties and 39 independent cities, which are considered county-equivalents for census purposes.
Albemarle County, Virginia
Albemarle County History, Geography, and Demographics
County Seat: Charlottesville
Year Organized: 1744
Square Miles: 723

Court House:

401 McIntire Road
County Courthouse
Charlottesville, VA 22902-4579
Etymology - Origin of County Name
Albemarle County was named for William Anne Keppel, second earl of Albemarle and governor of the Virginia colony from 1737 to 1754.
Demographics:
County QuickFacts: Census Bureau Quick Facts
County History
Albemarle County, Virginia formed from Goochland, Louisa, and certain islands in the Fluvanna River. Boundary changes seem to have continued from 1836-1838, 1855-1856, 1861, and from 1876-1877. Virginia Counties: Those Resulting from Virginia Legislation, by Morgan Poitiaux Robinson, originally published as Bulletin of the Virginia State Library, Volume 9, January, April, July 1916, reprinted 1992 by Genealogical Publishing Co., Inc., Baltimore, MD.]
It was formed from Goochland County in 1744, and part of Louisa County and certain islands in the Fluvanna River, now called the James, were added in 1762 and 1838. As originally created, the western section of Louisa County included the northern third of modern-day Albemarle County. In 1762, this region was cut from Louisa County and added to Albemarle County. Prior to 1762, the Louisa County line extended from about where the Fluvanna-Louisa line intersects the eastern boundary of Albemarle in the northwesterly direction, across the point where Ivy Creek enters the Rivanna River, to the crest of the Blue Ridge just south of Brown's Cove. (Before 1742 this area had been the westernmost part of Hanover County.) As a result of this legislative action of 3 Jun 1777 Fluvanna County was formed from Albemarle County and Fluvanna parish was formed from the Albemarle parish of St. Anne. Albemarle has an area 740 square miles, and the county seat is Charlottesville. Albemarle County is distinct from Albemarle Parish, Surry County.
Neighboring Counties:
Greene County, Virginia (north)
Orange County, Virginia (northeast)
Louisa County, Virginia (east)
Fluvanna County, Virginia (southeast)
Buckingham County, Virginia (south)
Nelson County, Virginia (southwest)
Augusta County, Virginia (west)
Rockingham County, Virginia (northwest)
In addition, the city of Charlottesville is enclaved within Albemarle County. Under Virginia law in effect since 1871, all municipalities in the state incorporated as cities are legally and politically independent of any county
Cities and Towns:
- Charlottesville

(County Seat)

city
Incorporated Area
- Scottsville
town
Incorporated Area
County Resources:
Enter County Resources and Information Here

County Resources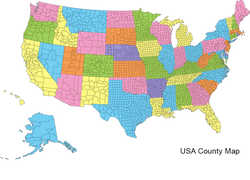 The history of our nation was a prolonged struggle to define the relative roles and powers of our governments: federal, state, and local. And the names given the
counties
, our most locally based jurisdictions, reflects the "characteristic features of this country!"