Find the Right School
Online Colleges
Campus Colleges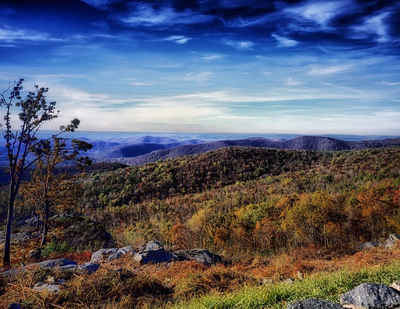 Virginia Symbols
Artisans Center
,
Bat
,
Beverage
,
Bird
,
Boat
,
Dog
,
Emergency Medical Services Museum
,
Flag
,
Fleet
,
Floral Emblem
,
Folk Dance
,
Folklore Center
,
Fossil
,
Freshwater Fish
,
Gold Mining Interpretive Center
,
Historical Outdoor Drama
,
Insect
,
Language
,
Motto
,
Motor Sports Museum
,
Nicknames
,
Outdoors Drama
,
Poet Laureates
,
Quarter
,
Saltwater Fish
,
Seal
,
Shell
,
Song (Retired 1997),
Sport Hall of Fame
,
Tree
,
War Memorial Museum
National & State Symbols

Virginia State Names (Etymology of Names)
Virginia Name Etymology and State Nicknames
Middle Atlantic
Virginia, officially the Commonwealth of Virginia, is a U.S. state located in the South Atlantic region of the United States. Virginia has a total area of 42,774.2 square miles (110,784.7 km2), including 3,180.13 square miles (8,236.5 km2) of water, making it the 35th-largest state by area. Virginia is bordered by Maryland and Washington, D.C. to the north and east; by the Atlantic Ocean to the east; by North Carolina and Tennessee to the south; by Kentucky to the west; and by West Virginia to the north and west. Virginia's boundary with Maryland and Washington, D.C. extends to the low-water mark of the south shore of the Potomac River.
Virginia was named for Queen Elizabeth I of England (she was known as the Virgin Queen). Sir Walter Raleigh may have suggested this name around 1584.
Virginia nicknames
Old Dominion

Ancient Dominion

Mother of States

Mother of Presidents

Mother of Statesmen

Cavalier State
Virginia was named in 1584 in honor of Queen Elizabeth of England, who was popularly called the "Virgin Queen." The name Virginia is the feminine form of the Latin word Virginius.
Virginia is often called the Cavalier State for its early settlers who were loyal to England, and the Mother of States because it was the first to be colonized.

The predominance of the Virginia aristocracy in early United States politics and diplomacy lend Virginia the additional nicknames of the Mother of Presidents and the Mother of Statesmen.
Old Dominion / Ancient Dominion
This nickname for the state of Virginia originated in Colonial days, and Virginia has the oldest citation for any state nickname. Old Dominion has its first recorded sighting in 1778, but this derives from Ancient Dominion, the nickname for the state from the end of the 17th century. Dominion refers to complete ownership of a particular piece of land or territory.
England's King Charles II quartered the arms of Virginia on his shield in 1663, adding Virginia to his dominions of Ireland, Scotland, and France), Cavalier State (for early settlers who were loyal to England)
Mother of States
It is also known as the Mother of States, being the first state to be colonized (a name not attributed to Virginia until 1855, whereas Connecticut had been given the name in 1838) and because of the number of states that were "born" of the Virginia territory. West Virginia, Ohio, Kentucky, Illinois, Indiana, Wisconsin and, even a part of Minnesota were all a part of the original Virginia territory..
Mother of Presidents
Because Virginia supplied seven of the first twelve of the US Presidents. Virginians who served as president include George Washington and Thomas Jefferson.
Mother of Statesmen
Because of the number of statesmen produced by Virginia, this nickname has been used.
Cavalier State
Virginia is often called the Cavalier State for its early settlers who were loyal to England, (supporters of King Charles I during the English Civil War) who left England and came to Virginia during, and shortly after, the reign of King Charles I of England.
Virginia Slogans
Virginia Postal Code
Virginia Resident's Name
Virginian - Official (recommended by U.S. GPO)
State Names

The etymologies of some US state names are more obvious than others, derived from the Spanish or French tongue. Though, more than half of the US state names come from Native American tribal languages, with several still a mystery to scholars and historians.