Find the Right School
Online Colleges
Campus Colleges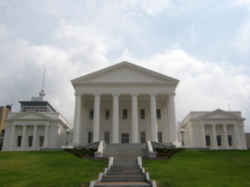 US Famous People
Virginia Symbols
Artisans Center
,
Bat
,
Beverage
,
Bird
,
Boat
,
Dog
,
Emergency Medical Services Museum
,
Flag
,
Fleet
,
Floral Emblem
,
Folk Dance
,
Folklore Center
,
Fossil
,
Freshwater Fish
,
Gold Mining Interpretive Center
,
Historical Outdoor Drama
,
Insect
,
Language
,
Motto
,
Motor Sports Museum
,
Nicknames
,
Outdoors Drama
,
Poet Laureates
,
Quarter
,
Saltwater Fish
,
Seal
,
Shell
,
Song (Retired 1997),
Sport Hall of Fame
,
Tree
,
War Memorial Museum
National & State Symbols

Virginia Famous People
Famous Americans: History and Biographies
Links to histories and biographies of the famous people of Virginia. Many famous people of Virginia have made significant contributions to the history of our nation and the state of Virginia. These famous Americans, famous entertainers, famous players, famous scientist, famous singers, famous statesmen, famous women, heroes, great explorers, and others Virginia famous Americans have all made Virginia their home. This list includes Virginia historical figures, celebrities and those individuals of Virginia who have influenced the lives of others.
More Famous People of Virginia
Richard Arlen actor, Charlottesville
Russell Baker columnist, Loudoun Cty
George Bingham painter, Augusta Cty
Willa Cather author, Winchester
William Clark explorer, Caroline Cty
Henry Clay statesman, Hanover Cty
Joseph Cotten actor, Petersburg
Patrick Henry statesman, Hanover Cty
Sam Houston political leader, Rockbridge Cty
Robert E. Lee Confederate general, Stratford
Shirley MacLaine actress, Richmond
John Marshall jurist, Germantown
Cyrus Hall McCormick inventor, Rockbridge Cty
James Monroe US president, Westmoreland
Opechancanough Powhatan leader
John Payne actor, Roanoke
Walter Reed army surgeon, Gloucester Cty
Matthew Ridgway Army Chief of Staff, Fort Monroe
Bill Bojangles Robinson dancer, Richmond
George C. Scott actor, Wise
Sam Snead golfer, Hot Springs
James Jeb Stuart Confederate army officer, Patrick Cty
Thomas Sumter General, Hanover Cty
Nat Turner leader of slave uprising, Southhampton Cty
Tom Wolfe journalist, Richmond
US Famous People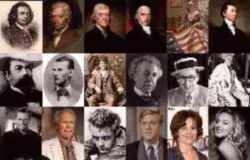 Links to histories and biographies of
famous people from each of the 50 states
. Learn history through the biographies of the famous people from your state. These famous Americans have influenced the lives of others and all have made the US their home. People listed are almost always native to the state. We do (on occasion) include those that have either lived within a state for most of their adult life, or have made a significant contribution to the state in their personal endeavors.