Virginia State Symbols
Virginia State Symbols, Emblems, and Mascots

Located on the southern border of Washington, DC, the nation's capital, Virginia offers students numerous academic and cultural opportunities. Popular sights to visit include Arlington National Cemetery; Monticello, home of US President Thomas Jefferson; Mount Vernon, home of US President George Washington; and Jamestown, site of the first English settlement in the United States.
The Virginia Company founded the first permanent English colony at Jamestown in 1607. Virginia is one of the original 13 states (it entered the Union in 1788), Virginia was named for Elizabeth I, the Virgin Queen of England. Virginia holds an important place in American history, as it was home to many of the founding fathers, including George Washington, Thomas Jefferson, James Madison, George Mason, and Patrick Henry. Four of America's first five presidents were Virginians. During the Civil War, Richmond, Virginia's capital, was the capital of the Confederacy. Today, Virginia is a popular tourist spot where people can visit historic places such as Alexandria, Williamsburg, and Mount Vernon, George Washington's estate. Virginia Big-Eared Bat (Corynorhinus townsendii virginianus) is the state bat and the cardinal (Cardinalis cardinalis) is the state bird of the "Old Dominion."
Virginia State Symbols contains descriptions and pictures of the state symbols, emblems, and mascots of the state, which can be quickly accessed. This resource guide represents many of Virginia state facts such as Virginia state symbols, the state flower, the state gemstone, the state insect, the state tree, the state bird, the state animal, the state flag that flies over Virginia, and the capital, as well as many more symbols, emblems, and mascots. These types of state directories are designed to help children learn, and are often used by children in the public and private education system as well as home schooled children.
Symbols

Symbol Name - (Species)

Artisans Center
Artisans Center of Virginia, Waynesboro
Bat
Virginia Big-Eared Bat
(Corynorhinos townsendii virginianus )
Beverage
Milk
Bird
Cardinal
(Cardinalis cardinalis)
Boat
Chesapeake Bay Deadrise
Cabin capital of Virginia
Page County
Coal miners' memorial
The Richland Coal Miners' Memorial, Richlands
Covered bridge capital of the Commonwealth
Patrick County
Covered bridge festival
Virginia Covered Bridge Festival, Patrick County
Dog
American Foxhound
Emblem of service and sacrifice
Honor and Remember Flag
Emergency Medical Services Museum
"To the Rescue", Roanoke
Fish (Freshwater)
Brook Trout
(Salvelinus fontinalis)
Fish (Saltwater)
Striped bass
(Morone saxatilis)
Flag
State Flag
Fleet
Replicas of the three ships, Susan Constant, Godspeed, and Discovery
Floral Emblem
American Dogwood
(Cornus florida)
Folk Dance
Square Dance
Folklore Center
The Blue Ridge Institute, Ferrum
Fossil
Chesapecten jeffersonius
Gold Mining
Interpretive Center
Monroe Park, Goldvein, County of Fauquier, Virginia

Historical Outdoor Drama
"The Long Way Home"
Insect
Tiger Swallowtail Butterfly
(Papilio glaucous Linne)

Language
English
Motto
Sic Semper Tyrannis,
(Thus Always to Tyrants)

Motor Sports Museum
"Wood Brothers Racing Museum and Virginia Motor Sports Hall of Fame", Patrick County
Nicknames
NA
Outdoors Drama

"The Trail of the Lonesome Pine Outdoor Drama"
Poet Laureates
Ron Smith (June 27, 2014 -) See More
Quarter
Virginia State Quarter
Seal
Great Seal
Shakespeare festival
Virginia Shakespeare Festival
Shell
Oyster Shell
(Crassostraea virginica)
Song emeritus
"Carry Me Back to Old Virginia"
Song (Traditional)
"Our Great Virginia" - March 26, 2015
Song (Popular)
"Sweet Virginia Breeze" - March 26, 2015
Sport Hall of Fame
Virginia Sports Hall of Fame, Portsmouth
Tree
Flowering Dogwood (Cornaceae Cornus florida)
War Memorial Museum
"Virginia War Museum", Newport
---
---
US State Symbols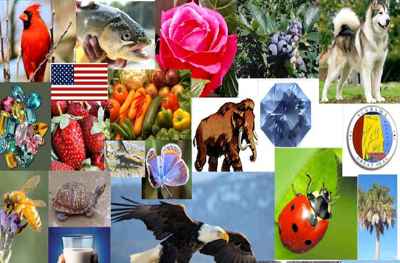 State symbols
represent things that are special to a particular state.
Colleges & Universities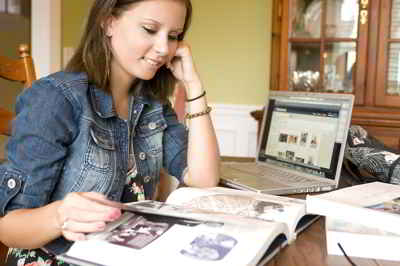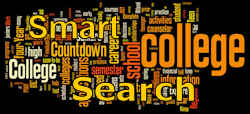 Get Your Degree!
Find schools and get information on the program that's right for you.
Powered by Campus Explorer