Indiana Famous People
Famous Americans: History and Biographies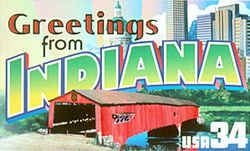 Links to histories and biographies of the famous people of Indiana. Many famous people of Indiana have made significant contributions to the history of our nation and the state of Indiana. These famous Americans, famous entertainers, famous players, famous scientist, famous singers, famous statesmen, famous women, heroes, great explorers, and others Indiana famous Americans have all made Indiana their home. This list includes Indiana historical figures, celebrities and those individuals of Indiana who have influenced the lives of others.
More Famous People of Indiana
George Ade humorist, Kentland
Leon Ames actor, Portland
Hoagy Carmichael songwriter, Bloomington
Eugene V. Debs Socialist leader, Terre Haute
Theodore Dreiser writer, Terre Haute
Bernard F. Gimbel merchant, Vincennes
Virgil Grissom astronaut, Mitchell
Alfred Bertram Guthrie author, Bedford
Phil Harris actor, band leader, Linton
John Milton Hay statesman, Salem
James R. Hoffa labor leader, Brazil
Buck Jones actor, Vincennes
Eli Lilly pharmaceuticals, Indianapolis
Carole Lombard actress, Fort Wayne
Shelley Long actress, Fort Wayne
Marjorie Main actress, Acton
James McCracken tenor, Gary
Joaquin Miller poet, Liberty
Andrew J. Moyer inventor, Star City
Paul Osborn playwright, Evansville
Cole Porter Born in Peru, Indiana, Cole Porter was one of America's most prolific writers of Broadway musicals. Porter wrote both lyrics and melodies for shows like Anything Goes, Kiss Me Kate, and High Society. During the 1930s, his most productive decade, seven of his musicals were playing simultaneously on Broadway.
Ernest Taylor Pyle, born in Dana, Indiana, was a journalist and war correspondent best known for his work during World War II. Pyle offered a foxhole view of the life of the average soldier through a column that reached millions of Americans in 400 daily and 300 weekly newspapers. Traveling with a group of infantrymen, the reporter was killed by a sniper's machine-gun bullet in le Shima, a small island west of Okinawa.
J. Danforth Quayle vice president, Indianapolis
James Whitcomb Riley One of the most beloved poets in American history, James Whitcomb Riley was born in Greenfield, Indiana. He achieved popularity as "The Hoosier Poet" through his use of Indiana dialect, humor, and realistic portrayal of Midwestern life. Some of his best-known poems include "Little Orphant Annie," "The Raggedy Man," and "When the Frost is on the Punkin."
Ned Rorem composer, Richmond
Red Skelton comedian, Vincennes
Rex Stout mystery writer, Noblesville
Booth Tarkington was born in Indianapolis, Indiana. He is best known for a series of realistic novels about life in the Midwest including The Gentleman from Indiana, and two Pulitzer Prize winners, The Magnificent Ambersons, and Alice Adams. He also wrote numerous plays, short stories, and essays.
Twyla Tharp dancer, choreographer, Portland
Forrest Tucker actor, Plainfield
Harold C. Urey physicist, Walkerton
Jessamyn West author, North Vernon
Wendell Willkie lawyer, Elwood
Willis Van Devanter Supreme Court justice, Marion
Colleges & Universities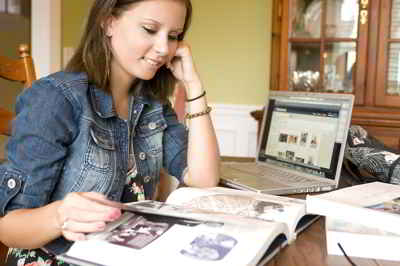 With access to over 8,500 schools to choose from!
Get Your Degree!
Find schools and get information on the program that's right for you.
Powered by Campus Explorer