US Official State Dances Designations
Official State Dances
This is a list of official US State Dances. State Dances are designated by tradition or the respective state legislatures.
Dance
verb
3rd person present: dances
move rhythmically to music, typically following a set sequence of steps.
"their cheeks were pressed together as they danced"
synonyms: sway, trip, twirl, whirl, pirouette, gyrate; More
(of a person) move in a quick and lively way.
"Sheila danced in gaily"
synonyms: caper, cavort, frisk, frolic, skip, prance, gambol, jig; leap, jump, hop, bounce
"little girls danced around me"
noun
plural noun: dances
a series of movements that match the speed and rhythm of a piece of music.
Find images, descriptions,and a histories of the state dances representing the state symbols for each of the 50 states.
---
State Dances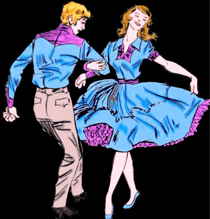 At least there are currently 31 states that have designated square dancing as their State Folk Dance.
Colleges & Universities