Find the Right School
Online Colleges
Campus Colleges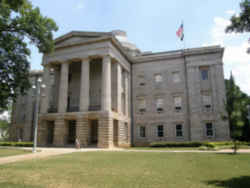 US Famous People
North Carolina Symbols
Beverage
,
Bird
,
Blue Berry
,
Butterfly
,
Carnivorous Plant
,
Christmas Tree
,
Colors
,
Dog
,
Flag
,
Flower
,
Folk Dance
,
Fossil
,
Freshwater Trout
,
Fruit
,
Frog
,
Historical Boat
,
Horse
,
Insect
,
International Festival
,
Language
,
Mammal
,
Military Academy
,
Marsupial
,
Mineral
,
Motto
,
Northeastern Watermelon Festival
,
Popular Dance
,
Precious Stone
,
Quarter
Red Berry
,
Reptile and Emblem
,
Rock
,
Salamander
,
Salt Water Fish
,
Seal
,
Shell
,
Song
,
Southeastern Watermelon Festival
,
Sport
,
Tartan
,
Toast
,
Tree
,
Vegetables
,
Wildflower
National & State Symbols

North Carolina Famous People
Famous Americans: History and Biographies
Links to histories and biographies of the famous people of North Carolina. Many famous people of North Carolina have made significant contributions to the history of our nation and the state of North Carolina. These famous Americans, famous entertainers, famous players, famous scientist, famous singers, famous statesmen, famous women, heroes, great explorers, and others North Carolina famous Americans have all made North Carolina their home. This list includes North Carolina historical figures, celebrities and those individuals of North Carolina who have influenced the lives of others.
More Famous People of North Carolina
Braxton Bragg soldier, Warrenton
Robert C. Byrd, politicianNorth Wilkesboro
David Brinkley TV newscaster, Wilmington
Howard Cosell sportscaster, Winston-Salem
James B. Duke industrialist, Durham
Roberta Flack singer, Black Mountain
Richard Gatling inventor, Hertford County
Billy Graham evangelist, Charlotte
Kathryn Grayson singer, actress, Winston-Salem
Jesse Helms politician, Monroe
O. Henry writer, Greensboro
Charles Kuralt TV journalist, Wilmington
Dolley Payne Madison first lady, Guliford County
Ronni Milsap country music singer, Robinsville
Thelonious Monk pianist, Rocky Mount
Edward R. Murrow commentator, Greensboro
Floyd Patterson boxer, Waco
Richard Petty auto racer, Level Cross
Soupy Sales comedian, Wake Forest
Earl Scruggs bluegrass musician, Flint Hill
Randy Travis musician, Charlotte
John Scott Trotter orchestra leader, Charlotte
Thomas Clayton Wolfe author, Asheville

US Famous People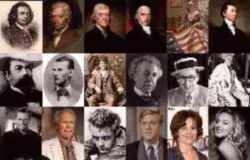 Links to histories and biographies of
famous people from each of the 50 states
. Learn history through the biographies of the famous people from your state. These famous Americans have influenced the lives of others and all have made the US their home. People listed are almost always native to the state. We do (on occasion) include those that have either lived within a state for most of their adult life, or have made a significant contribution to the state in their personal endeavors.