Idaho State Amphibian
Idaho Giant Salamander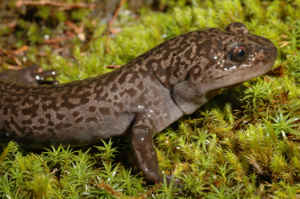 (Dicamptodon aterrimus)
Adopted on April 2, 2015
The Idaho giant salamander was officially adopted as the Idaho state amphibian when Governor C.L. "Butch" Otter signed House Bill No. 1 on April 2, 2015 . Fourteen-year-old Ilah Hickman has been lobbying state lawmakers to pass the bill for five years. Her dreams were briefly crushed earlier this year when lawmakers killed the bill in committee. However, lawmakers later revived the bill and sent it to the governor's desk.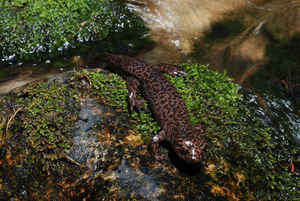 A large, stout-bodied, terrestrial salamander. The dorsum is dark brown overlain with fine brown spotting or marbling. In some populations there is no marbling mid-dorsally. Adults reach sizes of 17 - 25 cm total length. The posterior half of the tail is laterally compressed. Some populations have both metamorphosed and gilled adults. Gilled adults may become mature at less than 11 cm total length (Nussbaum 1976). Larvae are the stream type with short, bushy gills and a low tail fin which extends forward to the hindlimb insertion. Larval D. aterrimus are darker than larval D. tenebrosus, with little mottling. A yellow stripe behind the eyes may be indistinct (Nussbaum 1976; Petranka 1998)..
Characteristics of the Idaho Giant Salamander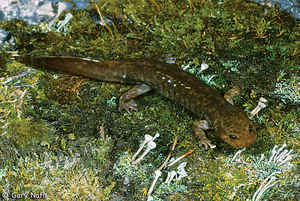 As the name suggests, the Idaho Giant Salamander is the largest salamander found in the state of Idaho.
The Idaho giant salamander is the darkest and most intricately blotched of the giant salamanders. They vary between brown, purple, tan, grey, and a copperish color. Tiger salamanders and Idaho giant salamanders have superficial resemblance pertaining to size and shape, but the costal grooves and foot tubercles are significantly different between the two species. This salamander has a defining thick head and body and a fourth toe on the hind foot with only three segments. Adults are typically 20 cm in length but may vary between 7 and 11.75 inches long, but can be observed around 13 inches.
Distribution
This species of salamander is found in forested watersheds from lake Coeur d'Alene to the Salmon River, and in two locations in Montana around Mineral County.
Behavior
Larvae are predators but tend to sit and wait for their food to come to them. Usually they feed on small invertebrates and some small vertebrates. This can include tadpoles, fish, and other salamanders. Adults usually feed on terrestrial vertebrates and invertebrates. They will eat things as large as shrews, mice, and small snakes, along with other salamanders. They will eat anything that they can catch.

Fish, weasels, water shrews, and garter snakes are a few of their predators. To help defend against these predators they have a few strong defense mechanisms to help them survive. They use toxic secretion from their skin, warning postures, a "bark" vocalization, and they will bite. An Idaho giant salamander bite can easily break the skin of a human.
Idaho Distribution:
In Idaho, these salamanders are restricted to the north-central forested areas.
Habitat:
Larvae usually inhabit clear, cold streams, but are also found in mountain lakes and ponds. Adults are found under rocks and logs in humid forests, near mountain streams, or on rocky shores of mountain lakes.
Idaho House Bill No 389
LEGISLATURE OF THE STATE OF IDAHO

Sixtieth Legislature Second Regular Session - 2010

IN THE HOUSE OF REPRESENTATIVES

HOUSE BILL NO. 389

BY JARVIS

AN ACT

RELATING TO A STATE AMPHIBIAN; AMENDING CHAPTER 45, TITLE 67, IDAHO CODE, BY THE ADDITION OF A NEW SECTION 67-4513, IDAHO CODE, TO PROVIDE THAT THE IDAHO GIANT SALAMANDER IS DESIGNATED AND DECLARED TO BE THE STATE AMPHIBIAN OF THE STATE OF IDAHO.

Be It Enacted by the Legislature of the State of Idaho:

SECTION 1. That Chapter 45, Title 67, Idaho Code, be, and the same is hereby amended by the addition thereto of a NEW SECTION, to be known and designated as Section 67-4513, Idaho Code, and to read as follows:

67-4513. STATE AMPHIBIAN DESIGNATED. The Idaho Giant Salamander is hereby designated and declared to be the state amphibian of the state of Idaho.

Idaho Law
The law designating the yellow hammer as the official Idaho state amphibian is Section 67-4514 (State amphibian designated) of
the Idaho Statutes Title 67 (STATE GOVERNMENT AND STATE AFFAIRS) Chapter 45 (STATE SYMBOLS) Section 67-4514
TITLE 67 STATE GOVERNMENT AND STATE AFFAIRS
CHAPTER 45 STATE SYMBOLS
67-4514 STATE AMPHIBIAN DESIGNATED.

67-4514. state amphibian designated. The Idaho Giant Salamander is hereby designated and declared to be the state amphibian of the state of Idaho.

History:

[67-4514, added 2015, ch. 218, sec. 1, p. 680.]

Taxonomic Hierarchy: Idaho Giant Salamander
Kingdom: Animalia
Phylum: Chordata
Class: Amphibia
Order: Caudata
Family: Dicamptodontidae
Genus: Dicamptodon
Species: Dicamptodon aterrimus
---
State Amphibians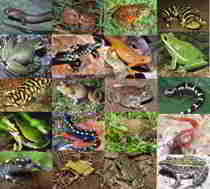 The word amphibian means two-lives. Amphibians spend their lives in the water and on land.