Oklahoma Private Colleges and Universities
Looking for Private Colleges and Universities in Oklahoma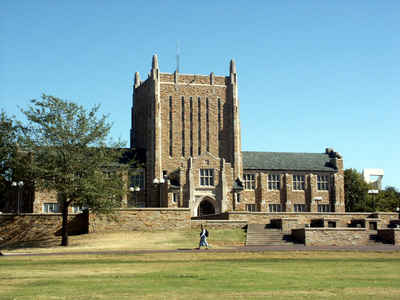 Oklahoma private colleges are perfect for anyone who is serious about receiving a top-notch education. But they are particularly ideal for college students who want to explore agriculture, horticulture, forestry, botany, conservation, or any other discipline that focuses on plants or flora. Private schools, colleges and universities in the "Sooner State" are surrounded by acres and acres of beautiful, fertile farmland. Some might argue that there is no better setting in which to hone one's horticultural skills.
Oklahoma private colleges and universities offer a wide range of education programs with degrees and certificates up to the doctoral level, as well as professional degrees such as law and medicine.
Serving 139,220 full time students, the 50 colleges and universities of Oklahoma offer choices for all types of student. These Oklahoma private colleges are diverse in character, academic emphasis, and origins. Some private colleges or schools have a religious affiliation; others are secular. Private colleges and universities may be profit or non-profit institutions. Typically, Oklahoma independent colleges or private schools give weight to personal characteristics and activities in addition to considering GPA and test scores.
Private Colleges and Universities in Oklahoma includes:
University of Tulsa (Tulsa University) in Tulsa, OK
Bacone College (Muskogee)
Virginia College (Tulsa)
Mid - America Christian University (Gulf Coast Bible College) in Oklahoma City, OK
Oklahoma Christian University (OC) in Edmond, OK
Oklahoma City University (OCU) in Oklahoma City, OK
Southern Nazarene University (SNU) in Bethany, OK
Bacone College in Muskogee, OK
Oklahoma Baptist University in Shawnee, OK
Oklahoma Wesleyan University (OKWU or OWU) in Bartlesville, OK
Saint Gregorys University in Shawnee, OK
Southwestern Christian University (SCU) in Bethany, OK
Northeastern State University is known for being the oldest university in the state of Oklahoma. It was founded in 1851, making it not only the oldest institution of higher education in the state but also one of the oldest universities west of the Mississippi River. It is located in Tahlequah, Oklahoma, which is also the capital city of the Cherokee Nation of Oklahoma. The largest being University of Tulsa with 3,714 full time students. University of Tulsa is the most expensive with an in-state tuition of $32,410. On average, how much does it costs to attend private college in Oklahoma? The average annual in-state private college tuition in Oklahoma is $17,319 in 2013. Private colleges and universities include: University of Tulsa (Tulsa) Bacone College (Muskogee) Southern Nazarene University (Bethany) Oklahoma City University (Oklahoma City) Virginia College (Tulsa)
Oklahoma Association of Independent Colleges and Universities
The purpose of the Oklahoma Independent Colleges & Universities (OICU) is to support and promote the values of independent higher education and especially to support and promote independent colleges and universities in Oklahoma. the OICU seeks to serve as an efficient and effective vehicle for the business community, foundations and individuals to support Oklahoma independent higher education; to interpret the aims, functions and needs of the member college and universities to the public, to the legislature, and to federal and state agencies so as to enhance and assist consultation, collaboration and cooperation among its members as to academic programs, research, services, and community service.
---
Compare More Colleges and Universities

Find more schools to match to your needs.