Error 404: Page - Document Not Found
Not all those who wander are lost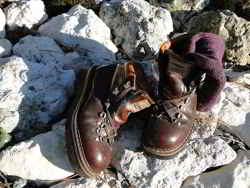 OOPSY!
We're sorry, the eReferenceDesk page or document that you are looking for could not be found.
The page or document may have been moved, removed, renamed or is otherwise unavailable.
The 404 or Not Found error message is an HTTP standard response code indicating that the client was able to communicate with a given server, but the server could not find what was requested.

The web site hosting server will typically generate a "404 Not Found" web page when a user attempts to follow a broken or dead link; hence the 404 error is one of the most recognizable errors encountered on the World Wide Web.
Error 404: Page - Document Not Found
Try one of these 404 options:

Search
Check the Web address you entered to make sure that it's correct.

Try to access the page directly from the eReferenceDesk's home page (click here to jump to the home page) or the site map, instead of using a bookmark. If it has moved, reset your bookmark.

Follow the links within the menus to go to another part of eReferenceDesk.

If that doesn't work, and you think it's a document that should be here, please send us email and let us know about it.

Or, you can use Google at the bottom of page to search for specific pages at eReferenceDesk.com:
---