Georgia State Information Guide
Capital: Atlanta
January 02, 1788 (4th State)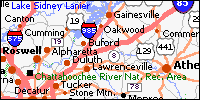 Known today as the "Peach State," Georgia, founded in 1733, is one of the original 13 states, ratified the US Constitution on January 2, 1788, becoming the fourth state to do so; it joined the Confederacy on January 19, 1861, and re-entered the Union after the Civil War. It was named in honor of England's King George II. During the Civil War, the fall of Atlanta was a crucial turning point in the defeat of the South. Today, Atlanta, which became Georgia's capital in 1868, is a thriving city with major national corporations, and it is considered the economic and cultural center of the Southeast. Georgia state flower is the Cherokee rose.
Georgia State Creed
The Georgian's Creed was officially adopted by Georgia legislature in 1939.
Accepting, as I do, the principles upon which Georgia was founded, not for self but others; - its Democratic form of Government, based on 'Wisdom, Justice and Moderation'; --its natural resources; - its Educational, Social and Religious advantages, making it a most desirable place to live - I will strive to be a pure upright Citizen, rejecting the evils - loving and emulating the good.

I further believe it is my duty to defend it against all enemies, to honor and obey its laws, to apply the Golden Rule in all my dealings with my fellow Citizens.

I feel a sense of pride in the history and heroic deeds accomplished by my forebears, and shall endeavor to so live that my State will be proud of me for doing my bit to make my State a better Commonwealth for future generations.
Georgia Almanac: Facts and Figures, Economy, and Geography
Georgia College, Universities, and Schools
Georgia Cities Colleges:
College Education Training in Georgia Cities:
Georgia Medias
Georgia History, Timelines, and Famous People
Georgia Counties
Georgia Symbols
'Possum
,
Amphibian
,
Art Museum
,
Atlas
,
Ballet
,
Beef Barbeque
,
Championship Cook-off
,
Bird
,
Butterfly
,
Center for Character Education
,
Creed
,
Crop
,
First Mural City
,
Fish
,
Flag
,
Floral Emblem
,
Folk Dance
,
Folk Festival
,
Folk Life Play
,
Fossil
,
Frontier and Southeastern Indian Interpretive Center
,
Fruit
,
Game Bird
,
Gem
,
Historical Civil Rights Museum
,
Historical Drama
,
Insect
,
Language
,
Marine Mammal
,
Mineral
,
Motto
,
Musical Theatre
,
Nicknames
,
Peanut Monument
,
Poet Laureate
,
Pork Barbeque Championship Cook-off
,
Poultry Capital of the World
,
Prepared Foods
,
Quarter
,
Railroad Museum
,
Reptile
,
School
,
Seal
,
Sea Shell
,
Song
,
Tartan
,
Theatre
,
Transportation History Museum
,
Tree
,
Vegetables
,
Waltz
,
Wild Flower
Georgia Tourist Attractions
Atlanta area: State Capitol, Stone Mt. Park, Six Flags over Georgia, Kennesaw Mt. Natl. Battlefield Park, Martin Luther King Center, Underground Atlanta, Jimmy Carter Lib. & Museum, Whitewater Park.
NW: Chickamauga Battlefield Park, Chattahoochee Natl. Forest.
NE: alpine village of Helen; Dahlonega, site of America's first gold rush; Brasstown Bald Mt., Lake Lanier.
SW: Roosevelt's Little White House, Callaway Gardens, Andersonville Natl. Historic Site.
SE: Okefenokee Swamp.
Coastal: Jekyll Island, St. Simons Island, Cumberland Island Natl. Seashore, historic riverfront district in Savannah, Ft. Pulaski.
Other Georgia Resources
---