Arkansas State Information Guide
Capital: Little Rock
June 15, 1836 (25th State)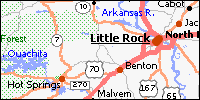 Nicknamed the "Land of Opportunity," Arkansas, which joined the Union in 1836, was the 25th state. The early French explorers of the state gave it its name, which is probably a phonetic spelling for the French word for "downriver" people, a reference to the Quapaw Indians and the river along which they settled. Arkansas is the only state in which diamonds have been mined, although today the mine operates only as a tourist attraction. Arkansas state flower is the apple blossom. Despite opposition in Congress to a new slave state, Arkansas became a state on June 15, 1836with Little Rock as it capitol. Arkansas Governor Henry M. Rector seized Fort Smith and Arkansas joined the Confederacy in 1861 re-entering the Union at War's end.
Arkansas State Creed
I believe in Arkansas as a land of opportunity and promise.
I believe in the rich heritage of Arkansas and I honor
the men and women who created this heritage.
I bellieve in the youth of Arkansas who will build our future.
I am proud of my state, I will uphold its constitution,
obey its laws, and work for the good of all its citizens.
Arkansas Almanac: Facts and Figures, Economy, and Geography
Arkansas College, Universities, and Schools
Arkansas Cities Colleges:
College Education Training in Arkansas Cities:
Arkansas Medias
Arkansas History, Timelines, and Famous People
Arkansas Counties
Arkansas Symbols
American Folk Dance
,
Anthem
,
Beverage
,
Bird
,
Butterfly
,
Flag
,
Flower
,
Fruit
,
Gemstone
,
Grain,
Grape
,
Historic Cooking Vessel
,
Historical Song
,
Insect
,
Language
,
Mammal
,
Mineral
,
Motto
,
Musical Instrument
,
Nicknames
,
Nut
,
Poet Laureate
,
Purple Martin Capital of Arkansas Northwest
,
Purple Martin Capital of Arkansas Southeast
,
Quarter
,
Rock
,
Seal
,
Soil
,
Song -"Arkansas (You Run Deep in Me)"
,
Song - "Oh, Arkansas"
,
Tree
,
Trout Capital of the USA
,
Vegetable
,
Waltz
Other Arkansas Resources
---