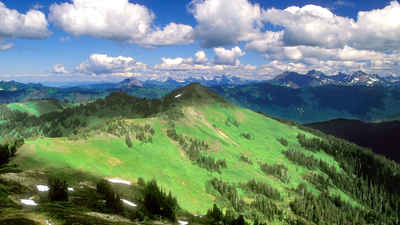 Washington Counties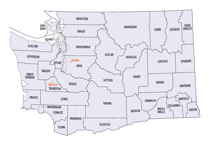 Click Image to Enlarge
Washington Counties
There are thity-nine counties in the state of Washington. Washington was carved out of the western part of Washington Territory and admitted to the Union as the 42nd state in 1889. The first counties were created from unorganized territory in 1845.
Kitsap County, Washington
Kitsap County Education, Geography, and History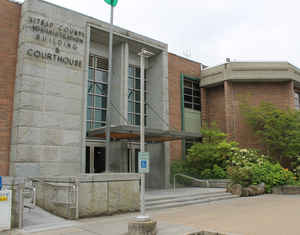 Kitsap County is located in the state of Washington. Based on the 2010 census, its population was 251,133. Its county seat is Port Orchard, and its largest city is Bremerton. The county was formed out of King County, Washington, and Jefferson County, Washington on January 16, 1857 and is named for Chief Kitsap of the Suquamish tribe. Originally named Slaughter County, it was soon renamed.

Kitsap County comprises the Bremerton-Silverdale, WA Metropolitan Statistical Area, which is also included in the Seattle-Tacoma, WA Combined Statistical Area.
Etymology - Origin of Kitsap County Name
Kitsap, a chief of the Suquamish tribe.
Demographics:
County QuickFacts: CensusBureau Quick Facts
Kitsap County History
Original named Slaughter County, changed to present name July 13, 1857. Kitsap County was created 16 January 1847 from Jefferson and King Counties.

Kitsap County
The first few hardy pioneers were drawn to Kitsap County by the Donation Land Claim Act of 1850 which promised that 320 acres of land (640 acres to a married couple) would be given away free if the land was improved upon and occupied for five years. When Washington Territory was organized in 1853, the Kitsap Peninsula was a part of two counties, King to the east and Jefferson to the west.

Sackman floating bunkhouse circa 1880s

Kitsap County, with its five lumber mills, became the hub of industrial activity in Washington Territory. Of King County's 238 voters, 139 were living on the Kitsap Peninsula, including Bainbridge Island.

Deeds and legal documents had to be recorded at a county seat, so a county seat was needed on the peninsula since that was where the majority of the population was located. Local representatives introduced bills to create a new county called Slaughter, commemorating Lt. William Alloway Slaughter who had been killed in a Native American skirmish near Auburn. Slaughter County was born on January 16, 1857 but that same year, popular vote changed the name to Kitsap.

By the 1860's timber was a big business and Kitsap County was the richest county per capita in the United States with five of the largest sawmills in almost constant production. Logging was a profitable venture for many pioneers to this area.

Oxen on Skid Road circa 1860s

There were many small logging companies that cut timber by hand, skidded it down hill to the water and towed it to the mill to be sold and cut into lumber for the growing young West. The Sackman family actually moved their entire camp from place to place by towing their bunk houses on Puget Sound.

The waters of Puget Sound played a key role as timber and lumber were shipped all over the world from its busy ports. Puget Sound made it very easy for timber to be felled and rolled downhill toward the water. Once in the water, the logs could be towed to a saw mill for processing into useable lumber. Protected bays were favored by those who sought to build sawmills, in order to protect the mill and its workers from inclement weather.
Port Blakely circa 1880s
Small logging camps dotted the waterways and payday brought lonely loggers to the larger mill towns to drink and socialize. Each mill town was an autonomous commercial center, proving stores, post office, school and both temporary and permanent housing. The city of Port Madison on Bainbridge Island rivaled the small village of Seattle with its fine shops.

Financial hardship was rampant in the 1870s as the lumber industry experienced a series of economic depressions, overabundance being the major cause. Mill owners struggled to establish new markets in other countries with very little success. With the clear cutting of thousands of acres of virgin timber, much viable land for farming was available.
Chinese Mill Worker circa 1870s
The 1880s brought about the platting of Silverdale and Sidney (now Port Orchard) and the rise of homesteading, subsistence farming and agriculture since logging was no longer becoming a profitable profession.

During the territorial period, Kitsap County was a hinterland, an area that lay behind a seaboard or seaport that supplied the bulk of its exports. Modern "Kitsapers" must wrangle with the economic and social consequences of this hinterland status in many ways.

Kitsap is still fairly remote by both car and boat; only a small three mile stretch of land prevents Kitsap from being an island. The economy has never been as good as during its logging days and the area is still a rural blue-collar area. Territorial history is relevant in that our very existence during the territorial period was due to the raw materials that could be extracted. In essence, Kitsap County helped to build the far young west.
Territorial Towns
Chico - settled in 1886 and a post office was established on February 25, 1889.
Colby - settled in 1884 and a post office was established on November 13, 1884. This community still exists.
Dyes - a Post Office was established on June 4, 1884 but was discontinued on July 31, 1884. This community no longer exists.
Eagle Harbor on Bainbridge Island- settled in 1860s and a post office was established on June 19, 1884 but discontinued on June 22, 1886. This settlement no longer exists.
Kingston - settled in 1874 and had a post office immediately established. This small town still exists with a post office and has an active ferry dock.
Mitchell - had a post office established on January 25, 1886. This small community no longer exists.
Nibbeville - had a post office established February 25, 1885 but the community no longer exists.
Olalla - settled in 1881 and a post office was established on October 30, 1884. This small rural community still exists.
Port Blakeley located on Bainbridge Island - settled in 1856 and a post office was established on February 22, 1867. This settlement no longer exists.
Port Madison Bainbridge Island - founded in 1854 by George Meigs and a post office was established on May 13, 1858. This was the original county seat from 1857-1893.
Port Orchard - settled in 1850s and a post office was established on March 1, 1860. The town died out after Captain Renton's mill burned down and the business was moved to Bainbridge Island. The community is now called Enetai, which means "crossing" or "across" in Chinook jargon.
Poulsbo - settled in 1866 and a post office was established on December 6, 1886.
Sackman - settled in 1880s and a post office was established on August 20, 1884. The small town is now called Tracyton and has a post office and a port commission.
Seabeck - settled in 1856 and a post office was established on July 1, 1858. This small town still exists.
Sidney - settled in 1886 and a post office was established on November 3, 1886. This town is now called Port Orchard.
Teekalet - settled in 1853 and is now called Port Gamble. A post office was established on Dec. 2, 1857.
The meaning of Kitsap
Who was Kitsap? It is thought that Kitsap was an Indian chief who graciously welcomed Capt. George Vancouver as he explored Puget Sound. According to Native American sources, "Kitsap" means brave and good.
This information is provided courtesy of Pamela Kruse-Buckingham, Administrator of Kitsap County Historical Society.
---
Geography: Land and Water
In addition to occupying most of the Kitsap Peninsula, Kitsap County includes both Bainbridge Island and Blake Island. As reported by the Census Bureau, the county has a total area of 566 square miles (1,466 km2), of which, 396 square miles (1,026 km2) of it is land and 170 square miles (440 km2) of it (30.04%) is water. According to Puget Sound Partnership, Kitsap county has over 250 miles (400 km) of saltwater shoreline.

The portion of the county north of Silverdale is often referred to as North Kitsap, and the portion south of Bremerton as South Kitsap.

Neighboring Counties
Bordering counties are as follows:
Island County, Washington - northeast
Snohomish County, Washington - east
King County, Washington - east/southeast
Pierce County, Washington - south/southeast
Mason County, Washington - southwest
Jefferson County, Washington - northwest
Education
---
Compare More Colleges and Universities

Find more schools to match to your needs.