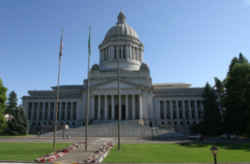 State Facts - History Firsts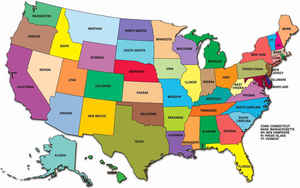 Washington State Facts - Washington History Firsts
Catch up on your state trivia with these Washington history firsts and interesting fun facts about the state.
Official Name
Washington
Capital
Olympia
Location
Region
47.04191 N, 122.89376 W
Pacific Northwest
Constitution Ratified
1889
Statehood
November 11, 1899
42nd state
Number of Counties
39 Counties in Washington
Largest County
(by population)
King County
1,737,034
2,126 sq. mi.
1700 - On January 26, 1700, a large earthquake 60 to 70 miles off the coast of the Pacific Northwest caused a tsunami roughly 33 feet high to engulf the Washington coastline. Ten hours later, the tsunami hit the main island of Japan with 6-to-10 foot swells.
1805 and1806 - Lewis and Clark explored the Columbia River area of what is now Washington.
1836 - In 1836, Marcus and Narcissa Whitman established a mission at Waiilatpu on the Walla Walla River to bring Christianity to the Cayuse Indians.
1847 - When an increasing number of colonists migrated to the area and an epidemic of measles spared the lives of white children but killed almost all Cayuse offspring, Chief Tiloukaikt and several members of his tribe became infuriated, and, on November 29, 1847, killed the Whitmans along with 12 other settlers. The Whitman Massacre, as it became known, resulted in the Cayuse War and, ultimately, the dissolution of the Cayuse tribe.
1889 -

Seattle's Great Fire, which destroyed 64 acres and many businesses, began on June 6, 1889, after a pot of glue from a cabinet shop burst into flames.
Find out more about Washington State Great seal

1892 - The Coast rhododendron (Rhododendron macrophyllum) Washington State Flower
1910 - In an attempt at honoring her father- a Civil War veteran who had raised six children by himself after his wife died in childbirth- Spokane resident Sonora Smart Dodd garnered support for the first statewide Father's Day celebration on June 19, 1910. Afterward, Dodd continued to press for a national observance; although the idea was backed by President Woodrow Wilson in 1916 and President Calvin Coolidge in 1924, Father's Day did not become a federal holiday until 1972.
1923 - Find out more about Washington State Flag
1947 - The Western hemlock (Tsuga heterophylla) designated the Washington State Tree
1951 - The Willow goldfinch (Carduelis tristis) was adopted as the Washington State Bird
1954 - First flight of Boeing 707, first jet transport.
1959 - "Washington, My Home," written by Helen Davis, arranged by Stuart Churchill becomes Washington State Song
1961 - Seattle is home to the first revolving restaurant.
1969 - Steelhead trout (Salmo gairdneri) was designated as Washington State Fish
1974 - Spokane was the smallest city in size to host a World's Fair.
1975 - Petrified wood becomes Washington State Gem
1979 - Square dance is designated as Washington State Dance
1980 - On May 18, 1980, Mount Saint Helens erupted in Washington, resulting in 57 deaths and billions of dollars in damage.
1983 - President Washington was designated as Washington State Ship
1986 - King county the largest county in Washington was originally named after William R. King, Vice President under Franklin Pierce; it was renamed in 1986, after civil rights leader Dr. Martin Luther King, Jr.
1987 - "Roll On Columbia, Roll On," by Woody Guthrie Washington is the State Folk song
1989 -
1990 - According to the 1990 census, more than half the residents of metropolitan Seattle were born outside Washington.
1991 - Asett w/green background and blue, white, yellow, red and black stripes was adopted as the Washington State Tartan
1995 - Washington Park Arboretum - University of Washington, Seattle is the Washington State Arboretum
1997 -
1998 - The Columbian mammoth (Mammuthus columbi) was designated as Washington State Fossil
2005 -

Olympic marmot (Marmota olympus) is the Washington State Endemic mammal

2007 -

Walla Walla sweet onion was designated as the Washington State Vegetable
Pacific chorus frog (Pseudacris regilla) is the Washington State Amphibian
Lady Washington was adopted as Washington State Ship

2010 - Washington is the nation's leading producer of apples, pears, sweet cherries, red raspberries and hops. In 2010, the state's apple harvest generated $1.44 billion.
2014 -

Palouse Falls was designated as Washington State Waterfall
Ostrea lurida was adopted as Washington State Oyster
---
More Washington History Firsts & State Facts
The state of Washington is the only state to be named after a United States president.
In addition to its state song, Washington also has an official state folk song: Roll on Columbia, Roll On.
Washington is number one in the country in the production of these fruits and vegetables: apples, lentils, dry edible peas, hops, pears, red raspberries, spearmint oil, and sweet cherries.
Washington is home to Boeing, the world's largest aircraft maker.
Washington has over 1,000 dams.
Washington state produces more apples than any other state in the union.
Washington state has more glaciers than the other 47 contiguous states combined.
Washington state's capitol building was the last state capitol building to be built with a rotunda.
Everett is the site of the world's largest building, Boeing's final assembly plant.
Medina is the home of the United States wealthiest man, Microsoft's Bill Gates.
The Northwestern most point in the contiguous US is Cape Flattery on Washington's Olympic Peninsula.
The state of Washington is the only state to be named after a United States president.
Microsoft Corporation is located in Redmond.
Starbucks, the biggest coffee chain in the world was founded in Seattle.
Before it became a state, the territory was called Columbia (named after the Columbia River). When it was granted statehood, the name was changed to Washington, supposedly so people wouldn't confuse it with The District of Columbia.
The highest point in Washington is Mount Rainier. It was named after Peter Rainier, a British soldier who fought against the Americans in the Revolutionary War.
The Governor Albert D. Rosellini Bridge at Evergreen Point is the longest floating bridge in the world. The bridge connects Seattle and Medina across Lake Washington.
Washington is the birthplace of both Jimi Hendrix (Seattle) and Bing Crosby (Tacoma).
The oldest operating gas station in the United States is in Zillah.
Washington's state insect is the Green Darner Dragonfly.
The world's first soft-serve ice cream machine was located in an Olympia Dairy Queen.
County Information and County History
Adams, Asotin, Benton, Chelan, Clallam, Clark, Columbia, Cowlitz, Douglas, Ferry, Franklin, Garfield, Grant, Grays Harbor, Island, Jefferson, King, Kitsap, Kittitas, Klickitat, Lewis, Lincoln, Mason, Okanogan, Pacific, Pend Oreille, Pierce, San Juan, Skagit, Skamania, Snohomish, Spokane, Stevens, Thurston, Wahkiakum, Walla Walla, Whatcom, Whitman, Yakima
State Facts & History Firsts