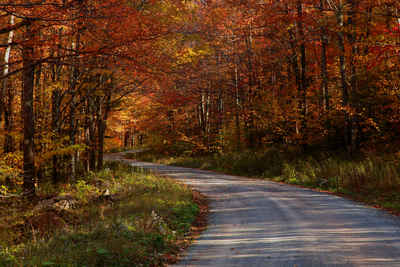 West Virginia Counties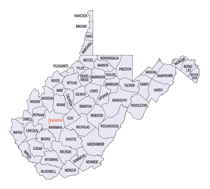 Click Image to Enlarge
West Virginia Counties
There are fifty-five counties in the state of West Virginia. Fifty of them existed at the time of the Wheeling Convention in 1861, before which West Virginia was part of the state of Virginia. The remaining five (Grant, Mineral, Lincoln, Summers and Mingo) were formed within the state after its admission to the United States on June 20, 1863. At that time, Berkeley County and Jefferson County, the two easternmost counties of West Virginia, refused to recognize their inclusion in the state. In March 1866, the US Congress passed a joint mandate assenting to their inclusion.
Braxton County, West Virginia
Braxton County Education, Geography, and History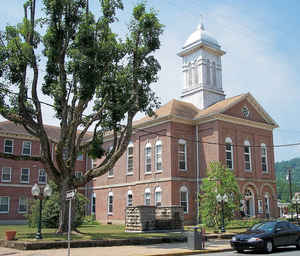 Braxton County is a county located in the central part of the state of West Virginia. Based on the 2010 census, the population was 14,523. The county seat is Sutton. The county was formed in 1836 from parts of Lewis, Kanawha, and Nicholas counties and named for Carter Braxton, a Virginia statesman and signer of the Declaration of Independence.
Etymology - Origin of Braxton County Name
For Carter Braxton, VA statesman and signer of the Declaration of Independence.
Demographics:
County QuickFacts: CensusBureau Quick Facts
Early History of Braxton County, West Virginia
Braxton County was created by an act of the Virginia General Assembly on January 15, 1836 from parts of Lewis, Kanawha and Nicholas counties. It was named in honor of Carter Braxton (1736-1797). He was a noted Virginia statesman who graduated from William and Mary College, was a long-time member of the Virginia House of Burgesses (serving from 1765 until the outbreak of the American Revolutionary War) and a signer of the US Declaration of Independence.
The first land survey in the county took place in 1784 on behalf of John Allison who had a warrant on 11,000 acres of land in area. Adam O'Brien, an Indian scout and noted hunter, was part of the survey party. 7,000 acres of Allison's land were purchased by John Sutton of Alexandria, Virginia. His son, John D. Sutton, visited the area in 1798 and found a small, abandoned cabin on the land. He learned that John (or Adam) O'Brien once lived in the hallow of a large sycamore tree in the area around present day Sutton in 1792, 1793 or 1794, but he never did discover who had built the cabin.
The county's first permanent English settlers were the Carpenter family, including brothers Jeremiah, Benjamin, Jesse and Amos, and their mother. They arrived in 1789 or 1790 and built cabins at the mouth of the Holly River. Less than a year later, Benjamin Carpenter and his wife were killed by two Indians who were passing through the area. In 1800, Jeremiah and Henry Mace settled near present day Sutton. In 1807, Colonel John Haymond moved from Harrison County and settled neat the Falls of the Little Kanawha. His three brothers, Benjamin, Daniel and John Conrad, settled three miles south of him. Also in that year, Nicholas Gibson and Asa Squires moved into the county. In 1810, John D. Sutton moved to the present site of Sutton, which, at the time, was known as Newville.
The first meeting of the county court took place on April 11, 1836 at the home of John D. Sutton. Sutton, the county seat, had been chartered as a town by an act of the Virginia General Assembly on January 27, 1826. Originally located in Nicholas County, it had been known as Newville and later as Suttonville. The town's name was changed to Sutton on March 1, 1837 and it was incorporated on February 20, 1860.
Braxton County was the location of a famous Indian massacre. A 1764 treaty with the various Indian tribes was violated in 1772 when several Indians were murdered on the South Branch of the Potomac River by Nicholas Harpold and his companions. About the same time, Bald Eagle, an Indian chief of some notoriety, was murdered while on a hunting trip on the Monongahela River. In the meantime, Captain Bull, a Delaware Indian Chief and five other Indian families were living in Braxton County in an area known as Bulltown, about 14 miles from present day Sutton. Captain Bull was regarded by most of the settlers in the region as friendly. But there were some white families who suspected Captain Bull of providing information to and harboring unfriendly Indians. While away from home in June, the family of a German immigrant named Peter Stroud was murdered, presumably by Indians. The trail left by the murderers led in the general direction of Bulltown. Peter's brother, Adam Stroud, had a cabin nearby and seeing smoke rising into the sky, raced to his brother's cabin. He gathered up what was left of the bodies and buried them. Peter then headed for Hacker's Creek where he met with several others who agreed to join him in an attack on Bulltown. They killed all of the Indians in the village and threw their bodies into a nearby river. News of Captain Bull's massacre spread across the western frontier and set off a series of incidents between the Indians and the English settlers, ending the eight years of peace on the western frontier.
Ann Bailey, an eccentric Englishwoman from Liverpool was a colorful character on the frontier and a native of Braxton County. Known as "Mad Ann," she served as a messenger for the militia during the French and Indian Wars (1754-1763) and was an accomplished marksman and hunter. It was said that she rode her famous black horse, Liverpool, like a man, with a rifle over one shoulder and a tomahawk and butcher's knife in her belt. She entertained many crowded campfires with the stories of her many adventures and was welcomed at every home in the county.
Geography: Land and Water
As reported by the Census Bureau, the county has a total area of 516 square miles (1,340 km2), of which 511 square miles (1,320 km2) is land and 5.5 square miles (14 km2) (1.1%) is water
Neighboring Counties
Bordering counties are as follows:
Northeast: Lewis County
Northwest: Calhoun County; Gilmer County
South: Nicholas County
Southeast: Webster County
Southwest: Clay County
Education
---
Compare More Colleges and Universities

Find more schools to match to your needs.