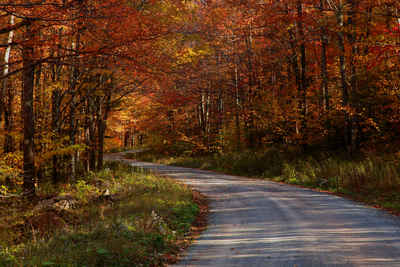 West Virginia Counties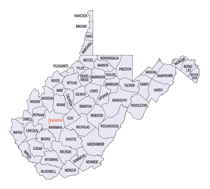 Click Image to Enlarge
West Virginia Counties
There are fifty-five counties in the state of West Virginia. Fifty of them existed at the time of the Wheeling Convention in 1861, before which West Virginia was part of the state of Virginia. The remaining five (Grant, Mineral, Lincoln, Summers and Mingo) were formed within the state after its admission to the United States on June 20, 1863. At that time, Berkeley County and Jefferson County, the two easternmost counties of West Virginia, refused to recognize their inclusion in the state. In March 1866, the US Congress passed a joint mandate assenting to their inclusion.
West Virginia Counties: History and Information
Find a brief history of West Virginia Counties
Forty-eight of the fifty states have operational county governments of which West Virginia is one. There are 55 Counties in West Virginia. These Counties vary greatly in size and population. They range in area from 83 to 1,040 square miles (i.e., Hancock County, WV and Randolph County, WV). Similarly, the population of counties varies tremendously from Wirt County, WV, with its 5,873 residents, to Kanawha County, WV, which is home to 200,073 people.
County
2000
Population
Square
Miles
County Seat
Created
Barbour County
15,557
341
Philippi
1843
Berkeley County
75,905
321
Martinsburg
1772
Boone County
25,535
503
Madison
1847
Braxton County
14,702
514
Sutton
1836
Brooke County
25,447
89
Wellsburg
1796
Cabell County
96,784
282
Huntington
1809
Calhoun County
7,582
281
Grantsville
1856
Clay County
10,330
342
Clay
1858
Doddridge County
7,403
320
West Union
1845
Fayette County
47,579
664
Fayetteville
1831
Gilmer County
7,160
340
Glenville
1845
Grant County
11,299
477
Petersburg
1866
Greenbrier County
34,453
1,021
Lewisburg
1778
Hampshire County
20,203
642
Romney
1754
Hancock County
32,667
83
New Cumberland
1848
Hardy County
12,669
583
Moorefield
1786
Harrison County
68,652
416
Clarksburg
1784
Jackson County
28,000
466
Ripley
1831
Jefferson County
42,190
210
Charles Town
1801
Kanawha County
200,073
903
Charleston
1789
Lewis County
16,919
389
Weston
1816
Lincoln County
22,108
438
Hamlin
1867
Logan County
37,710
454
Logan
1824
Marion County
56,598
310
Fairmont
1842
Marshall County
35,519
307
Moundsville
1835
Mason County
25,957
432
Point Pleasant
1804
McDowell County
27,329
535
Welch
1858
Mercer County
62,980
420
Princeton
1837
Mineral County
27,078
328
Keyser
1866
Mingo County
28,253
423
Williamson
1895
Monongalia County
81,866
361
Morgantown
1776
Monroe County
14,583
473
Union
1779
Morgan County
14,943
229
Berkeley Springs
1820
Nicholas County
26,562
649
Summersville
1818
Ohio County
47,427
106
Wheeling
1776
Pendleton County
8,196
698
Franklin
1788
Pleasants County
7,514
131
Saint Marys
1851
Pocahontas County
9,131
940
Marlinton
1821
Preston County
29,334
648
Kingwood
1818
Putnam County
51,589
346
Winfield
1848
Raleigh County
79,220
607
Beckley
1850
Randolph County
28,262
1,040
Elkins
1787
Ritchie County
10,343
454
Harrisville
1843
Roane County
15,446
484
Spencer
1856
Summers County
12,999
361
Hinton
1871
Taylor County
16,089
173
Grafton
1844
Tucker County
7,321
419
Parsons
1856
Tyler County
9,592
258
Middlebourne
1814
Upshur County
23,404
355
Buckhannon
1851
Wayne County
42,903
506
Wayne
1842
Webster County
9,719
556
Webster Springs
1860
Wetzel County
17,693
359
New Martinsville
1846
Wirt County
5,873
233
Elizabeth
1848
Wood County
87,986
367
Parkersburg
1798
Wyoming County
25,708
501
Pineville
1850
---