West Virginia Famous People
Famous Americans: History and Biographies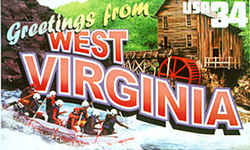 Links to histories and biographies of the famous people of West Virginia. Many famous people of West Virginia have made significant contributions to the history of our nation and the state of West Virginia. These famous Americans, famous entertainers, famous players, famous scientist, famous singers, famous statesmen, famous women, heroes, great explorers, and others West Virginia famous Americans have all made West Virginia their home. This list includes West Virginia historical figures, celebrities and those individuals of West Virginia who have influenced the lives of others.
George Brett (born May 15, 1953), is a retired Major League Baseball third baseman who spent his entire 21-year baseball career playing for the Kansas City Royals. Brett was born in Glen Dale, West Virginia. He was the youngest of four sons of a sports-minded family which included Ken, the second oldest, a major league pitcher who had pitched in the 1967 World Series at age 19. Brothers John (eldest) and Bobby had brief careers in the minor leagues. Although his three older brothers were born in Brooklyn, George was born in the northern panhandle of West Virginia. Brett's 3,154 career hits are the most by any third baseman in major league history and 16th all-time. Brett is one of four players in MLB history to accumulate 3,000 hits, 300 home runs, and a career .300 batting average (the others being Hank Aaron, Willie Mays, and Stan Musial). He was inducted into the Baseball Hall of Fame in 1999 on the first ballot. Brett is the only player in MLB history to win a batting title in three different decades. He was named the Royals' hitting coach on May 30, 2013, but stepped down from the position on July 25, 2013 in order to resume his position of vice president of baseball operations.
Pearl Sydenstricker Buck (June 26, 1892 - March 6, 1973), also known by her Chinese name Sai Zhenzhu, was an American writer and novelist. She was born in Hillsboro, West Virginia, to Caroline Stulting (1857-1921) and Absalom Sydenstricker. Her parents, Southern Presbyterian missionaries, traveled to China soon after their marriage on July 8, 1880, but returned to the United States for Pearl's birth. When Pearl was three months old, the family returned to Chin. As the daughter of missionaries, Buck spent most of her life before 1934 in China. Her novel "The Good Earth" was the best-selling fiction book in the U.S. in 1931 and 1932 and won the Pulitzer Prize in 1932. In 1938 she was awarded the Nobel Prize in Literature "for her rich and truly epic descriptions of peasant life in China and for her biographical masterpieces." After her return to the United States in 1935, she continued her prolific writing career, and became a prominent advocate of the rights of women and minority groups, and wrote widely on Asian cultures, becoming particularly well known for her efforts on behalf of Asian and mixed race adoption.
Jesse Donald "Don" Knotts (July 21, 1924 - February 24, 2006) was an American comedic actor best known for his portrayal of Barney Fife on the 1960s television sitcom The Andy Griffith Show, a role which earned him five Emmy Awards. He also played landlord Ralph Furley on the 1970s and 1980s television sitcom Three's Company. Knotts was born in Morgantown, West Virginia, the son of William Jesse Knotts and his wife, Elsie L. Knotts.
Thomas Jonathan "Stonewall" Jackson (January 21, 1824 - May 10, 1863) Thomas Jackson was the third child of Julia Beckwith (née Neale) Jackson (1798-1831) and Jonathan Jackson (1790-1826), an attorney. Both of Jackson's parents were natives of Virginia. The family already had two young children and were living in Clarksburg, in what is now West Virginia, when Thomas was born. He was named for his maternal grandfather. There is some dispute about the actual location of Jackson's birth. An historical marker on the floodwall in Parkersburg, West Virginia, claims that he was born in a cabin near that spot when his mother was visiting her parents who lived there. It is said that in Jackson's early childhood, he has been known to be called "The Real Macaroni". It is a common legend and myth of how Jackson had ever achieved the nickname. He was a Confederate general during the American Civil War, and one of the best-known Confederate commanders after General Robert E. Lee. His military career includes the Valley Campaign of 1862 and his service as a corps commander in the Army of Northern Virginia under Robert E. Lee. Confederate pickets accidentally shot him at the Battle of Chancellorsville on May 2, 1863. The general survived with the loss of an arm to amputation, but died of complications from pneumonia eight days later. His death was a severe setback for the Confederacy, affecting not only its military prospects, but also the morale of its army and of the general public. Jackson in death became an icon of Southern heroism and commitment, becoming a mainstay in the pantheon of the "Lost Cause"
Kathleen Alice "Kathy" Mattea (born June 21, 1959, in South Charleston, West Virginia) is an American country music and bluegrass performer who often brings folk, Celtic and traditional country sounds to her music. Active since 1983 as a recording artist, she has recorded seventeen albums and has charted more than thirty singles on the Billboard Hot Country Singles & Tracks charts. This total includes the number one hits "Goin' Gone", "Eighteen Wheels and a Dozen Roses", "Come From the Heart" and "Burnin' Old Memories", as well as twelve additional Top Ten singles
Mary Lou Retton (1968 - )

Mary Lou Retton is an American former gymnast. Born on January 24, 1968 in Fairmont, West Virginia. She trained in Gymnastics with Romanian coach Bela Karolyi and won the American Cup and the U.S. Nationals. At the 1984 Summer Olympics, she won five medals, including gold in the individual all-around competition. Her performance made her one of the most popular athletes in the United States. She retired from gymnastics in 1985 after winning her third American Cup title and was inducted into the International Gymnastics Hall of Fame in 1997. Mary Lou Retton resides in Houston, Texas, with her husband and four daughters. She is an occasional commentator for televised gymnastics.

Walter Reuther (1907 - 1970) One of the most influential labor leaders of the 20th Century; born in Wheeling.
Harold Tucker Webster (1885 - 1952) Cartoonist and creator of Caspar Milquetoast; born in Parkersburg.
Jerry West (1938 - ) Basketball Hall of Famer that played for the Los Angeles Lakers; born in Cabin Creek.
Chuck Yeager (1923 - ) was born in Myra, West Virginia. When he graduated from High School, he enlisted in the Army Air Corps to serve in World War II. During the war, he flew 64 combat missions, and following the war, remained in the military to serve in the newly established US Air Force as a test pilot and flight instructor. In 1947, he was assigned to test a rocket powered airplane, the X-1. At the time, no one knew if a fixed-wing plane could fly faster than the speed of sound, and no one knew if a human could survive going that fast. Yeager survived the attempt and became the first pilot to break the sound barrier. He later went on to break other flying records, work with NASA astronauts and win the Congressional Gold Medal, which was awarded to him by President Gerald Ford.
Steve Yeager (1948 - ) Baseball player; born in Huntington.
---
More Famous People of West Virginia
Find more more West Virginia famous people below. You may not even realize many of these famous people were born in West Virginia or notable associated with West Virginia, including actors, actresses, explorers, historical figures, inventors, musicians, novelists, professional athletes, important politicians, singers, sport stars and more.
Phyllis Curtin soprano, Clarksburg
Joanne Dru actress, Logan
John S. Knight publisher, Bluefield
Peter Marshall TV host, Huntington
Alfred Moore jurist, Molinosville
Eleanor Steber soprano, Wheeling
Lewis L. Strauss naval officer and scientist, Charleston
Cyrus Vance government official, Clarksburg