West Virginia State Almanac: Facts and Figures
Quick Facts, Figures, and Overview of the State of West Virginia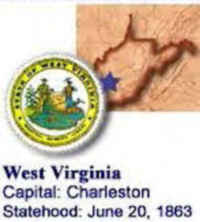 West Virginia is one of the South Atlantic states of the US. It lies in the Appalachian region and its neighbors are the US states of Kentucky, Ohio, Virginia, Pennsylvania, and Maryland. Until 1861 West Virginia was part of Virginia. West Virginia was named to honor Queen Elizabeth of England often referred to as the "Virgin Queen."
The state's rapid industrial expansion began in the 1870s, drawing thousands of European immigrants and African Americans into the region. Miners' strikes between 1912 and 1921 required the intervention of state and federal troops to quell the violence.
Today, the state ranks second in total coal production, with about 12.5% of the U.S. total. It is also a leader in steel, glass, aluminum, and chemical manufactures. Major agricultural commodities are broilers, cattle and calves, chicken eggs, dairy products, and turkeys
Official Name
West Virginia
Capital
Charleston
Nicknames
Mountain State ...and more
Motto
Montani Semper Liberi (Mountaineers always free)
Location
Region
38.35055 N, 081.63043 W
Appalachia
Southern
Constitution Ratified
1872
Statehood
June 20, 1863
35th state
Population
1,852,994 (2010)
78.08 sq. mi.
37th
Largest City
(by population)
10 largest cities (2010 est.): Charleston, 51,400; Huntington, 49,138; Parkersburg, 31,492; Wheeling, 28,486; Morgantown, 29,660; Weirton, 19,746; Fairmont, 18,704; Beckley, 17,614; Clarksburg, 16,578; Martinsburg, 17,227
Bordering States
North: Ohio and Pennsylvania
North East: Maryland (Potomac River forms part of the Northeastern boundary)
East and South: Virginia (Tug Fork and Big Sandy rivers form almost all of the Southwestern boundary)
West: Kentucky and Ohio (Ohio River forms the West and Northwestern boundaries)
Major Industry
mining (coal), livestock, chemical manufacturing, glass products, tourism
Major Rivers
Ohio River, Guyandotte River, Greenbrier River
Major Lakes
Tygart Lake, Bluestone Lake
West Virginia Counties
55 Counties in West Virginia
Largest County
(by population)
Kanawha County
193,063 (2010)
903 sq. mi.
Largest County
(by area)
Randolph County
1,040 sq. mi.
State forests
9 (79,502 ac.)
State parks
37 (74,508 ac.)
Electoral Votes
5
US Congress
2 Senators; 3 Representatives
Time Zone
Eastern Standard Time
Zip Codes
NANPA
State Quick Facts
Census Bureau Quick Facts
---
West Virginia Climate and Weather

West Virginia has four distinct seasons. Its mountainous terrain means that there can be marked differences in the weather at any one time - the mountains tend to be cooler than the rest of the state (and downright cold in winter). Summer is hot and rainy in most of the state, with highs in the upper 80s F/30 C (80 F/26 C in the mountains).

Opportunities for hiking, camping and white-water rafting begin in the spring and last until autumn. Spring temperatures range 43-76 F/5-24 C, with lots of runoff from the 60+ in/152+ cm of snow in the mountains. Summer thundershowers help keep river levels up.

The ski season usually runs November-February. Winter temperatures range 19 to 40 F/-7 to -4 C in the mountains, with occasional drops to 0 F/-18 C. Most attractions are open year-round. Except for those travelers interested in winter sports, we recommend visiting West Virginia in the spring for white-water rafting and in summer and fall for touring.

Highest Temperature
112 degrees
July 10, 1936 -Martinsburg
Lowest Temperature
-37 degrees
December 17, 1917 - Lewisburg
Avg. Temp:
High - Low
85.6 degrees - 23.9 degrees

West Virginia Points of Interest

West Virginia offers experiences that bring history and nature to life.

Some of the state's most popular attractions include Blackwater Falls, Monongahela National Forest, Northeast Panhandle, Organ Cave, White Sulphur Springs, worldclass whitewater-rafting venues and the ski resorts in the Allegheny Mountains.

West Virginia Highest, Lowest, and Mean Elevations (Feet)

Mean Elevation: 1,500 feet

Highest Point: Spruce Knob: 4,861 feet

At 4,861 feet above sea level, Spruce Knob is West Virginia's highest peak. From this rugged alpine peak, you can view grassy openings and pastures or look down on forested ridges as far as the eye can see.

Lowest Point:
Potomac River
240 feet

West Virginia Land Area (Square Miles)

Geographic Center
In Braxton County, 4 mi. E of Sutton
Longitude: 80°42.2'W
Latitude: 38°35.9'N
Total Area
24,229.76 sq. mi.
41st
Land Area
24,077.73 sq. mi.
99.38%
Water Area
152.03 sq. mi.
0.62%
Forested Land Area
78.5%
Dimensions
(Length - Width)
240 miles - 130 miles
County Information and County History
Barbour, Berkeley, Boone, Braxton, Brooke, Cabell, Calhoun, Clay, Doddridge, Fayette, Gilmer, Grant, Greenbrier, Hampshire, Hancock, Hardy, Harrison, Jackson, Jefferson, Kanawha, Lewis, Lincoln, Logan, Marion, Marshall, Mason, McDowell, Mercer, Mineral, Mingo, Monongalia, Monroe, Morgan, Nicholas, Ohio, Pendleton, Pleasants, Pocahontas, Preston, Putnam, Raleigh, Randolph, Ritchie, Roane, Summers, Taylor, Tucker, Tyler, Upshur, Wayne, Webster, Wetzel, Wirt, Wood, Wyoming
Almanac Online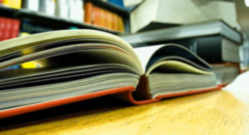 Information on people & places that make US a great place to live, visit, or study.