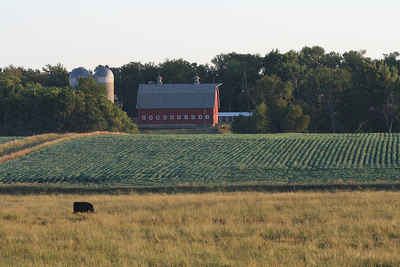 State Economy
The United States is one of the largest and most technologically developed countries in the world. The Gross Domestic Product of the country in terms of purchasing power parity of the country has reached at $12.36 trillion (2005 est.). A central feature of the US economy is a reliance on private decision-making ("economic freedom") in economic decision-making. This is enhanced by relatively low levels of regulation, taxation, and government involvement, as well as a court system that generally protects property rights and enforces contracts.
South Dakota Economy
Agriculture and Industry in South Dakota
South Dakota economy is a set of human and social activities and institutions related to the production, distribution, exchange and consumption of agriculture and industry goods and services. The balance between South Dakota various economic sectors differs largely between various regions and other states in the US.
South Dakota's real gross state product in 2012 was estimated to be $35,985 which was $151,455 and 81% lower than the national state average, $187,440. South Dakota has the 48th highest GSP out of the 50 states
South Dakota has long been an agricultural state, and although it is still an important part of the economy and the culture, farming no longer leads the state in employment. Nonetheless, South Dakota is the second-largest producer of flaxseed and sunflower seed in the nation, and the third largest producer of hay and rye. Corn, soybeans, oats and wheat are the chief cash crops.

About one third of the region west of the Missouri River belongs to Native Americans living on reservations. Most of the remaining area is occupied by large ranches raising cattle and sheep. Meatpacking and food processing are major industries in South Dakota.

Gold is South Dakota's most important mineral, with the town of Lead in the Black Hills as the United States' leading gold-mining center. Tourism, particularly around Mt. Rushmore and the Black Hills, is also a major source of income.

South Dakota Agriculture:
Cattle, hogs, wheat, soybeans, milk, corn.
South Dakota Industry:
Food processing, machinery, lumber and wood products, tourism.
Agriculture has traditionally dominated South Dakota's economy. Grains and livestock have been the main farm products, and processed foods and farm equipment the leading manufactured items. However, since 1970, 44 of South Dakota's 67 counties have lost population, and for five these counties, the rate of depopulation accelerated during the 1990s. The prolonged drought affecting many western states and which helped to reduce the state's corn production 10% and soybean production 6% in 2002 and disrupted cattle production, worsened in the winter of 2002-03, threatening another below-average season. The historically important mining sector was contributing less than 1% of total state product in 2001. South Dakota's tax free environment was designed in part to attract high-technology, financial, and manufacturing investments during the 1990s. Manufacturing output grew at a substantial 16.9% 1997 to 2000, but then plummeted 10% in the recession year of 2001, reducing the manufacturing share in gross state product from about 13% to 11.3%. The strongest growth in output has been in various services sectors. Coming into the 21st century (1997 to 2001), output from financial services increased 42.6%; from government services, 29.4%; from general services, 28.7% and from wholesale and retail trade, 21.4%.
In 2001, South Dakota's gross state product gross state product was $24.3 billion, the 5th smallest among the states, to which financial services contributed $5.4 billion; general services, $4.2 billion; trade, $4.16 billion; government, $3.3 billion; manufacturing, $2.7 billion; transportation and public utilities, $1.8 billion, and construction, $963 million. The public sector in 2001 constituted 13.5% of gross state product, compared to the 12% average for the states.
---