South Dakota Famous People
Famous Americans: History and Biographies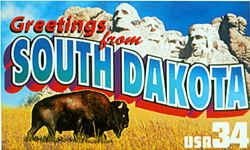 Links to histories and biographies of the famous people of South Dakota. Many famous people of South Dakota have made significant contributions to the history of our nation and the state of South Dakota. These famous Americans, famous entertainers, famous players, famous scientist, famous singers, famous statesmen, famous women, heroes, great explorers, and others South Dakota famous Americans have all made South Dakota their home. This list includes South Dakota historical figures, celebrities and those individuals of South Dakota who have influenced the lives of others.
Gertrude Bonnin (Zitkala-Sa) (1876 - 1938) Yankton Dakota American Indian activist Gertrude Simmons Bonnin (Zitkala-Sa) was a teacher, musician, and writer, who worked for the Indian Service in South Dakota and Utah.

Bonnin's activities in the Society of American Indians precipitated her move to Washington, D.C., in 1916. An accomplished lecturer, she boldly criticized the white man's treatment of American Indians.

In 1928, Bonnin formed the National Council of American Indians. Lobbying for Indian legislation, she secured the active interest of the General Federation of Women's Clubs in American Indian welfare, which resulted in a federal commission under Lewis Meriam to study Indian conditions.
Norm Van Brocklin (1926 - 1983) Football player; born in Eagle Butte.
Tom Brokaw (1940 - ) born near Bristol, South Dakota, Tom Brokaw spent his childhood in several small towns in South Dakota. In high school, he took a job at a local radio station to earn extra money. After graduating from the University of South Dakota, he began a career in broadcasting and went on to anchor the top rated "NBC Night News" beginning in 1983. He was the first newscaster to interview Soviet premier Mikhail Gorbachev one-on-one, and he was the only TV anchor to report live from the scene as the Berlin Wall fell.
Francis Higbee Case (1896-1962) Politician Francis Case served nine terms in Congress, seven in the House and two in the Senate. Before entering politics, the Iowa native was the editor and publisher of several Black Hills area newspapers.

A promoter of South Dakota, Case persuaded President Calvin Coolidge to use the Black Hills as his summer White House in 1927. The congressman also attempted to locate the United Nations in the hills.

Case successfully obtained federally funded public works projects such as the Fort Randall, Oahe, Big Bend, and Lewis and Clark reservoirs. A water resources pioneer, Case was recognized nationally as a promoter of weather modification.
Charles Badger Clark, Jr. (1883-1957) Badger Clark, poet, lecturer, and traveler, was South Dakota's Poet Laureate for twenty years. He came to Dakota Territory from Iowa with his family in 1883.

A lover of the outdoors, Clark reflected the cowboy's lifestyle in his more than two hundred poems and thirty short stories. His best-known poem, "A Cowboy's Prayer," was read into the Congressional Record twice, and his patriotic "Lead My America" was set to music.

Clark's affection for the Black Hills prompted his permanent settlement in Custer State Park in 1925. His hand-built cabin, called "Badger Hole," now belongs to the state.
Mary C. Collins (1846-1920) A teacher and missionary to the Sioux, Mary Collins came to Oahe Mission, Dakota Territory, from Illinois in 1875. After ten years, she moved to Standing Rock Agency and lived with the Indians, including Sitting Bull's band.

Collins learned the Sioux language and culture and, as a missionary, endeavored to teach the Indians how to live well, serve God, and become self-supporting. A prolific writer, lecturer, and proponent of Indian human rights, she was active in national reform movements and groups.

Collins advised her wary but respectful friend, Sitting Bull, to stop the Ghost Dance. After his death, she helped the Indians in their land negotiations.
Tom Daschle (1947 - ) Thomas Andrew "Tom" Daschle (born December 9, 1947) is a policy advisor, lobbyist, former U.S. Senator from South Dakota, and former U.S. Senate Majority Leader. He is a member of the Democratic Party. A South Dakota native, Daschle obtained his university degree there, and served in the United States Air Force. He was elected to the United States House of Representatives in 1978 and served four terms. In 1986 he was elected to the Senate, becoming minority leader in 1994. Defeated for re-election in 2004, he took a position as a policy advisor with a lobbying firm, and also became a senior fellow at the Center for American Progress. He co-authored a book advocating universal health care.
Niels Ebbesen Hansen (1866-1950) Niels E. Hansen began his forty-two years with South Dakota State University as professor of horticulture in 1895. The Denmark native's plant-breeding successes earned him the title "Burbank of the Plains."

Hansen discovered cossack alfalfa on his travels to Europe and Asia as the United States' first plant explorer. The drought and cold-resistant hybrid from Siberia became a new source of income for western South Dakota.

A pioneer in adapting agriculture to the Northern Great Plains, Hansen introduced over three hundred new varieties of plants to the region. He received recognition across the United States and Canada for his work.
Mary Hart (1951 - ) Co-host of Entertainment Tonight; born in Madison.
Crazy Horse (1849 - 1877) Also known as Tashunca-uitco, Crazy Horse was a Lakota Indian and was known as a legendary warrior. Not only was he skillful and daring in battle, but he was fiercely determined to preserve his tribe's traditional way of life, and fought against American encroachment on Lakota land. When the War Department ordered all Lakota onto reservations in 1876, Crazy Horse led the resistance. Because he had married a woman from the Cheyenne tribe, he was able to organize a force of 1200 Oglala and Cheyenne and then joined forces with Sitting Bull to defeat Custer's Seventh Cavalry at Little Bighorn. While Sitting Bull retreated to Canada, Crazy Horse refused until he was finally forced to surrender and live on the reservation in 1877. Not yet 30 years old, he left the reservation without permission to take his sick wife to her parents, and was arrested and then killed by one of the arresting officers when he tried to resist.
Oscar Howe (1915-1983) Oscar Howe, artist and teacher, overcame a multitude of obstacles to become a major figure in American Indian art. A Yanktonais Sioux, he received his formal art education in New Mexico and, by graduation in 1938, was known worldwide for his talents.

Besides his twenty-five-year association with the University of South Dakota, Howe served on the faculties of Dakota Wesleyan University and the Pierre public school system.

Howe was named South Dakota's Artist Laureate in 1960. His internationally acclaimed works are included in many major collections, and his artwork appears in books and on buildings in several midwestern cities.
Hubert Humphrey (1911 - 1978) Served as vice-president of the United States from 1965-1969; born in Wallace.
Cheryl Ladd (1951 - ) Born Cheryl Jean Stoppelmoor in Huron, South Dakota, she was the daughter of an engineer and a waitress. From very early, she wanted to be a movie star, and took tap dancing lessons, and played in a jazz trio in high school. She moved to California to try and start a professional career. Her first role was singing backup on the cartoon hit "Josie and the Pussycats." She starred in commercials, and then in 1977, got a role in the TV show "Charlie's Angels" replacing Farrah Fawcett.
Ernest O. Lawrence (1901 - 1958) Nobel prize winning scientist that built the first cyclotron, a machine that smashes atoms; born in Canton.
Ida Anding McNeil (1888-1974) Ida Anding McNeil worked at the South Dakota Department of History from 1906 to 1921 as secretary, legislative reference librarian, and assistant superintendent. While there, she designed South Dakota's first state flag.

In the 1920s, McNeil married railroad conductor and amateur radio station owner Dana McNeil and began broadcasting to him during his railroad runs. Others listened in, and the broadcast led to regular programming and a commercial license for radio station KGFX.

Believing that the radio station should serve the community, McNeil devoted seventy per cent of her air time to public service announcements, such as her "Hospital News" program. McNeil received state and national recognition as a broadcast pioneer.
Oscar Micheaux (1884-1951) Pioneer black novelist and filmmaker Oscar Micheaux was the only black to purchase a relinquishment claim on the Rosebud Indian Reservation in 1904. The Ohio native fictionalized his experience in his novel The Homesteader, which later became the first all-black film.

The novelist organized a film corporation in 1918 and made more than thirty-five films. Micheaux Film Corporation was the longest lived and most productive black film company.

In 1948, Micheaux made his last movie, The Betrayal, about a black South Dakota homesteader in love with a white woman. The Black Filmmakers Hall of Fame annually honors blacks in films in Micheaux's memory
Peter Norbeck (1870-1936) Peter Norbeck was South Dakota's first native-born governor and United States senator, serving as governor from 1917 to 1921 and as senator from 1921 until his death in 1936.

Norbeck's vision and labor contributed to the creation of Custer State Park in the Black Hills. As governor, he was responsible for the creation of a state-owned cement plant, a workman's compensation law, and hydro-electric and road development.

His senatorial career reflected his concern for wildlife conservation and park development. Norbeck was influential in the naming of the Badlands as a national monument and is credited with the inclusion of Teddy Roosevelt's image in Mount Rushmore.
James ("Scotty") Philip (1858-1911) Scottish-born James Philip was a successful rancher and prominent cattleman. He served as guide, scout, and dispatch rider at Fort Robinson. In 1881, he began ranching and soon became involved in real estate, banking and politics as well.

Philip is credited with helping to save the bison from extinction. His herd of fifty-seven buffalo grew to nine hundred and formed the basis for several herds in the country, including the herd now at Custer State Park.

Eulogized as "a man of large stature, large plans and large heart," Philip was one of the first South Dakotans named to the National Cowboy Hall of Fame.
Mary Shields ("Mamie") Pyle (1866-1949) Mary Shields Pyle was president of South Dakota's woman suffrage organization from 1910 to 1918. Through this group, the New Jersey native succeeded in convincing male voters to give women the right to vote in 1918.

Pyle was also a schoolteacher in Beadle County. Taking an active role in college affairs, she served as trustee of Huron College from 1902 to 1949.

In 1947, Pyle was chosen as South Dakota mother of the year. Among her children was Gladys Pyle, South Dakota's first woman to serve as a state and national legislator.
Gabriel Renville (1824-1892) Gabriel Renville, head chief of the Sisseton-Wahpeton Sioux, served as chief of scouts with General Sibley's 1863-1865 expedition against the hostile Sioux.

The War Department appointed Renville as head chief of the Sisseton-Wahpeton tribe in 1866. The following year, after Lake Traverse Reservation was established, his people elected him head chief for life. At Fort Wadsworth, he became a diligent farmer as well as chief of scouts.

Renville helped his people make the transition to reservation living without forsaking all cultural traditions. Indians and non-Indians alike respected him for his great mental force and integrity.
Jonah Leroy ("Doane") Robinson (1856-1946) Doane Robinson was secretary of the South Dakota State Historical Society from 1901 to 1926 and in 1945-1946. The Wisconsin native was a schoolteacher, lawyer, poet, and publisher before becoming South Dakota's state historian.

Besides editing and contributing to the Historical Collections for twenty-five years, Robinson wrote groundbreaking histories of South Dakota. He collected thousands of artifacts and books to form the basis of the State Historical Society's museum collection.

An ardent promoter of South Dakota, Robinson originated the idea of a national memorial on Mount Rushmore and advocated Missouri River development.
Sitting Bull (1831 - 1890) Chief of Hunkpappa Sioux. He defended Black HIlls, led the Teton Sioux to Canada, and was killed during arrest; born on the Grand River.
Spotted Tail (Sinte Gleska) 1823-1881) Spotted Tail (Sinte Gleska), a Brule Sioux, attained chieftainship by proving his prowess in battle. He worked hard to keep his people together after the signing of the Fort Laramie Treaty of 1868 and the band's relocation to Whetstone Agency in Dakota Territory.

A skilled negotiator, Spotted Tail visited Black Hills mining camps after the discovery of gold to learn the value of the mineral, which resulted in the Indian demand of $60 million for the sale of the hills.

During the Sioux War of 1876-1877, Spotted Tail and his people remained on the reservation, and the chief used his influence to persuade government officials to make the inevitable cultural changes as gradual as possible.
John Blair Smith Todd (1814-1872) John Blair Smith Todd had a varied career as an army officer, sutler, trader, speculator, politician, and attorney. A West Point graduate, Todd came to Dakota with the Harney Expedition and stayed to launch the Territory of Dakota.

Besides lobbying for the creation of Dakota Territory, Todd founded Yankton and successfully promoted it for territorial capital. He was Dakota's first delegate to Congress. In 1867, he was elected to the territorial legislature, becoming Speaker of the House.

The first territorial legislature honored Todd by naming a county after him.
Laura Ingalls Wilder (1867-1957) Noted author Laura Ingalls Wilder came to De Smet, South Dakota, from Wisconsin in time to experience the hard winter of 1880-1881. At the age of fifteen, she taught in rural schools in Kingsbury County. In 1894, she and her husband Almanzo Wilder moved to Mansfield, Missouri.

Wilder's only daughter, novelist Rose Lane, persuaded her mother to write stories about her childhood, and Wilder's Little House in the Big Woods was published in 1932. Its immediate success led to the writing and publishing of seven more "Little House" books, four of which are set in South Dakota.

Wilder retired from writing at age seventy-six. The Laura Ingalls Wilder Award for contributions to children's literature was established in her honor.
---
More Famous People of South Dakota
Find more more South Dakota famous people below. You may not even realize many of these famous people were born in South Dakota or notable associated with South Dakota, including actors, actresses, explorers, historical figures, inventors, musicians, novelists, professional athletes, important politicians, singers, sport stars and more.
Sparky Anderson baseball manager, Bridgewater
Norm Van Brocklin football player, Parade
John James Exon senator, Geddes
Myron Floren accordionist, Roslyn
Joe Foss governor, 1st Commissioner of the American Football League, Sioux Falls
Joseph Hansen author, Aberdeen
David C. Jones US Air Force general, Aberdeen
Roy Braxton Justus cartoonist, Avon
Ward L. Lambert basketball, Deadwood
Russell Means American Indian activist, Pine Ridge
George McGovern politician, Avon
Dorothy Provine actress, Deadwood
Rain-in-the-Face Hunkpapa Sioux chief
Red Cloud Oglala Sioux chief
Jess Thomas opera singer, Hot Springs
Mamie Van Doren actress, Rowena