Colorado Famous People
Famous Americans: History and Biographies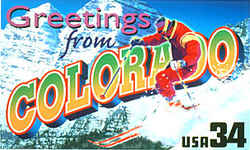 Links to histories and biographies of the famous people of Colorado. Many famous people of Colorado have made significant contributions to the history of our nation and the state of Colorado. These famous Americans, famous entertainers, famous players, famous scientist, famous singers, famous statesmen, famous women, heroes, great explorers, and others Colorado famous Americans have all made Colorado their home. This list includes Colorado historical figures, celebrities and those individuals of Colorado who have influenced the lives of others.
---
More Famous Coloradoans:
Find more more Colorado famous people below. You may not even realize many of these famous people were born in Colorado or notable associated with Colorado, including actors, actresses, explorers, historical figures, inventors, musicians, novelists, professional athletes, important politicians, singers, sport stars and more.
Zachery Ty Bryan actor, Aurora
Ralph Edwards, TV and radio producer was born in Merino, Colorado, in 1913. In 1940, he created the popular "Truth or Consequences" program, which quickly became radio's top-ranked audience participation show. He also created and hosted This is Your Life, which aired from 1948 to 1950 on radio. Both programs later became popular television shows. In 1995, Edwards was inducted into the Radio Hall of Fame.
Gene Fowler writer
Lawrence H. Gipson historian, Greeley
Homer Lea soldier, writer
Ted Mack TV host, Greeley
Ouray Ute Indian chief, Colorado Territory
Robert J. Seiwald inventor, Fort Morgan
Byron Raymond White jurist, Fort Collins