Iowa Famous People
Famous Americans: History and Biographies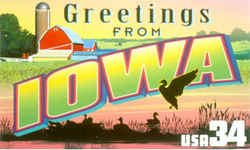 Links to histories and biographies of the famous people of Iowa. Many famous people of Iowa have made significant contributions to the history of our nation and the state of Iowa. These famous Americans, famous entertainers, famous players, famous scientist, famous singers, famous statesmen, famous women, heroes, great explorers, and others Iowa famous Americans have all made Iowa their home. This list includes Iowa historical figures, celebrities and those individuals of Iowa who have influenced the lives of others.
Adrian Constantine (Cap) Anson (1851 - 1922) Known as the greatest baseball player of the 19th century; born in Marshalltown.
Amelia Jenks Bloomer (1818 - 1894) She headed the Iowa woman Suffrage Association and made popular loose fitting pants called "bloomers"; lived in Council Bluffs.
Johnny Carson (1925 - 2005) Comedian that hosted The Tonight Show for 30 years; born in Corning.
Carrie Chapman Catt (1859 - 1947) She led the campaign that ended with the 19th Amendment to the Constitution allowing women to vote; lived in Charles City.
William Frederick "Buffalo Bill" Cody (February 26, 1846 - January 10, 1917) was an American soldier, bison hunter and showman. He was born in the Iowa Territory (now the U.S. state of Iowa), in Le Claire but lived several years in Canada before his family moved to the Kansas Territory. Buffalo Bill received the Medal of Honor in 1872 for service to the US Army as a scout. One of the most colorful figures of the American Old West, Buffalo Bill became famous for the shows he organized with cowboy themes, which he toured in Great Britain and Europe as well as the United States.
Bob Feller (1918- ) Baseball player. A member of the Baseball Hall of Fame. Many consider him to be the premier right-handed pitcher in baseball history.; born in Van Meter.
Dan Gable (1948- ) Wrestler/Coach. Won a gold medal at the 1972 Summer Olympics without surrendering a point. Two-time Olympic head coach (1980 and 1984). As a coach at Iowa, he won 15 NCAA team titles in 22 years and 22 straight Big Ten Conference titles; born in Waterloo.
Frank Gotch (1878-1917) World heavyweight wrestling champion from 1908 to 1915, the best known athlete of his era; born and raised in Humboldt.
Fred Grandy (1948 - ) Actor made famous in the Love Boat and politician; born in Sioux City.
Herbert Hoover (1874 - 1964) The 31st President of the United States; born in West Branch.
Fred Maytag (1857 - 1937) Founder of the Maytag Company; lived in Newton.
Glenn Miller (1904 - 1944) Bandleader and Composer of many famous songs including "In the Mood," and "Moonlight Serenade;" born in Clarinda.
Esther Pauline Friedman Two of the most well known newspaper columnists in the world, "Ann Landers" and "Dear Abby" were twins Esther Pauline Friedman and Pauline Esther Friedman. The two took different routes to writing nationally syndicated advice columns, and for a time in their lives were estranged from one another. Later in life, they reconciled. Esther Pauline (Ann Landers) died in 2002.
Pauline Esther Phillips (July 4, 1918 - January 16, 2013), also known as Abigail Van Buren, was an American advice columnist and radio show host who began the "Dear Abby" column in 1956. During her decades writing the column, it became the most widely-syndicated newspaper column in the world, syndicated in 1,400 newspapers around the world with 110 million of readers. Pauline Esther Friedman, nicknamed "Popo", was born in Sioux City, Iowa to Russian Jewish immigrants. Rebecca and Abraham B. Friedman, owner of a chain of movie theaters. She was the youngest of four sisters and grew up in Sioux City. One sister was an identical twin, Esther Pauline Friedman, who later became the columnist Ann Landers.
Henry Wallace (1888 - 1965) Vice President of the United States and secretary of agriculture during the depression; born near Orient.
Meredith Willson (1902 - 1984) Writer of the famous Broadway musical The Music Man; born in Mason City.
John Wayne Marion Mitchell Morrison (born Marion Robert Morrison; May 26, 1907 - June 11, 197) Wayne was born in Winterset, Iowa but his family relocated to the greater Los Angeles area when he was four years old. He better known by his stage name John Wayne, was an American film actor, director and producer. An Academy Award-winner, Wayne was among the top box office draws for three decades. An enduring American icon, he epitomized rugged masculinity and is famous for his demeanor, including his distinctive calm voice, walk, and height.
Grant Wood (1892 - 1942) Artist. Painted his most famous painting "American Gothic" in 1930; born in Anamoso.
---
More Famous People of Iowa
Find more more Iowa famous people below. You may not even realize many of these famous people were born in Iowa or notable associated with Iowa, including actors, actresses, explorers, historical figures, inventors, musicians, novelists, professional athletes, important politicians, singers, sport stars and more.
Bess Streeter Aldrich author, Cedar Falls
Bix Beiderbecke jazz musician, Davenport
Norman Borlaug plant pathologist, geneticist, Cresco
Donald L. Campbell inventor, Clinton
Wallace Hume Carothers inventor, Burlington
Gardner Cowles Jr. publisher, Algona
Lee DeForest inventor, Council Bluffs
Simon Estes bass-baritone, Centerville
William Frawley actor, Burlington
George H. Gallup poll taker, Jefferson
Susan Glaspell writer, Davenport
Ann Landers columnist, Sioux City
Cloris Leachman actress, Des Moines
William D. Leahy fleet admiral, Hampton
John L. Lewis labor leader, Lucas
Glenn L. Martin aviator, manufacturer, Macksburg
Elsa Maxwell writer, Keokuk
Glenn Miller bandleader, Clarinda
Harriet Nelson actress, Des Moines
Nathan M. Pusey educator, Council Bluffs
David Rabe playwright, Dubuque
Harry Reasoner TV commentator, Dakota City
Donna Reed actress, Denison
Lillian Russell soprano, Clinton
Wallace Stegner author, critic, Lake Mills
Billy Sunday evangelist, Ames
James A. Van Allen space physicist, Mount Pleasant
Andy Williams singer, Wall Lake