Minnesota Famous People
Famous Americans: History and Biographies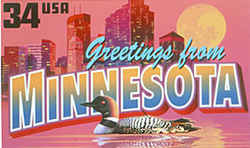 Links to histories and biographies of the famous people of Minnesota. Many famous people of Minnesota have made significant contributions to the history of our nation and the state of Minnesota. These famous Americans, famous entertainers, famous players, famous scientist, famous singers, famous statesmen, famous women, heroes, great explorers, and others Minnesota famous Americans have all made Minnesota their home. This list includes Minnesota historical figures, celebrities and those individuals of Minnesota who have influenced the lives of others.
Charles Bender (1883 - 1954) The first pitcher in baseball to win six World Series games; born in Crow Wing County.
Patty Berg (1918 - ) One of the greatest female golfers ever, founded the US Ladies' Professional Golfers' Association; born in Minneapolis.
William O. Douglass (1898 - 1980) The Longest-serving US Supreme Court Justice; born in Maine.
Bob Dylan (1941 - ) was born Robert Zimmerman in Duluth, Minnesota, the grandson of Jewish-Russian immigrants. He grew up in Hibbing, Minnesota, and became fascinated with the early rock and roll and folk music scene. His high school yearbook shows his goal in life was "to join Little Richard." He moved to New York's Greenwich Village and began performing and composing music, and is generally recognized as one of the founders of rock and roll. His son, Jakob, is now the leader of a popular band ("The Wallflowers").
F. Scott Fitzgerald (1896 - 1940) Author famous for his characters and sense of style as in The Great Gatsby; born in St. Paul.
Judy Garland (1922 - 1969) Singer and Actress most famous for her role as Dorothy in the Wizard of Oz; born in Grand Rapids.
J. Paul Getty (1892 - 1976) Richest man in the world when he died; born in Minneapolis.
Hubert H. Humphrey (1911 - 1978), U. S. senator and vice president of the U. S. (1965 - 1969); Democratic candidate for president, 1968; Minnesota Senator.
Garrison Keillor (1942 - ) Author and host of "A Prairie Home Companion"; born in Anoka.
Sinclair Lewis (February 7, 1885 - January 10, 1951) Probably the greatest satirist of his era, Lewis wrote novels that present a devastating picture of middle-class American life in the 1920s. His first literary successes were Main Street (1920), a merciless portrayal of Midwestern provincialism, and Babbitt (1922), an equally satiric portrait of a conformist businessman. Lewis refused a Pulitzer Prize in 1926, citing his objection to the idealized view of America espoused by the Pulitzer panel. What award did he accept in 1930?
John Madden (1936 - ) Emmy Award winning sport analyst and commentator and former coach of the Oakland Raiders; born in Austin. .
Charles H. Mayo (1865 - 1939) and William J. Mayo (1861 - 1939) Physicians who founded the Mayo Clinic in Rochester.
Walter Frederick Mondale (1928 - ) 42d vice-president of the United States (1977 - 1980); Democratic candidate for president of the United States in 1984.
Eugene McCarthy (1916 - ) US Senator from Minnesota. Professor, author, and poet; born in Watkins.
Roger Maris (1934 - 1985) Baseball player that while playing for the Yankees made history hitting 61 home runs in a single season; born in Hibbing.
John S. Pillsbury (1827 - 1901) A leader in flour milling, he helped found the family company in Minneapolis in 1872; three-time Republican governor of Minnesota (1876 - 1882).
Winona Ryder (born Winona Laura Horowitz; October 29, 1971) Winona Ryder was born Winona Laura Horowitz and named after the town in which she was born, Winona, Minnesota. She grew up in a ranch commune in Northern California which had no electricity. She is the goddaughter of Timothy Leary. Her parents were friends of Beat poet Allen Ginsberg and once edited a book called "Shaman Woman Mainline Lady", an anthology of writings on the drug experience in literature, which included one piece by Louisa May Alcott. Winona Ryder was later to star as Jo March in this author's Little Women (1994).
Charles Schulz (1922 - 2000) Charles Schultz was born in Minneapolis. After seeing a "Do You Like to Draw?" advertisement, he decided to take a correspondence course in art. After serving in World War II, he began drawing a church cartoon. In 1950, he began drawing his comic strip, "Peanuts," which would become the most popular comic strip in history. His characters, including Charlie Brown, Snoopy and Lucy, were world famous, and inspired such well known phrases as, "Good Grief," "Security Blanket," and "Happiness is a Warm Puppy." His television special, "A Charlie Brown Christmas," has aired every year since 1965.
Richard W. Sears (1863 - 1914) Founder of the Sears, Roebuck and Company; born in Stewartville.
Jesse Ventura was born John Janos in 1941 in South Minneapolis. After high school, he joined the Navy and became a SEAL and served in Vietnam. After leaving the military, he began a successful pro wrestling career using the nick name Jesse "The Body" Ventura, and then starred in films. In 1998, he shocked the political establishment by defeating Hubert H. Humphrey III in the race for Minnesota governor, and is the only Reform Party candidate to hold the position of governor.
DeWitt Wallace (1889 - 1981) Founder of the Reader's Digest magazine; born in St. Paul.
---
More Famous People of Minnesota
Find more more Minnesota famous people below. You may not even realize many of these famous people were born in Minnesota or notable associated with Minnesota, including actors, actresses, explorers, historical figures, inventors, musicians, novelists, professional athletes, important politicians, singers, sport stars and more.
LaVerne, Maxene, and Patti Andrews singers, Minneapolis
Warren E. Burger jurist, Saint Paul
William Demarest actor, Saint Paul
James Earle Fraser sculptor, Winona
Duane Hanson sculptor, Alexandria
Garrison Keillor humorist, Anoka
Jessica Lange actress, Cloquet
Edward Lowe inventor, Saint Paul
Cornell MacNeil baritone, Minneapolis
John Madden sportscaster, Austin
Roger Maris baseball player, Hibbing
E. G. Marshall actor, Owatonna
Charles Horace Mayo surgeon, Rochester
William J. Mayo surgeon, Le Sueur
Eugene J. McCarthy senator, Watkins
Kate Millett feminist, Saint Paul
Walter F. Mondale Vice President, Celyon
Prince Rogers Nelson singer, Minneapolis
Lauris Norstad commander of NATO forces, Minneapolis
Westbrook Pegler columnist, Minneapolis
Jane Russell actress, Bemidji
Winona Ryder actress, Winona
Harrison E. Salisbury journalist, Minneapolis
Kevin Sorbo actor, Mound
Maurice H. Stans secretary of commerce, Shakopee
Harold Edward Stassen government official, Saint Paul
Michael Todd producer, Minneapolis