Minnesota State Fruit
Honeycrisp™ Apple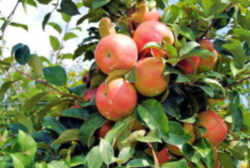 (Malus domestica "Honeycrisp™")
Adopted in 2006
Honeycrisp™ apple was designated the state fruit in 2006. (Minnesota Statutes 1.1475)

The successful Honeycrisp apple variety, developed at the University of Minnesota, was suggested by a class of students from Andersen Elementary School in Bayport. Rep. Mike Charron and Sen. Brian LeClair sponsored the legislation and Minnesota became the 21st state to adopt a state fruit. It was signed into law by Governor Tim Pawlenty.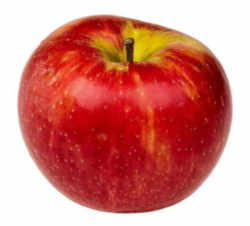 Honeycrisp (Malus domestica 'Honeycrisp') is an apple cultivar (cultivated variety) developed at the Minnesota Agricultural Experiment Station's Horticultural Research Center at the University of Minnesota, Twin Cities. Designated in 1960 as the MN 1711, patented in 1988, and released in 1991, the Honeycrisp, once slated to be discarded, has rapidly become a prized commercial commodity, as its sweetness, firmness, and tartness make it an ideal apple for eating raw. It has much larger cells than most apples, which rupture when bitten to fill the mouth with juice. The Honeycrisp also retains its pigment well and boasts a relatively long shelf life when stored in cool, dry conditions. The name Honeycrisp was trademarked by the University of Minnesota, but university officials were unsure of its protection status in 2007.
U.S. Plant Patent 7197 and Report 225-1992 (AD-MR-5877-B) from the Horticultural Research Center indicated that the Honeycrisp was a hybrid of the apple cultivars Macoun and Honeygold. However, genetic fingerprinting conducted by a group of researchers in 2004, which included those who were later attributed on the patent, determined that neither of these cultivars is a parent of the Honeycrisp, but that the Keepsake (another apple developed by the same University of Minnesota crossbreeding program) is one of the parents. The other parent has not been identified, but it might be a numbered selection that could have been discarded since.
The US patent for the Honeycrisp cultivar expired in 2008, though patent protection in some countries continues until as late as 2031. Patent royalties had generated more than $10 million by 2011, split three ways by the University of Minnesota between its inventors, the college and department in which the research was conducted, and a fund for other research. The University of Minnesota crossed Honeycrisp with another of their apple varieties, 'Minnewasheta' (brand name 'Zestar!'), to create a hybrid called 'Minneiska' (brand name 'SweeTango'), released as a "managed variety"to control how and where it can be grown and sold.
Characteristics of the Honeycrisp™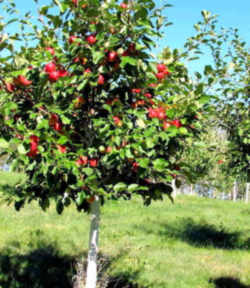 Origin
Honeycrisp was produced from a 1960 cross of Macoun and Honeygold, as part of the University of Minnesota apple breeding program to develop winter hardy cultivars with high fruit quality. The original seedling was planted in 1962 at the University of Minnesota Horticultural Research Center, located near Excelsior in east central Minnesota. It was selected in September 1974 and evaluated as MN 1711 at locations in Excelsior, Morris and Grand Rapids, Minnesota, and at Geneva, New York.
Description
Honeycrisp is a moderately vigorous tree with a somewhat spreading growth habit. It appears to be well suited to a central leader training system, although the leader may require staking or some fruit removal due to early bearing. The tree is a reliable annual bearer and has shown good precocity on dwarf rootstock.
Honeycrisp apples are oblate to roundly oblate in shape and 2-3/4 to 3-1/2 inches (7 to 9 centimeters) in diameter. Stems are approximately 1 inch (2.5 centimeters) long and moderately stiff. Skin color is 60 to 90 percent distinctive mottled red over a yellow background. A nearly solid red coloration develops only if the fruit is well exposed to the sun. The fruit surface has shallow dimples and numerous, small lenticels (dots) with green russeting at the stem end.
Honeycrisp fruit is characterized by an exceptionally crisp and juicy texture. Its flesh is cream colored and coarse. The flavor is sub-acid and ranges from mild and well-balanced to strongly aromatic, depending on the degree of maturity. It has consistently ranked as one of the highest quality apples in the University of Minnesota sensory evaluations.
Honeycrisp fruit has shown excellent storage characteristics. The outstanding flavor and texture can be maintained for at least six months in refrigerated storage without atmosphere modification.
Performance
Honeycrisp apple's harvest season ranges from September 15 to October 10 in east central Minnesota. Optimum harvest usually occurs in the fourth week of September, approximately one week after McIntosh and 2-1/2 weeks before Red Delicious. Earlier harvested apples are generally mild in flavor, while fruit from later harvest dates may be strongly aromatic.
Honeycrisp apples ripen evenly and hold well on the tree. They can be harvested over an extended period or in a single picking. Although fruit adherence is usually good, trees with excessive crops may show some fruit drop. Thinning of heavy crops is advised since overcropping may also adversely affect flavor and fruit quality.
Honeycrisp blooms in the early to middle part of the apple flowering period. It produces viable pollen that has successfully fertilized numerous other cultivars in experimental hand pollinations.
Honeycrisp does not carry any known exceptional resistances to diseases or insects. Apple scab and cedar apple rust lesions have been observed on the leaves but these diseases have been readily controlled with a standard spray program. It has shown moderate susceptibility to fireblight. Supplemental applications of calcium may be useful in preventing bitter pit.
Minnesota Law
The law designating the Honeycrisp™ apple as the official Minnesota state fruit is found in the 2008 Minnesota Statutes, Jurisdiction/Civil Divisions, Chapter 1, Section 1.1475
JURISDICTION, CIVIL DIVISIONS.
Chapter 1. SOVEREIGNTY, JURISDICTION, EMERGENCY OPERATION, GENERAL POLICIES
1.1475 STATE FRUIT.

1.1475 STATE FRUIT.

The Honeycrisp™ apple is the official fruit of the state of Minnesota.

History: 2006 c 229 s 1
Taxonomic Hierarchy: Honeycrisp™ Apple
Kingdom: Plantae - Plants
Subkingdom: Tracheobionta - Vascular plants
Superdivision: Spermatophyta - Seed plants
Division: Magnoliophyta - Flowering plants
Class: Magnoliopsida - Dicotyledons
Subclass: Rosidae
Order: Rosales
Family: Rosaceae - Rose family
Genus: Malus Mill. - apple
Species; Malus domestica "Honeycrisp™"
---