New York Famous People
Famous Americans: History and Biographies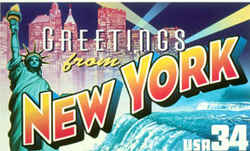 Links to histories and biographies of the famous people of New York. Many famous people of New York have made significant contributions to the history of our nation and the state of New York. These famous Americans, famous entertainers, famous players, famous scientist, famous singers, famous statesmen, famous women, heroes, great explorers, and others New York famous Americans have all made New York their home. This list includes New York historical figures, celebrities and those individuals of New York who have influenced the lives of others.
Susan B. Anthony (1820 - 1906) One of the leaders in the fight for women's right to vote; lived in Rochester.
Bonnie Blair (1964 - ) The only American woman to Win a US-record five individual gold medals over three Olympic Games; born in Cornwall.
Isaac Sidney "Sid" Caesar (September 8, 1922 - February 12, 2014) was an American comic actor and writer best known for the television series Your Show of Shows and Caesar's Hour, and as Coach Calhoun in Grease. He was also a saxophonist and author of several books, including two autobiographies. Caesar was the youngest of three sons born to Jewish immigrants living in Yonkers, New York. His father, Max, had emigrated from Poland; his mother, Ida Raphael), from the Russian Empire. The surname "Caesar" was given to Max, as a child, by an immigration official at Ellis Island
Mariah Carey (1970 - ) Singer whose albums have sold millions; from Huntington
Shirley Chisholm (1924 - ) The first black woman to be elected to Congress and the first African American to run for President on the Democratic ticket; born in Brooklyn.
George M. Cohan was an actor and musical theatre performer. He was also the composer of several famous songs, including "Yankee Doodle Dandy" and "Give My Regards to Broadway."
Tom Cruise (1962 - ) Famous actor who has appeared in movies such as Top Gun, Rain Man and Mission Impossible; born in Syracuse.
George Eastman (1854 - 1932) Founded the Eastman Kodak Company and invented the Kodak camera; born in Waterville.
Julius (Dr. J) Erving (1950 - ) Famous basketball player who changed the way the game was played; born in Roosevelt.
Millard Fillmore (1800 - 1874) Thirteenth President of the United States; born in Summer Hill.
Henry Louis Gehrig, 1903-1941, nicknamed "The Iron Horse" was one of the most beloved Major League Baseball players. He played in 2,130 consecutive games, a record only recently broken by Cal Ripkin, Jr. He died of a rare disease called amyotrophic lateral sclerosis, which is now often referred to as "Lou Gehrig's disease."
George Gershwin (1898 - 1937) Composer from New York City that blended different musical styles; famous for Rhapsody in Blue; born in Brooklyn.
Mel Gibson (1956 - ) Famous actor that was born in Peekskill and moved to Australia as a boy; famous for Lethal Weapon, Braveheart, and many others.
Grace Hopper Born Grace Brewster Murray in New York City, NY, Grace Hopper was educated at Vassar College and Yale University. She became an associate professor of mathematics at Vassar, and joined the Navy in 1942. She was assigned as a programmer on the Mark I, the first large-scale U.S. computer. She is credited with inventing the compiler, a program that translates instructions for a computer from English to a language the computer can understand. She helped develop COBOL (the Common Business-Oriented Language) for the UNIVAC, the first commercial electronic computer. By a special act of Congress she was promoted to the rank of Rear Admiral in 1983.
Michael Jordan (born February 17, 1963), also known by his initials, MJ, is an American former professional basketball player, entrepreneur, and majority owner and chairman of the Charlotte Bobcats. His biography on the National Basketball Association (NBA) website states, "By acclamation, Michael Jordan is the greatest basketball player of all time." Jordan was one of the most effectively marketed athletes of his generation and was considered instrumental in popularizing the NBA around the world in the 1980s and 1990s
Vince Lombardi (1913 - 1970) - Considered one of the greatest football coaches in history, leading the Green Bay Packers to five NFL Championships and the first two Super Bowl titles; born in Brooklyn.
Herman Melville (1819 - 1891) Author of Moby Dick; born in New York City.
Julius Robert Oppenheimer (1904) born in New York City, Oppenheimer was the son of a wealthy textile importer. As a child, he became interested in mineral collecting, and through his letters to the New York Mineralogy Club, was invited to present a paper there when he was only twelve years old. In 1922, he enrolled in Harvard, and worked with an experimental physicist there. He continued his work in theoretical physics, and in 1942, he was asked to work on the US Atomic bomb program (eventually to be called the "Manhattan Project"). Oppenheimer recruited scientists to work with him at a facility at Los Alamos, New Mexico. Although the Manhattan Project was successful, Oppenheimer and other scientists who worked on the development of atomic weaponry became concerned about the devastation caused by the dropping of the bomb in Japan. The end of Oppenheimer's career was clouded by charges that he was disloyal to the US, and may have even passed atomic secrets to the Soviet Union, despite the fact that there is no hard evidence that he did so.
Norman Rockwell (1894 - 1978) Famous painter and illustrator; born in New York City, may be one of America's best-known modern illustrators. He drew countless covers for the magazine Saturday Evening Post and his poster series The Four Freedoms was widely reproduced during the second World War.
Franklin D. Roosevelt (1882 - 1945) 32nd President of the United States (1933-1945); born in Hyde Park.
Dr. Jonas Salk (1914 - 1995) is best known for developing a vaccine against polio, a disease that crippled or killed many adults and children prior to Salk's invention of the vaccine.
Elbridge G. Spaulding (1809 - 1897) A banker and former treasurer of New York State, Mr. Spaulding's financial expertise aided him in drafting the national currency bank bill and originating the legal tender act, which created national paper currency; born in Summer Hill.
Ralph Waite (June 22, 1928 - February 13, 2014) was an American actor. His best known role was as John Walton, Sr., on the 1970s CBS TV series The Waltons, which he also occasionally directed. He also portrayed the slave ship first mate Slater in the mini-series Roots. In addition, he appeared in many guest roles on numerous television series.Waite, the oldest of five children, was born in White Plains, New York, the son of Esther Mitchell and Ralph H. Waite, a construction engineer. Before becoming an actor, Waite served in the U.S. Marine Corps from 1946 to 1948, graduated from Bucknell University in Lewisburg, Pennsylvania, and briefly was a social worker. He earned a master's degree from Yale University Divinity School and was a Presbyterian minister and religious editor at Harper & Row in New York City before deciding on an acting career
Denzel Washington (1954 - ) Actor that became well known on St. Elsewhere, and later in movies such as Cry Freedom and Remember the Titans; born in Mount Vernon.
---
More Famous People of New York
Find more more New York famous people below. You may not even realize many of these famous people were born in New York or notable associated with New York, including actors, actresses, explorers, historical figures, inventors, musicians, novelists, professional athletes, important politicians, singers, sport stars and more.
George Abbott stage producer, Forestville
Kareem Abdul-Jabbar basketball player, NYC
George Babcock inventor, Unadilla Forks
Lucille Ball actress, Jamestown
Humphrey Bogart actor, NYC
James Cagney actor, NYC
Maria Callas soprano, NYC
Benjamin N. Cardozo jurist, NYC
Willis Haviland Carrier inventor, Angola
Paddy Chayefsky playwright, NYC
Bruce Cooper Clark general, Adams
Sean Combs Puff Daddy music, NYC
Peter Cooper industrialist, philanthropist, NYC
Aaron Copland composer, Brooklyn
Tom Cruise actor, Syracuse
Claire Danes actress, NYC
Sammy Davis, Jr. actor, singer, NYC
Agnes de Mille choreographer, NYC
George Eastman inventor, Waterville
Gertrude Belle Elion inventor, NYC
Millard Fillmore US president, Locke
Sarah Gellar actress, NYC
George Gershwin composer, Brooklyn
Jackie Gleason comedian, actor, Brooklyn
Bret Harte writer, Albany
Learned Hand jurist, Albany
Chamique Holdsclaw basketball player, Flushing
Edward Hopper painter, Nyack
Julia Ward Howe poet, social reformer, NYC
Charles Evans Hughes jurist, Glens Falls
Washington Irving author, NYC
Henry James author, NYC
John Jay jurist, NYC
Billy Joel singer, composer, Hicksville
Michael Jeffery Jordan basketball player, Brooklyn
Jerome Kern composer, NYC
Rockwell Kent painter, Terrytown
Frank Langellaactor, Bayonne
Victor Lasky author, Liberty
Chico, Groucho, Harpo, Zeppo Marx comedians, NYC
Ethel Merman singer, actress, Astoria
Ogden Nash poet, Rye
Rosie O'Donnel comedian, Commach
Eugene O'Neill playwright, NYC
George Pullman inventor, Brocton
Red Jacket Seneca chief
Christopher Reeve actor, spokesperson, Manhattan
John D. Rockefeller industrialist, Richford
Mickey Rooney actor, Brooklyn
Anna Eleanor Roosevelt reformer, humanitarian, NYC
Theodore Roosevelt US president, NYC
Margaret Sanger birth control, Corning
Alfred Emanuel Smith politician, NYC
Leland Stanford railroad magnate, Watervliet
Barbara Stanwyck actress, Brooklyn
Rise Stevens mezzo-soprano, NYC
Barbra Streisand singer, actress, NYC
Tupac Shakur rapper, Bronx
Louis Comfort Tiffany painter, craftsman, NYC
Martin Van Buren US president, Kinderhook
Mae West actress, Brooklyn
George Westinghouse Jr. inventor, Central Bridge
Edith Wharton author, NYC
Walt Whitman poet, West Hills
John N. Willys indrustrialist, Canandaiqua
Frank Winfield Woolworth merchant, Rodman
Linus Yale inventor, Salisbury