New York State Muffin
Apple Muffin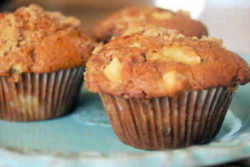 Adopted in 1987.
The apple muffin was adopted as the State muffin in 1987 as a result of the efforts of students throughout New York State when Governor Cuomo signed into law a bill declaring the apple muffin New York's official state muffin .
Apple muffins are made by adding small pieces of apple to muffin batter before it is baked.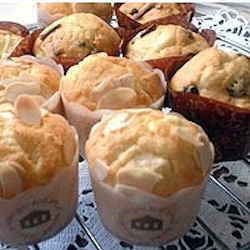 The term muffin typically refers to an individual sized quick bread product which can be sweet or savory. The typical American muffin is similar to a cupcake in size and cooking methods. These can come in both savory varieties, such as corn or cheese muffins, or sweet varieties such as apple, blueberry or banana.
The apple muffin was adopted as New York State muffin in 1987 as a result of the efforts of elementary students throughout New York State.
The Official New York State Apple Muffin Recipe
Believe it or not, the recipe was developed by elementary school children in North Syracuse.
Muffin Topping
1/2 cup walnuts
1/2 cup brown sugar
1/4 flour
1 teaspoon cinnamon
1 teaspoon lemon peel
2 tablespoons melted butter

Combine ingredients and set aside.
Muffins Recipe- Makes 2 Dozen
2 cups flour
3/4 cup brown sugar
1/2 cup sugar
2 teaspoons baking soda
1/2 teaspoon salt
1-1/2 teaspoon cinnamon
1/2 teaspoon cloves
1/8 teaspoon nutmeg
2 cups apples, coarsely chopped
1/2 cup raisins
1/2 cup walnuts
3 eggs, slightly beaten
1/2 cup butter, melted
4 ounces cream cheese, cut into small pieces
1/2 teaspoon vanilla

Combine flour, sugar, salt, spices, and baking soda, and set aside. Combine apples, raisins, walnuts, eggs, butter, cream cheese, and vanilla. Add dry ingredients, a little at a time, to the apple mixture. Stir until just combined. Do not over-mix. Portion the batter into muffin pan. Sprinkle with topping. Bake at 375 degrees for 20 to 25 minutes.
LOBBYING FOR A MUFFIN: STATE MAY FAVOR APPLE

By ELIZABETH KOLBERT, Special to the New York Times
Published: May 29, 1987

There are bills that advance slowly through the State Legislature, assisted by arm-twisting and deal-making, and there are those that simply sail through on the strength of a little home cooking. To the latter category clearly belong Assembly bill 3508 and its Senate companion 5107; the bill would declare the apple muffin the official muffin of New York State.

Of course, it doesn't hurt that the bill is being championed by the members of Mary Craven's fourth grade class, who, with their bright eyes and loose teeth, leave no doubt that they have full faith in the legislative process.

On Wednesday, the bill was passed out of committee in the Senate, and today nine members of the class traveled here from their school in Syracuse to insure that the bill also made it to the floor in the Assembly. With them, they brought plates of muffins, scores of red construction paper apples and some recipes. The Assembly Governmental Operations Committee voted unanimously to report the bill out.

''I've worked on some bills for five years and they didn't get out of committee,'' said Margaret Boepple, who runs her own lobbying concern here. ''Kids are great lobbyists,'' she said, recalling another children's crusade to stop the state from collecting taxes from an unusually lucrative lemonade stand. Leaders Are Noncommittal

New York Law
The law designating the apple muffin as the official New York state muffin is found in the New York State Consolidated Laws, STL, Article 6, Section 84.
STL - State
Article 6 - (70 - 88) ARMS AND GREAT SEAL OF STATE
84 - State muffin.

Universal Citation: NY State L § 84 (2012)

§ 84. State muffin. The apple muffin shall be the official muffin of
the state of New York.
---