North Dakota Famous People
Famous Americans: History and Biographies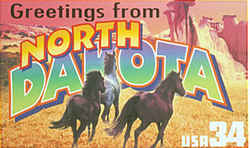 Links to histories and biographies of the famous people of North Dakota. Many famous people of North Dakota have made significant contributions to the history of our nation and the state of North Dakota. These famous Americans, famous entertainers, famous players, famous scientist, famous singers, famous statesmen, famous women, heroes, great explorers, and others North Dakota famous Americans have all made North Dakota their home. This list includes North Dakota historical figures, celebrities and those individuals of North Dakota who have influenced the lives of others.
Elizabeth Bodine (1898-1986) was an American humanitarian who was given the Theodore Roosevelt Rough Rider Award in July 1979 in recognition of the International Year of the Child. She was honored as Mother of the Year for both the state of North Dakota, and the entire country, in 1968.
Gen. George Armstrong Custer (1839 - 1876) and the 7th Cavalry were stationed at Fort Abraham Lincoln outside Mandan. In 1876, they left on the journey that ended at the Battle of the Little Big Horn.
Angie Dickinson (born September 30, 1931) is an American actress who has appeared in more than 50 films and starred on television as Sergeant Leann "Pepper" Anderson in the successful 1970s crime series Police Woman.
William H. Gass (1924 - ) Writer and philosopher. He wrote Omensetter's Luck and a book of short stories called In the Heart of the Heart of the Country; born in Fargo.
Phil Jackson (1945 - ) Basketball player and coach; grew up in Williston and played college basketball for the University of North Dakota.
Norman Kittson (1814 - 1888) Fur trader and transportation entrepreneur. His ventures helped open the Red River Valley to settlement.
Louis L'Amour (1908 - 1988) ABorn Louis Dearborn LaMoore in Jamestown, North Dakota, he is best known for his novels of the West. L'Amour held a variety of jobs in his early career, including longshoreman, lumberjack, miner, and elephant handler. He also boxed professionally. Although he published a book of poetry in 1939, his career was put on hold when he entered the army during World War II. After the war, he began to publish detective, adventure and sports stories in pulp magazines. He found that his stories written in the Western genre sold the best. He consistently published three novels a year and before his death, had sold hundreds of millions of copies of his books.
Peggy Lee (1920 - ) Born Norma Deloris Egstrom in Jamestown, North Dakota, in Jamestown, North Dakota, the seventh of eight children of Marvin Olof Egstrom, a station agent for the Midland Continental Railroad, and his wife Selma Amelia (Anderson) Egstrom. Pegy went on to be one of the best known jazz singers of her generation. She joined the Benny Goodman band in 1941 and recorded "I Got It Bad and That Ain't Good." Her career included hits with Mel Torme and Bing Crosby, but today she may be best known for providing vocals for the Disney movie "Lady and the Tramp" including the song "The Lady is a Tramp," and for her 1958 top ten hit "Fever."
Meriwether Lewis (1774 - 1809) and William Clark (1770 - 1838) led the Corps of Discovery through North Dakota, where they spent the winter of 1804-1805 near Washburn at Fort Mandan.
Cliff Fido Purpur (1914 - 2001) First North Dakota native to become a National Hockey League player; born in Grand Forks.
Teddy Roosevelt (1858 - 1919) Ranched near Medora and credited his Badlands experience from 1883-1886 for molding him into a president.
Sacagawea (c. 1790-1812 or 1884) Shoshoni Indian woman who, with her husband Toussaint Charbonneau, served as interpreter and guide for the Lewis & Clark Expedition.
Sitting Bull (1831 - 1890) Lived the last years of his life at Standing Rock Sioux Reservation, near Fort Yates.
Lawrence Welk was born in Strasburg, North Dakota to immigrant parents on a farm. He spoke only German in his early life and dropped out of school after the fourth grade. His first accordion was a handed down instrument, but he sold fur pelts until he earned enough to buy a new one, and by age 17 knew he wanted to be a musician. Wanting a more expensive instrument, he agreed to work for his father on the family farm until he was 21 in exchange for the $400 accordion. After that, he left for South Dakota to find work as a musician. He joined several orchestras and toured through the country until his local television show was picked up by ABC in 1955. The show became one of the top-rated programs on television and is considered by many to be the "king of dance music."
---
More Famous People of North Dakota
Find more more North Dakota famous people below. You may not even realize many of these famous people were born in North Dakota or notable associated with North Dakota, including actors, actresses, explorers, historical figures, inventors, musicians, novelists, professional athletes, important politicians, singers, sport stars and more.
Dr. Robert H. Bahmer US archivist
Dr. Anne Carlsen educator
Ronald N. Davies jurist
Ivan Dmitre artist
John Bernard Flannagan sculptor, Fargo
Phyllis Frelich actress, Devils Lake
Rev. Richard C. Halverson US Senate chaplain
Dr. Leon O. Jacobson researcher, educator, Sims
Harold K. Johnson army general
William Lemke representative
Marquis de Mores cattleman
Casper Oimoen skier
Arthur Peterson radio and TV actor
James Rosenquist painter, Grand Forks
Eric Sevareid TV commentator, Velva
Ann Sothern actress, Valley City
Dorothy Stickney actress Dickinson
Edward K. Thompson editor
Era Bell Thompson editor
Tommy Tucker band leader, Souris
Larry Woiwode writer