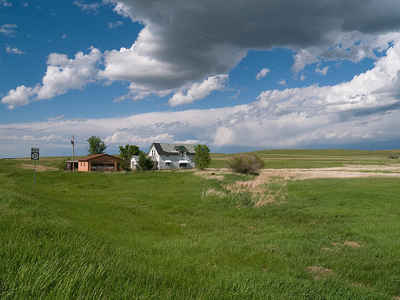 North Dakota Counties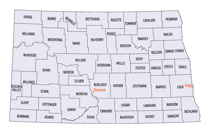 Click Image to Enlarge
North Dakota Counties
There are fifty-three counties in the state of North Dakota. Pembina County was created by the 1866-1867 Dakota territorial legislature, and was organized on August 12, 1867. The city of Pembina, the oldest European-American settlement in the state, was the county seat from 1867 to 1911. The seat was relocated to Cavalier.
North Dakota Counties: History and Information
Find a brief history of North Dakota Counties
North Dakota is a state located in the Midwestern and Western regions and in the Great Plains of the United States of America. It is bordered on the west by Montana, on the east by Minnesota, on the south by South Dakota, and on the north by the Canadian provinces of Saskatchewan and Manitoba. North Dakota, the 39th state, was admitted to the Union in 1889.
North Dakota is the 19th largest state by area in the US; it is the 48th most populous, with just over 640,000 residents as of 2006. North Dakota was carved out of the northern half of the Dakota Territory and admitted to the Union as the 39th state on November 2, 1889. The year 2005 marked the bicentennial celebration of the Lewis and Clark expedition which began in Illinois and passed through North Dakota on the way to the Pacific Northwest, with help from a Shoshone Indian girl, Sakakawea, as their guide. North Dakota's 53 counties cover approximately 70,655 square miles (183,000 square kilometers).
County
2000
Population
Square
Miles
County Seat
Created
Adams County
2,593
988
Hettinger
1885
Barnes County
11,775
1,492
Valley City
1875
Benson County
6,964
1,389
Minnewaukan
1883
Billings County
888
1,152
Medora
1879
Bottineau County
7,149
1,669
Bottineau
1873
Bowman County
3,242
1,162
Bowman
1883
Burke County
2,242
1,104
Bowbells
1910
Burleigh County
69,416
1,633
Bismarck
1873
Cass County
123,138
1,766
Fargo
1873
Cavalier County
4,831
1,489
Langdon
1873
Dickey County
5,757
1,131
Ellendale
1881
Divide County
2,283
1,259
Crosby
1910
Dunn County
3,600
2,010
Manning
1883
Eddy County
2,757
632
New Rockford
1885
Emmons County
4,331
1,510
Linton
1879
Foster County
3,759
635
Carrington
1873
Golden Valley County
1,924
1,002
Beach
1912
Grand Forks County
66,109
1,438
Grand Forks
1873
Grant County
2,841
1,660
Carson
1916
Griggs County
2,754
708
Cooperstown
1881
Hettinger County
2,715
1,132
Mott
1883
Kidder County
2,753
1,352
Steele
1873
LaMoure County
4,701
1,147
La Moure
1873
Logan County
2,308
993
Napoleon
1873
McHenry County
5,987
1,874
Towner
1873
McIntosh County
3,390
975
Ashley
1883
McKenzie County
5,737
2,742
Watford City
1905
McLean County
9,311
2,110
Washburn
1883
Mercer County
8,644
1,045
Stanton
1875
Morton County
25,303
1,926
Mandan
1873
Mountrail County
6,631
1,824
Stanley
1873
Nelson County
3,715
982
Lakota
1883
Oliver County
2,065
724
Center
1885
Pembina County
8,585
1,119
Cavalier
1867
Pierce County
4,675
1,018
Rugby
1887
Ramsey County
12,066
1,186
Devils Lake
1873
Ransom County
5,890
863
Lisbon
1873
Renville County
2,610
875
Mohall
1873
Richland County
17,998
1,437
Wahpeton
1873
Rolette County
13,674
902
Rolla
1873
Sargent County
4,366
859
Forman
1883
Sheridan County
1,710
972
McClusky
1873
Sioux County
4,044
1,094
Fort Yates
1915
Slope County
767
1,218
Amidon
1915
Stark County
22,636
1,338
Dickinson
1879
Steele County
2,258
712
Finley
1883
Stutsman County
21,908
2,222
Jamestown
1873
Towner County
2,876
1,025
Cando
1883
Traill County
8,477
862
Hillsboro
1875
Walsh County
12,389
1,282
Grafton
1881
Ward County
58,795
2,013
Minot
1885
Wells County
5,102
1,271
Fessenden
1873
Williams County
19,761
2,071
Williston
1890
---