Find the Right School
Online Colleges
Campus Colleges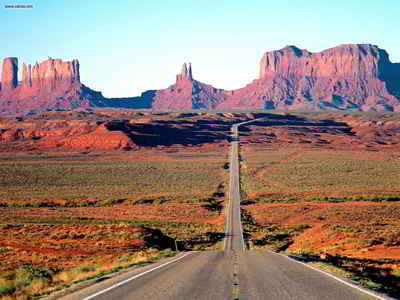 Arizona Counties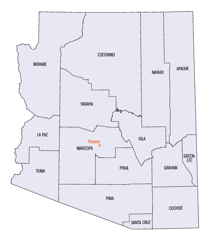 Click Image to Enlarge
Arizona Counties
There are 15 Counties in the U.S. state of Arizona. There is also one defunct county: Pah-Ute County was formed in 1865 from Mohave County and returned in 1871. Four Counties (Mohave, Pima, Yavapai and Yuma) were created in 1864 following the organization of the Arizona Territory in 1862. All but La Paz County were created by the time Arizona was granted statehood in 1912.
Yavapai County, Arizona
Yavapai County History, Geography, and Demographics
County Seat: Prescott
Year Organized: 1864
Square Miles: 8,124
Court House:

1015 Fair Street
County Administration Building
Prescott, AZ 86305-1807
Etymology - Origin of County Name
Yavapai is named for after Yavapai Native American people.
Demographics:
County QuickFacts: Census Bureau Quick Facts
County History
Yavapai County, Arizona

This county is surrounded on the north and west by Mohave County; on the east by New Mexico and the south by Maricopa County. Nearly the entire county has an altitude of from 5,000 to 6,000 feet above the level of the sea, and several mountains rise to the height of 12,000 to 14,000 feet. It contains large forests of excellent timber, and many valleys superior for agriculture. Grass is plentiful everywhere, and the advantages for stock rising cannot be excelled. Considerable attention has been paid to farming, and with the exception of two dry seasons, the yield has been equal to that of other favored grain growing States. The farmers of this county have depended entirely upon the rain fall to grow their crops. Experience seems to prove that irrigation will have to be resorted to in order to insure a certain yield. The most prominent streams of water in this county are the Little Colorado, Verde, Salt, Sipicue and White rivers. They all abound in excellent fish; and turkey, bear and deer, are plentiful in all the mountains of Arizona.

Owing to the unfriendliness of the Apache Indians, prospecting and mining has been much retarded over a large portion of the county, but sufficient explorations have been made to demonstrate the fact that it contains extensively rich mines of gold and silver-scarcely a mountain has been examined that does not show rich deposits of these metals. Placer gold is found over a large extent of country, and during wet seasons is worked with great profit. If water can be carried to these mines by means of artificial ditches (and it is believed it can be from the Verde River), lucrative employment would be given to hundreds of miners. The discovery of gold and silver quartz lodes are so numerous that it is out of the question to give room in this pamphlet to mention but one or two of the leading ones: The Vulture mine at Wickenburg is principally of gold ore; the lode is large and well defined, and is being worked now to a depth of about 300 feet; 200 men are constantly employed, and a forty stamp mill is regularly operated with paying results. The ore is drawn on wagons, for reduction, fifteen miles, at a heavy cost. If machinery was erected at the mine, vast quantities of ore that will not pay for transportation could be worked, and the profits on all would be proportionately greater, and this mine would take front rank as a gold producing mine. The Bradshaw mines have been but recently discovered, and have already a wide and valuable reputation. The Tiger lode gives promise of taking an important position beside the great silver bearing mines of Mexico and the United States, and there are many other lodes in this district that prospect well. There has yet been no machinery erected for the reduction of ores, but many tons have been shipped from the Tiger to San Francisco that has yielded over $1,000 00 per ton. With safety from Indians and capital to develop the mines of this county, many millions of gold and silver would be annually extracted and put in circulation.
Neighboring Counties:
Northeast: Coconino County
Southeast: Gila County
South: Maricopa County
Southwest: La Paz County
Northwest: Mohave County
Cities and Towns:
- Camp Verde
town
Incorporated Area
- Chino Valley
town
Incorporated Area
- Clarkdale
town
Incorporated Area
- Cottonwood
city
Incorporated Area
- Dewey-Humboldt
town
Incorporated Area
- Jerome
town
Incorporated Area
- Prescott

(County Seat)

city
Incorporated Area
- Prescott Valley
town
Incorporated Area
- Sedona
city
Incorporated Area
County Resources:
Enter County Resources and Information Here

County Resources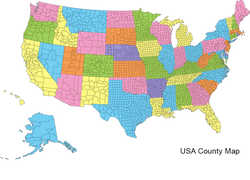 The history of our nation was a prolonged struggle to define the relative roles and powers of our governments: federal, state, and local. And the names given the
counties
, our most locally based jurisdictions, reflects the "characteristic features of this country!"