Arizona Famous People
Famous Americans: History and Biographies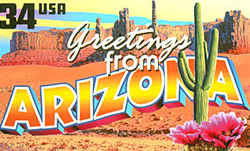 Links to histories and biographies of the famous people of Arizona. Many famous people of Arizona have made significant contributions to the history of our nation and the state of Arizona. These famous Americans, famous entertainers, famous players, famous scientist, famous singers, famous statesmen, famous women, heroes, great explorers, and others Arizona famous Americans have all made Arizona their home. This list includes Arizona historical figures, celebrities and those individuals of Arizona who have influenced the lives of others.
Cesar Estrada Chavez (1927 - 1993) Cesar Chavez was born in Yuma, Arizona in 1927. He founded and led the first successful farm workers' union in U.S. history and was posthumously awarded the Presidential Medal of Freedom in 1994.
Joan Ganz Cooney (1929 - ) Producer of Sesame Street; born in Phoenix
Geronimo (Mescalero-Chiricahua: Goyaałé "one who yawns"; June 1829 – February 17, 1909) was a prominent leader of the Bedonkohe Apache who fought against Mexico and the United States for their expansion into Apache tribal lands for several decades during the Apache Wars. "Geronimo" was the name given to him during a battle with Mexican soldiers. Geronimo's Chiricahua name is often rendered as Goyathlay or Goyahkla in English.Geronimo was born to the Bedonkohe band of the Apache, near Turkey Creek, a tributary of the Gila River in the modern-day state of New Mexico, then part of Mexico. His grandfather (Mahko) had been chief of the Bedonkohe Apache. He had three brothers and four sisters
Zane Grey (January 31, 1872 – October 23, 1939) was an American author best known for his popular adventure novels and stories that presented an idealized image of the American frontier. Riders of the Purple Sage (1912) was his best-selling book. In addition to the success of his printed works, they later had second lives and continuing influence when adapted as films and television productions. As of 2012, 112 films, two television episodes, and a television series, Dick Powell's Zane Grey Theater, had been made that were based loosely on his novels and short stories
Haskay-bay-nay-ntayl (c. 1860 - after 1894), better known as the Apache Kid, was a White Mountain Apache scout, and later a renegade, active in the American states of Arizona and New Mexico, and the Mexican states of Sonora and Chihuahua in the late 19th and possibly the early 20th centuries.
Helen Hull Jacobs (1908 - 1197) Tennis champion, writer; born in Globe.
John McCain (1936 - ) Arizona Senator and war hero. Presidential Candidate in 2000.
Phil Mickelson (1970 - ) Professional golfer, Scottsdale resident.
Sandra Day O'Conner (1930 - ) The first woman appointed to the United States Supreme Court in 1981.
Linda Ronstadt (born July 15, 1946) is an American popular music singer. She has earned 11 Grammy Awards, two Academy of Country Music awards, an Emmy Award, an ALMA Award, and numerous United States and internationally certified gold, platinum and multiplatinum albums. She has also earned nominations for a Tony Award and a Golden Globe award.
David Spade (1965 - ) Comedian/actor, Raised in Scottsdale.
Steven Spielberg (1946 - ) Film director, raised in Phoenix.
Stewart Udall (1920 - ) Former Secretary of the Interior; born in St. Johns.
More Famous People of Arizona
Rex Allen singer, actor, Willcox
Michael Carbajal world champion boxer, Phoenix
Lynda Carter actress, Phoenix
Cochise Apache indian chief, Arizona Territory
Barbara Eden was born in Tucson, Arizona in 1934. She became famous for her starring role in the television series I Dream of Jeannie.
Louie Espinoza Arizona's first world champion boxer, Chandler
Barry Goldwater politician, Phoenix
Carl Trumbull Hayden politician, Phoenix
Frank Luke, Jr. WWI fighter ace, Phoenix
Charles Mingus, born in Nogales, Arizona in 1922, was a bassist, pianist, bandleader, composer, and vocalist. He was one of the most important jazz composers of the 20th century.
Kerri Strug gymnast, Tucson
Colleges & Universities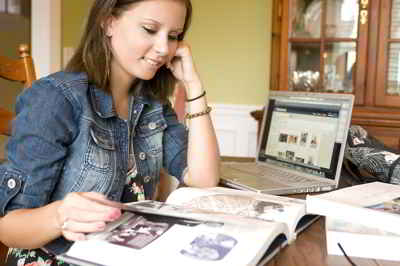 With access to over 8,500 schools to choose from!
Get Your Degree!
Find schools and get information on the program that's right for you.
Powered by Campus Explorer