Find the Right School
Online Colleges
Campus Colleges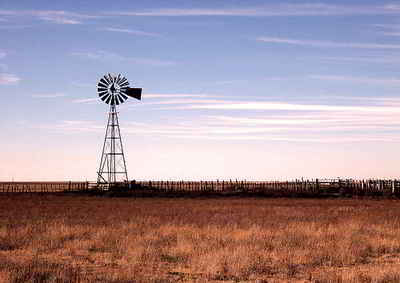 Texas Counties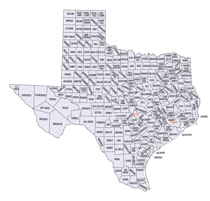 Click Image to Enlarge
Texas Counties
Texas is divided into 254 counties, more than any other U.S. state Texas was originally divided into municipalities, a unit of local government under Spanish and Mexican rule. When the Republic of Texas gained its independence in 1836, there were 23 municipalities, which became the original Texas counties. Many of these would later be divided into new counties. The most recent county to be created was Kenedy County in 1921. The most recent county to be organized was Loving County in 1931
Wise County, Texas
Wise County History, Geography, and Demographics
County Seat: Decatur
Year Organized: 1856
Square Miles: 905
Court House:

PO Box 393
County Courthouse
Decatur, TX 76234-0393
Etymology - Origin of County Name
Henry Alexander Wise, the future thirty-eighth governor of Virginia who supported the annexation of Texas while a member of the United States House of Representatives
Demographics:
County QuickFacts: Census Bureau Quick Facts
County History
Wise County is a county located in the U.S. state of Texas. Its county seat is Decatur. The county is named for Henry Alexander Wise, a U.S. Congressman from Virginia who supported Texas' annexation.
---
The first known inhabitants of Wise County were probably Wichita Indians, a nomadic plains group that depended upon the buffaloqv for food and other necessities. In 1540, when the Coronado expeditionqv came through the area east of the site of present Decatur, there were several Indian villages between the Trinity and Red rivers. The Wichita period ended around 1835, as various Caddo Indian groups filtered into the region. At the time that the first white settlers came to the area, one village of approximately sixty-five Delaware Indians led by Jim Nedqv remained in Wise County. Jim Ned and his peaceful band befriended the whites, and various hills, streams, and communities were named after the Indian leader. Hostile groups of Kichai Indians also lived in the area near Bridgeport during the period, and they raided white communities in Fannin County. Generals Edward H. Tarrant and James Smithqqv led expeditions against them during the 1840s and early 1850s. By 1855 the permanent Indian settlements had moved to reservations in West Texas. The history of white settlement in Wise County began with Sam Woody, who moved to Deep Creek (then in Cooke County) in 1854. His original log cabin remains as a historic site. Many other settlers, eager to take advantage of the state preemption grants of 160 acres of land, followed Woody into the area. District surveyors from Cooke County in the north and Denton County to the east mapped out the area, most of which was drawn from Cooke County. Wise County was officially established by legislative act on January 23, 1856, and was named in honor of Henry A. Wise, a United States Congressman from Virginia, who, during the 1840s, supported the annexationqv of Texas. The county seat, Decatur (originally named Taylorsville), was selected by a countywide election and, though challenged after the courthouse burned in 1895, has remained the seat of government to the present. The majority of Wise County settlers were immigrants from southern states, though only fifty-three of the county's 3,160 white residents owned slaves in 1860. Prior to the Civil Warqv cattle and sheep production were the major industries; cotton was not introduced into the county until the 1870s. Most residents engaged in open-range ranching through the 1880s; the two most prominent ranches, owned by W. H. Hunt and Daniel Waggoner,qqv were located in western Wise County. The predominantly southern populace supported secessionqv in 1861 and raised five Confederate companies that fought in the Civil War. The removal of federal troops from the frontier left outlying settlements at the mercy of hostile Comanches and other plains Indians. Texas militia units, formed to patrol from the Red River to the Rio Grande, set up a post in Decatur. Local volunteer groups also defended the frontier communities. Nevertheless, many farms were abandoned, as fearful residents moved into towns for protection against Indian attack.
More at Handbook of Texas Online, s.v. "," http://www.tshaonline.org/handbook/online/articles/WW/hcw14.html (accessed November 9, 2008).
Geography
According to the U.S. Census Bureau, the county has a total area of 923 square miles (2,390 kmē), of which, 905 square miles (2,343 kmē) of it is land and 18 square miles (47 kmē) of it (1.97%) is water.

Neighboring Counties:
Montague County (north)
Cooke County (northeast)
Denton County (east)
Tarrant County (southeast)
Parker County (south)
Jack County (west)
Cities and Towns:
- Alvord
town
Incorporated Area
- Aurora
city
Incorporated Area
- Boyd
town
Incorporated Area
- Bridgeport
city
Incorporated Area
- Chico
city
Incorporated Area
- Decatur

(County Seat)

city
Incorporated Area
- Lake Bridgeport
city
Incorporated Area
- New Fairview
city
Incorporated Area
- Newark
city
Incorporated Area
- Paradise
city
Incorporated Area
- Rhome
city
Incorporated Area
- Runaway Bay
city
Incorporated Area
County Resources:
Enter County Resources and Information Here

County Resources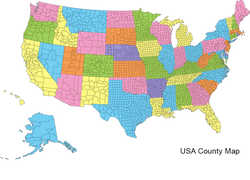 The history of our nation was a prolonged struggle to define the relative roles and powers of our governments: federal, state, and local. And the names given the
counties
, our most locally based jurisdictions, reflects the "characteristic features of this country!"