Career College Search
Online Schools
Campus Schools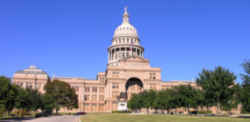 State Facts - History Firsts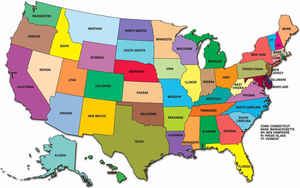 Texas State Facts - Texas History Firsts
Catch up on your state trivia with these Texas history firsts and interesting fun facts about the state.
Official Name
Texas
Capital
Austin
Location
Region
30.30588 N, 097.75052 W
Texas
Constitution Ratified
1876
Statehood
December 29, 1845
28th state
Number of Counties
254 Counties in Texas
Largest County
(by population)
Harris County
3,400,578
1,729 sq. mi.
1835 - The first offensive action of the Texas Revolution occurred in Goliad on October 9, 1835 when local colonists captured the fort and town.
1835 - On December 20, 1835 the first Declaration of Texas Independence was signed in Goliad and the first flag of Texas Independence was hoisted.
1836 - The state was an independent nation from 1836 to 1845.
1836 - Five sites served as temporary capitals of Texas: Washington-on-the-Brazos: Harrisburg: Galveston: Velasco: and Columbia. Sam Houston moved the capital to Houston in 1837. In 1839 the capital was moved to the new town of Austin.
1836 - The Republic of Texas, with Sam Houston as president, was born In 1836 following the war between American settlers in Texas and the Mexican government which featured the well known battle of the Alamo.
1839 - Find out more about the Texas State Flag
1840 - The capital city of Austin is located on the Colorado River in south-central Texas. The capitol building is made from Texas pink granite. It served as the capital of the Republic of Texas in 1840-1842.
1845 -

When Texas was annexed in 1845 it retained the right to fly its flag at the same height as the national flag.
Find out more about the Texas State State seal

1870 - The first suspension bridge in the United States was the Waco Bridge. Built in 1870 and still in use today as a pedestrian crossing of the Brazos River.
1883 - The world's first rodeo was held in Pecos on July 4, 1883.
1885 - Dr Pepper was invented in Waco in 1885. The Dublin Dr Pepper, 85 miles west of Waco, still uses pure imperial cane sugar in its product. There is no period after the Dr in Dr Pepper.
1888 - The capitol in Austin opened May 16, 1888. The dome of the building stands seven feet higher than that of the nation's Capitol in Washington, D.C.
1900- The worst natural disaster in United States history was caused by a hurricane that hit Galveston in 1900. Over 8000 deaths were recorded.
1901 -

Spindletop oil field, near Beaumont, was the first gusher in North America. In 1901, it sprayed more than 800,000 barrels of oil into the air before it was brought under control.
The Bluebonnet (Lupinus subcarnosus) is chosen as Texas State Flower

1919 - The Pecan tree (Carya illinoinensis) was designated the Texas State Tree
1927 - The Mockingbird (Mimus polyglottos) was selected as Texas State Bird
1929 - "Texas, Our Texas," words by William J. Marsh and Gladys Yoakum Wright, music by William J. Marsh. is designated as Texas State Song
1933 -
1961 - Port Lavaca has the world's longest fishing pier. Originally part of the causeway connecting the two sides of Lavaca Bay, the center span of was destroyed by Hurricane Carla in 1961.
1965 - Texas has the first domed stadium in the country. The structure was built in Houston and opened in April 1965.
1966 - Barbara Jordan of Houston became the first black woman elected to the state senate.
1969 -
1971 - Sideoats grama (Bouteloua curtipendula) (Michx.) Torr. was designated as Texas State Grass
1977 - Lone Star Cut is adopted as Texas State Gemstone cut
1978 - Jalapeno pepper jelly originated in Lake Jackson and was first marketed in 1978.
1979 -

During the period of July 24-26, 1979, the Tropical Storm Claudette brought 45 inches of rain to an area near Alvin, Texas, contributing to more than $600 million in damages. Claudette produced the United States 24 hour rainfall record of 43 inches.
"The Lone Star," presented in Galveston Island State Park until 1990. "Texas," presented in Palo Duro Canyon State Park.
"Beyond the Sundown," presented at the Alabama-Coushatta Indian Reservation. "Fandangle," presented in Shackelford County are designated as Texas State Plays

1981 - Earl Campbell designated as Texas State Hero
1989 -
1990's -

In the mid-1990s, only 7 percent of the workers in Texas were unionized. The state has a right-to-work law, which prohibits union membership as a condition of employment.
Texas's population grew by 1.5 million in the early 1990s, making the state the second largest in the country after California.

1985 -

The Texas State Aquarium located in Corpus Christi is Texas State Aquarium
Carl Lewis was designated as the Texas State Hero

1987 -
1989 - Find out more about the Texas State Tartan
1991 - The Square dance was designated as the Texas State Folk dance
1993 -
1995 -
1997 -
2001 -
2003 -
2005 -
2007 -

The Ghostriders is selected as the Texas State Rodeo drill team
Silver was designated as Texas State Precious metal
Bolo tie is Texas State Tie
Cowboy boot are Texas State Footwear

2009 -

The American quarter horse (Equus caballus) was designated as the Texas State Horse
Burton Cotton Gin & Museum in Burton is the Texas State Cotton gin museum
The Texas toad (Bufo speciosus) was selected as the Texas State Amphibian

2011 -

Nymphaea Texas Dawn was adopted as Texas State Waterlily
Red drum (Sciaenops ocellatus) is designated as Texas State Saltwater fish
Western swing was adopted as the Texas State Music
Texas bison herd at Caprock State Park is the Texas State Bison herd
42 is the Texas State Domino game

2013 -

Kemp's ridley sea turtle (Lepidochelys kempii) was adopted as the Texas State Sea turtle
Pecan pie is Texas State Pie
More Texas History Firsts & State Facts
Texas is popularly known as The Lone Star State.
The Alamo is located in San Antonio. It is where Texas defenders fell to Mexican General Santa Anna and the phrase Remember the Alamo originated. The Alamo is considered the cradle of Texas liberty and the state's most popular historic site.
Texas is the only state to have the flags of 6 different nations fly over it. They are: Spain, France, Mexico, Republic of Texas, Confederate States, and the United States.
Although six flags have flown over Texas, there have been eight changes of government: Spanish 1519-1685, French 1685-1690, Spanish 1690-1821, Mexican 1821-1836, Republic of Texas 1836-1845, United States 1845-1861, Confederate States 1861-1865, United States 1865-present.
The King Ranch in Texas is bigger than the state of Rhode Island.
All Texas rivers empty into the Gulf of Mexico.
More wool comes from the state of Texas than any other state in the United States.
Edwards Plateau in west central Texas is the top sheep growing area in the country.
Texas is the only state to enter the United States by treaty instead of territorial annexation.
Texas boasts the nation's largest herd of whitetail deer.
A coastal live oak located near Fulton is the oldest tree in the state. The tree has an estimated age of more than 1,500 years.
Sam Houston, arguably the most famous Texan, was actually born in Virginia. Houston served as governor of Tennessee before coming to Texas.
Caddo Lake is the only natural lake in the state.
The Hertzberg Circus Museum in San Antonio contains one of the largest assortments of circusana in the world.
Austin is considered the live music capital of the world.
Texas is home to Dell and Compaq computers and central Texas is often referred to as the Silicon Valley of the south.
Professional sports teams include the Dallas Cowboys, Dallas Mavericks, Dallas Stars, Houston Astros, Houston Comets, Houston Rockets, San Antonio Spurs, and Texas Rangers.
Texas comes from the Hasinai Indian word tejas meaning friends or allies
Texas' largest county is Brewster with 6,208 square miles.
Texas possesses three of the top ten most populous cities in the United States. These towns are Houston, Dallas, and San Antonio.
El Paso is closer to Needles, California than it is to Dallas.
Texas includes 267,339 square miles, or 7.4% of the nation's total area.
The state's cattle population is estimated to be near 16 million.
More land is farmed in Texas than in any other state.
More species of bats live in Texas than in any other part of the United States.
Laredo is the world's largest inland port.
The Tyler Municipal Rose Garden is the world's largest rose garden. It contains 38,000 rose bushes representing 500 varieties of roses set in a 22-acre garden.
Amarillo has the world's largest helium well.
Texas is the country's biggest producer of oil, cattle, sheep, minerals and cotton.
Texas is second in size only to Alaska.
More wool comes from the state of Texas than any other state in the United States.
Caddo Lake is the only natural lake in the state.
Texas is home to Dell and Compaq computers and central Texas is often referred to as the Silicon Valley of the south.
Texas possesses three of the top ten most populous cities in the United States. These towns are Houston, Dallas, and San Antonio.
The Flagship Hotel on Seawall Boulevard in Galveston is the only hotel in North America built entirely over the water.
The Heisman trophy is named for John William Heisman the first full-time coach and athletic director at Rice University in Houston.
Brazoria County has more species of birds than any other comparable area in North America.
The Aransas Wildlife Refuge is the winter home of North America's only remaining flock of whooping cranes.
County Information and County History
Anderson, Andrews, Angelina, Aransas, Archer, Armstrong, Atascosa, Austin, Bailey, Bandera, Bastrop, Baylor, Bee, Bell, Bexar, Blanco, Borden, Bosque, Bowie, Brazoria, Brazos, Brewster, Briscoe, Brooks, Brown, Burleson, Burnet, Caldwell, Calhoun, Callahan, Cameron, Camp, Carson, Cass, Castro, Chambers, Cherokee, Childress, Clay, Cochran, Coke, Coleman, Collin, Collingsworth, Colorado, Comal, Comanche, Concho, Cooke, Coryell, Cottle, Crane, Crockett, Crosby, Culberson, Dallam, Dallas, Dawson, Deaf Smith, Delta, Denton, DeWitt, Dickens, Dimmit, Donley, Duval, Eastland, Ector, Edwards, El Paso, Ellis, Erath, Falls, Fannin, Fayette, Fisher, Floyd, Foard, Fort Bend, Franklin, Freestone, Frio, Gaines, Galveston, Garza, Gillespie, Glasscock, Goliad, Gonzales, Gray, Grayson, Gregg, Grimes, Guadalupe, Hale, Hall, Hamilton, Hansford, Hardeman, Hardin, Harris, Harrison, Hartley, Haskell, Hays, Hemphill, Henderson, Hidalgo, Hill, Hockley, Hood, Hopkins, Houston, Howard, Hudspeth, Hunt, Hutchinson, Irion, Jack, Jackson, Jasper, Jeff Davis, Jefferson, Jim Hogg, Jim Wells, Johnson, Jones, Karnes, Kaufman, Kendall, Kenedy, Kent, Kerr, Kimble, King, Kinney, Kleberg, Knox, La Salle, Lamar, Lamb, Lampasas, Lavaca, Lee, Leon, Liberty, Limestone, Lipscomb, Live Oak, Llano, Loving, Lubbock, Lynn, Madison, Marion, Martin, Mason, Matagorda, Maverick, McCulloch, McLennan, McMullen, Medina, Menard, Midland, Milam, Mills, Mitchell, Montague, Montgomery, Moore, Morris, Motley, Nacogdoches, Navarro, Newton, Nolan, Nueces, Ochiltree, Oldham, Orange, Palo Pinto, Panola, Parker, Parmer, Pecos, Polk, Potter, Presidio, Rains, Randall, Reagan, Real, Red River, Reeves, Refugio, Roberts, Robertson, Rockwall, Runnels, Rusk, Sabine, San Augustine, San Jacinto, San Patricio, San Saba, Schleicher, Scurry, Shackelford, Shelby, Sherman, Smith, Somervell, Starr, Stephens, Sterling, Stonewall, Sutton, Swisher, Tarrant, Taylor, Terrell, Terry, Throckmorton, Titus, Tom Green, Travis, Trinity, Tyler, Upshur, Upton, Uvalde, Val Verde, Van Zandt, Victoria, Walker, Waller, Ward, Washington, Webb, Wharton, Wheeler, Wichita, Wilbarger, Willacy, Williamson, Wilson, Winkler, Wise, Wood, Yoakum, Young, Zapata, Zavala
---
State Facts & History Firsts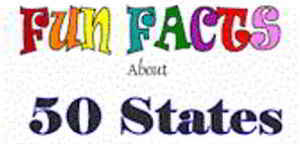 History firsts and fun facts!
Colleges & Universities