Rhode Island State Flower
Violet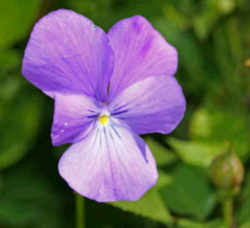 (Viola sororia)
Adopted in March 11, 1968; July 13, 2001
The violet was voted as the state flower by school children and announced on Arbor Day in 1897. But it wasn't until March 11, 1968 that the flower was officially adopted as the state flower. Rhode Island was the last state to adopt an official state flower.
The distinctive feature of this violet is its leaves, some of them are cut or divided into lobes. The prototypical early blue violet has lobed leaves, usually with five to eleven lobes.
The violet is the state flower for Illinois, New Jersey, Rhode Island and Wisconsin.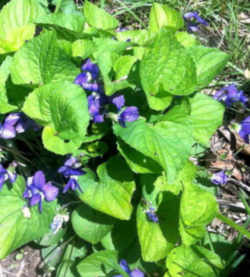 History of the Common Blue Violet
Rhode Island was the first of four states to name the familiar and charming violet as its state flower but one of the last states to make its decision official. In 1897, the state's school children choose the violet as the state's flower over 10 other candidates. Little did they know that it would take another 60 years for the legislature to follow suit!

The delay didn't stop residents from enjoying the pretty flower. Though it is seldom found in the southern part of the state, the Rhode Island state flower grows commonly from Warwick to Cranston and then from Providence to the state's northern border. Violets are easy growing plants and can be found in equal numbers in gardens and in the wild. Outside of cities, the flowers are often found in meadows, woods and preserves.

From April to June, the Rhode Island state flower blossoms with small multi-petaled flowers. Its blooms are snowy white or a rich, blue-purple color and grow on separate stems from their broad, heart-shaped leaves. After these showy flowers are done blooming, Rhode Island's state flower produces a second set of blossoms. These small, closed flowers look like small buds and produce most of the violet's seeds.

The Rhode Island state flower is not only found in the garden but it is also used in the kitchen. Violet petals are used to decorate cakes and as well as to flavor jellies and candies. The plant also provides a natural source of vitamins A and C.
Characteristics of the Common Blue Violet
Viola is a genus of flowering plants in the violet family Violaceae. It is the largest genus in the family, containing between 525 and 600 species.
Others have mixture of lobed leaves and unlobed, heart-shaped leaves. This marks it as Viola palmata var. triloba, which was once considered a separate species (Viola triloba). Birdfoot violet and coast violet look somewhat similar, but their leaves are cut into much narrower lobes.
The Common Blue Violet flowers are about ? inches across, and has 5 rounded petals. The Common Blue Violet flower has 2 upper petals, 2 lateral petals with white hairs near the throat of the flower. There is a lower petal acting as a landing pad for visiting insects. The Common Blue Violet flowers are medium to dark violet. The inner throat of each flower is more or less white, from which slightly darker veins radiate outward along the petals. Floral scent is not seen. During the summer, cleistogamous flowers produce seeds. The seeds are thrown outward by mechanical ejection from the three-parted seed capsules.
Identification of the Common Blue Violet
Stems - A thick underground caudex.

Height: 4-6 inches

Leaves - All arising from base of plant. Petioles to +15cm long, hirsute, with single longitudinal groove. Blades of lower leaves rounded at apex, reniform, or ovate, crenate to serrate, pubescent. Upper leaf blades cordate at base, gradually tapering to an acute or blunt apex, serrate, densely pubescent (hirsute), to +5cm broad, +5cm long.

Flowers - Corolla violet, 3/4 inch broad and long. Petals 5, fading to pale yellow at base, with dark venation near base. Lateral petals bearded. Lower petal spurred. Stamens 5, connate around ovary. Bottom two stamens with flattened curved nectaries to +3mm long. Ovary conic, -3mm long. Style to -2mm long, truncate and triangular at apex. Sepals 5, to 9mm long, 3mm broad, mostly glabrous or very sparsely pubescent, topmost one recurved. Auricles 1mm long, rounded at base.
Flowering - March - June.

Flower color: purple

Habitat - Slopes, open and low woods, thickets, streambanks, and limy areas
Adoption of the Common Blue Violet
In 1967, teacher and politician Francis Sherman decided that since every other state in the union had adopted an official state flower or floral emblem, it was about time Rhode Island do the same. He introduced a bill to make the violet (Viola palmata) the official flower of the state.
This time the Rhode Island General Assembly took action and on March 11, 1968, Rhode Island finally had a flower that could be called official.
H 1501 Approved March 11, 1968

An Act in Amendment of and in Addition to Chapter 42-4, Entitled "State Emblems" as amended.

It is enacted by the General Assembly as follows:

SECTION 1. Chapter 42-4 of the general laws, entitled "State emblems" as amended is hereby further amended by adding thereto the following section:
"42-4-9. State Flower.--The flower commonly known as the "violet" (viola palmata) is hereby designated as the state flower for the state of Rhode Island."
SECTION 2. This act shall take effect upon its passage.
On March 13, 2001, Senator V. Susan Sosnowski presented Senate Bill No. 0859 updating the state flower's Latin name from Viola palmata to Viola sororia. This bill was approved by the General Assembly in July 2001 and signed into law by Governor Lincoln Almond on July 31, 2001.
CHAPTER 309
2001-S 859
Enacted 07/13/2001

A N A C T
RELATING TO STATE AFFAIRS AND GOVERNMENT - STATE EMBLEMS

Introduced By: Senators Sosnowski, Bates and Irons
Date Introduced: March 13, 2001

It is enacted by the General Assembly as follows:
SECTION 1. Section 42-4-9 of the General Laws in Chapter 42-4 entitled "State Emblems" is hereby amended to read as follows:
42-4-9. State flower. -- The flower commonly known as the "violet" (viola palmata) (viola sororia) is hereby designated as the state flower.
SECTION 2. This act shall take effect upon passage.
Taxonomic Hierarchy: Violet
Kingdom: Plantae - Plants
Subkingdom: Tracheobionta - Vascular plants
Superdivision: Spermatophyta - Seed plants
Division: Magnoliophyta - Flowering plants
Class: Magnoliopsida - Dicotyledons
Subclass: Dilleniidae
Order: Violales
Family: Violaceae - Violet family
Genus: Viola L. - violet
Species: Viola sororia Willd. - common blue violet
---
State Flowers
State Floral Emblems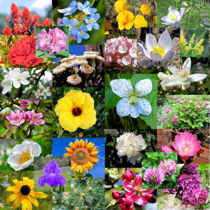 Find images and a brief history of the flowers representing, usually by legislative action, the state symbols of each of the fifty states.
The term floral emblem, which refers to flowers specifically, is primarily used in Australia and Canada. In the United States, the term state flower is more often used.
Colleges & Universities