Maine Geography: The Land
Geography and Landforms of Maine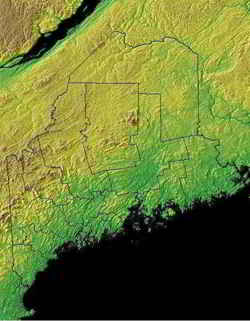 Find an overview of Maine geography, topography, geographic land regions, land areas, and major rivers.
Access Maine almanac, furnishing more details on the state geography, geographical and land regions, climate and weather, elevation, land areas, bordering states, and other statistical data.
Maine is the largest of the New England states of the northeastern United States. It is bordered by New Hampshire to the West, the Canadian provinces of Quebec and New Brunswick to the northwest and northeast, the Atlantic Ocean to the southeast, and the Bay of Fundy to the east. The last ice age had a profound effect on the geography of Maine. A glacier was responsible for carving out the many inlets and bays for which the state is famous.
Maine Highest, Lowest, & Mean Elevations

Mean Elevation
600 ft.
Highest Point
Mt. Katahdin
5,267 ft.
Lowest Point
Atlantic Ocean
Sea level

Maine Land Area (Square Miles)

Geographic Center
In Piscataquis County, 18 mi. N of Dover-Foxcroft
Longitude: 69° 14.0'W
Latitude: 45° 15.2'N
Total Area
35,384.65 sq. mi.
39th
Land Area
30,861.55 sq. mi.
Water Area
4,523.10 sq. mi.
12.78%
Forested Land Area
89.7%
Dimensions
(Length - Width)
320 miles - 190 miles
The state can be divided into three geographic land areas:
Coastal Lowlands
Eastern New England Uplands
White Mountains:
Eastern Spruce-Hardwood Forest
The Eastern Spruce-Hardwood Forest is the largest physiographic area in the Northeast region. Landforms within the unit range from low coastal plains (including offshore islands) in Maine and the Maritime provinces to high Appalachian peaks (4,000-6,000 ft.) in the White Mountains and Green Mountains. Virtually the entire planning unit is dominated by either sugar maple-beech-birch forest, red spruce-balsam fir forest, or a combination of the two in various proportions. Other important vegetation types include alpine stunted spruce-fir communities, coastal saltmarsh and estuaries, and numerous peatlands, bogs, and other wetlands. Human populations are relatively sparse throughout the physiographic area and are largely confined to coastal regions, and major river valleys. A few areas, such as Prince Edward Island, the Connecticut and St. John River valleys, and extreme northeastern Maine remain as pockets of active agricultural production. The most pervasive human influence on the natural landscape has been through commercial timber harvest and production. The cumulative effects of timber harvesting in the region has been a change in the age structure of the forest and a gradual shift towards greater dominance by northern hardwoods. A large proportion of this commercial forestry in the US takes place on private lands; for example, nearly half of the forested land in Maine is owned by the forest industry. In Canada, private companies hold long-term leases, but lands remain in public (crown) ownership. In general, over a century of timber harvesting in this region has not resulted in the significant loss of species or populations of forest birds. Avifaunal changes have mostly been in the form of changes in local composition and relative abundances, as the mix of successional stages and conifer vs. hardwood forests shifted across the landscape.

Northern New England
The Northern New England physiographic area extends from southern Maine through southern New Hampshire and Vermont and western Massachusetts, barely entering eastern New York in the Taconic Highlands. Landforms within the planning unit include Vermont's Killington Peak at 1,290 m ranging down to sea level along the Maine coast. Most of the region consists of Rolling hills and small mountains with large areas of farmland of the Connecticut, Merrimac, Androscoggin, and Kennebec river valleys. The planning unit also contains a large portion of the Green Mountain National Forest in southern Vermont. A majority of the planning unit is dominated by either sugar maple-beech-birch forest, red spruce-balsam fir forest, mesic hardwood forests dominated by northern red oak, or drier forests dominated by oak-hickory or pine-oak association. Presettlement forests in much of the region consisted largely of white pine and hemlock, with hardwood forests dominating after timber removal and other disturbance. Today, agriculture remains an important land use, but forest harvesting too shapes the habitats throughout Northern New England. Human populations have grown tremendously in this area and development for single family housing especially in rural and suburban areas is especially important.
Southern New England
The Southern New England physiographic area covers parts of northern New Jersey, southern New York including Long Island, the majority of Connecticut, all of Rhode Island, most of eastern Massachusetts, the southeastern corner of New Hampshire, and south-coastal Maine. This area has experienced the greatest amount of urbanization of any part of the Northeast, including the entire Boston-to-New York City corridor. Urbanization and associated human activities severely threaten remaining high-priority habitats, especially maritime marshes and dunes, relict grasslands, and mature deciduous forests. Forest fragmentation, which is not a major issue in most parts of the Northeast, is a severe factor threatening forest bird populations. Currently, urban land covers roughly one-third of the physiographic area, with an additional 25 % of the region in agricultural production, primarily in the Connecticut River Valley, eastern Long Island, and northern New Jersey. Remaining forests are a mixture of oak-hickory and other hardwoods, white pine-red pine forest, and pine-oak woodlands or barrens.
Maine Landscape and Landforms:
The Coastal Lowlands
The Coastal Lowlands cover much of the southeastern Maine. This is an area of sandy beaches, salt marshes, tidal creeks, and small bays bordered by high cliffs. Most of the region is at sea level. The massive weight of ice and snow thousands of years ago, pushed the land down to its current elevation. The tops of hills, sunken during the Ice Age, appear as the more than 400 offshore islands.
The Eastern Upland
Many lakes, swift streams, and springs are located in this region. The Eastern Upland is a 20-50 mile wide region of fertile farmland northwest of the coastal lowlands. It rises from near sea level to an elevation of thousands of feet to the west.
The White Mountain Region
The White Mountain Region to the northwest includes many lakes and most of the state's highest peaks. A series of eskers - long, low gravel ridges - are found here. They are a remnant of the Ice Age, formed by streams that flowed underneath the glaciers.
---