Legal Professions Major and Degrees
Legal assistants and paralegals may not provide legal professions directly to the public, except as permitted by law
A career in law or a related legal degree program can be one of the most established and profitable choices you can make. The legal profession offers such a wide variety of career options and specializations, that it would be virtually impossible to list all job titles and their respective average salaries.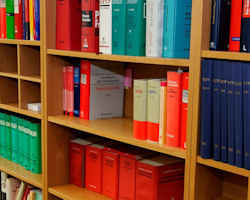 However, because of the sheer diversity of careers within the field, there is a huge array of opportunities for someone just like you. Some of the main job categories include: correctional officer, criminal justice, doctor of philosophy, juris doctor, law enforcement, legal assistant, master of science, paralegal studies, parole officer, and much, much more.
College Degrees Lead to Legal Professions
Although some employers may be willing to train paralegals and legal assistants without any formal degrees, these jobs typically require a minimum of an associate's degree from a paralegal studies or law program. Those who hold a bachelor's degree can usually complete a paralegal certification program online or on campus at a community college. Some colleges offer bachelor's and graduate degrees in paralegal studies. Depending on your areas of interest, you can also take courses in real estate, criminal justice, and social services.
If you are not sure you want to pursue a career in the legal field, you may want to reconsider. According to the National Association of Colleges and Employers, law and legal degree programs are one of the fastest growing arenas in the field of education. Additionally, according the to U.S. Department of Labor, the job market for legal candidates is expected to grow as fast as the average for all occupations through the year 2016.
Employers are trying to reduce costs and increase the availability and efficiency of legal professions by hiring paralegals to perform tasks once done by lawyers. Regardless of which specialty you choose within the field of law and legal programs, your first step will be to choose where you would like to study and obtain a solid background in the fundamental principles and hands-on aspects of your new career.
---
Local Legal Professions Schools
Compare More Colleges and Universities

Find more schools to match to your needs.