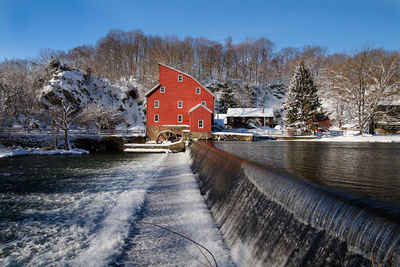 New Jersey Counties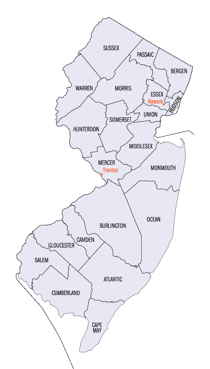 Click Image to Enlarge
New Jersey Counties
New Jersey has twenty-one counties. New Jersey's first counties were created as administrative districts within each province, with East Jersey split in 1675 into Bergen, Essex, Middlesex and Monmouth counties, while West Jersey's initial counties of Burlington and Salem date to 1681. The most recent county created in New Jersey was Union County, created in 1857.
Essex County, New Jersey
Essex County Education, Geography, and History
Essex County is a county located in the northeastern part of the state of New Jersey. As of 2014, Essex County's Census-estimated population was 795,723. Its county seat is Newark.

It is part of the New York Metropolitan Area.
Etymology - Origin of Essex County Name
Essex is named for the English county of Essex.
Demographics:
County QuickFacts: CensusBureau Quick Facts
Essex County History
The recorded history of Essex County begins in 1666, when 30 Connecticut families headed by Robert Treat arrived to establish a settlement along the banks of the Passaic River in what is now the City of Newark. The following year the settlers purchased the land from the Lenni Lenape Indians for $800.00.

Essex County was officially established in 1682 by the East Jersey Legislature as one of the four original counties of present day New Jersey ( Bergen, Monmouth and Middlesex were the others.) By the time of the American Revolution, Essex County had become quite prosperous. After the war, the Country entered into a period of unprecedented industrial growth. This was due in part to the completion of the New Jersey Railroad, the Morris Canal, and the establishment of the Morris and Essex Railroad. Factories that grew up around the rail and canal arteries drew waves of immigrants from Europe and the population began to swell.

In 1895, Essex County became the first County in the United States to create a Countywide park system. That year, the Governor of New Jersey signed legislation creating the Essex County Parks Commission and the first 60 acres of land were acquired from the City of Newark as the beginning of Branch Brook Park. The Parks Commissioners had the foresight to retain Frederick Law Olmsted, the creator of New York's Central Park, to design 20 of Essex County's 25 parks and reservations. Those first 60 acres have grown into 5,745 acres of greenspace which include vast reservations, developed parks, golf courses, tennis courts, ice and roller skating complexes and a zoo.

The "roaring 20's" was a decade of growth and prosperity, particularly with the construction of Newark's first skyscrapers and the development of the building trades industry. Newark Airport was opened, Port Newark came into being, and the Newark City Subway was under construction. It was also at this time that many of the County's boroughs and townships experienced major development and expansion and that early suburban shopping centers were begun.

The stock market crash of 1929, along with the enforcement of prohibition, temporarily crippled the thriving economy of Essex. But with the repeal of prohibition, the reopening of many major breweries and the gradual national recovery, Essex began to grow once again.

The central section of the County, once known as the "trolley car suburbs", grew rapidly after the turn of the century when trolley lines were built to carry workers from industrial Newark to the less crowded outlying towns of Irvington, East Orange, Orange and Bloomfield. Commuter railroads which passed through Newark carried commuters to Manhattan from suburban towns such as South Orange, Maplewood, Millburn, Glen Ridge and Montclair.

Development of the western section of the County was slowed because of the difficulty and expense of crossing First and Second Mountains. However, the demand for modern industrial development and new residential spaces forced development to the west. With the completion of Route 280, communities such as Livingston, Fairfield, Roseland, Cedar Grove, Essex Fells and the Caldwells become the County's fastest growing communities. Residents of the western section enjoy modern homes and shopping malls as well as room for further development and expansion.

New industrial and professional office parks, hi-tech centers, and luxury condominiums and townhouses in the western portion of the County provide an attractive setting along with an expanding tax ratable base.

Since its inception, Essex County has been the industrial and financial hub of New Jersey. Countywide, total real property values now exceed $36 billion with an annual growth in 1996 of $78 million. With the opening in 1997 of the New Jersey Performing Arts Center in Newark, Essex will rival New York City as a cultural center for music and dance showcasing the nation's and the world's best artists. A County-sponsored baseball and soccer stadium complex will bring minor league baseball back to Essex County in the 1998 season.

With Newark International Airport and Port Newark located within its borders, Essex County is a major national transportation hub with a superior network of rail, highway, air and sea transportation and is home to one of the world's largest containerized shipping ports.

Today Essex County, with 21 municipalities ranging over 127 square miles and a total population of 765,348, is New Jersey's second most populous County. The Essex County economy continues to shift from a manufacturing base to a service oriented economy and many corporate giants as PSE&G, Bell Atlantic, ADP, and Prudential have their headquarters located in Essex County.
Geography: Land and Water
As reported by the Census Bureau, the county had a total area of 129.631 square miles (335.74 km2), including 126.212 square miles (326.89 km2) of land (97.4%) and 3.419 square miles (8.86 km2) of water (2.6%).

The county rises from generally flat in the east to the twin ridges of the Watchung Mountains in the western half, beyond which the land lowers again into the Passaic River valley.

The highest elevation is found at four areas scattered between Verona, North Caldwell and Cedar Grove, reaching 660 feet (200 m) above sea level. The lowest point is sea level, at Newark Bay.

Neighboring Counties
Bordering counties are as follows:
Passaic County, New Jersey - north
Bergen County, New Jersey - east
Hudson County, New Jersey - east
Union County, New Jersey - south
Morris County, New Jersey - west
Education
Essex County has five public and five private institutions. Another private college that closed in 1995.
Public
Essex County College - a 2-year community college that offers A.A., A.S., and A.A.S. degrees, the school opened in 1968. The school's main campus is in the University Heights section of Newark, with a satellite campus in West Caldwell.
Montclair State University - founded in 1908, the school serves more than 20,000 students at its campus covering Montclair, Little Falls and Clifton.
New Jersey Institute of Technology - located in Newark's University Heights section, the school was established in 1881 as Newark Technical School, the school has a total enrollment of 11,000 undergraduate and graduate students.
Rutgers University - Newark - the school has an enrollment of 12,000 and dates back to the 1908 establishment of the New Jersey Law School which became a part of Rutgers University under legislation that incorporated the University of Newark into Rutgers.[72]
New Jersey Medical School - dates back to its establishment in Newark in 1956 as the Seton Hall College of Medicine and Dentistry of New Jersey, and became part of Rutgers University in 2013.
Private
Berkeley College - Newark
Bloomfield College - located Bloomfield and founded in 1868.
Caldwell University - founded in 1939 as a Catholic liberal arts college by the Sisters of Saint Dominic, the school has 2,200 students at its campus in Caldwell.
Seton Hall University - founded in 1856 and affiliated with the Roman Catholic Archdiocese of Newark, the school has more than 10,000 students enrolled on its campus in South Orange.
Seton Hall University School of Law - located in Newark, it is the state's only private law school.
Upsala College (defunct) - founded in 1893, the school moved in 1924 to East Orange and closed in 1995. It is now the site of East Orange Campus High School, which opened in 2002.
---
Compare More Colleges and Universities

Find more schools to match to your needs.