New Jersey State Almanac: Facts and Figures
Quick Facts, Figures, and Overview of the State of New Jersey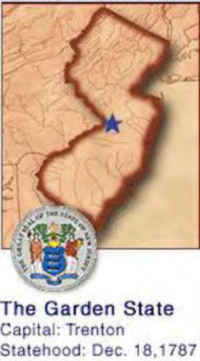 New Jersey is one of the Middle Atlantic states of the US. New Jersey also has sovereignty over most of Ellis Island, part of the Statue of Liberty National Monument in New York Harbor. New Jersey is a small state bordered by the state of New York on the north and east, by the Atlantic Ocean on the southeast and south, by the US state of Pennsylvania on the west, and by Delaware on the southwest. Sir John Berkley and Sir George Carteret received a royal charter for a colony in the new land and named this colony for the island of Jersey in the English Channel.
Today, New Jersey, an area of wide industrial diversification, is known as the Crossroads of the East. Products from over 20,000 manufacturers can be delivered overnight to 100 million people. The greatest single industry is chemicals; New Jersey is one of the foremost research centers in the world. Many large oil refineries are located in northern New Jersey. Other important manufactured items are pharmaceuticals, instruments, machinery, electrical goods, and apparel. Productive farmland covers about 790,000 acres, 16.7% of New Jersey's land area. The state ranks high in the production of almost all garden vegetables, as well as blueberries, cranberries, and peaches. Poultry, dairy products, and seafood are also top commodities. Tourism is the second-largest industry in New Jersey
Official Name
New Jersey
Capital
Trenton
Nicknames
The Garden State ...and more
Motto
Liberty and Prosperity
Location
Region
40.22340 N, 074.76422 W
Middle Atlantic
Northeastern
Constitution Ratified
1947
Statehood
December 18, 1787
3rd state
Population
8,791,894 (2010)
1,134.16 sq. mi.
9th
Largest City
(by population)
10 largest cities (2010 est.): Newark, 277,140; Jersey City, 247,597; Paterson, 146,199; Elizabeth, 124,969; Edison, 99,967; Woodbridge, 99,585; Lakewood, 92,843; Toms River, 91,239; Hamilton, 88,464; Trenton, 84,913
Bordering States
North East: New York State
East: Atlantic Ocean
South: Delaware
West and North West: Pennsylvania (Hudson River and New York Bay form part of the state's boundary with New York) (Delaware Bay and the Delaware River form the boundary with Delaware) (Delaware River forms the Pennsylvania boundary)
Coastline: 130 mi.
Major Industry
farming (potatoes, tomatoes, peaches), chemicals, pharmaceuticals, petroleum-based products, insurance, tourism
Major Rivers
Delaware River, Hudson River
Major Lakes
none
New Jersey Counties
21 Counties in New Jersey
Largest County
(by population)
Bergen County
905,116 (2010)
234 sq. mi.
Largest County
(by area)
Burlington County
805 sq. mi.
State forests
11
State parks
42
Presidential Birthplace
Grover Cleveland was born in Caldwell on March 18, 1837 (he was the 22nd and 24th US President, from 1885 to 1889 and from 1893 to 1897).
Electoral Votes
15
US Congress
2 Senators; 13 Representatives
Time Zone
Eastern Standard Time
Zip Codes
NANPA
State Quick Facts
Census Bureau Quick Facts
---
New Jersey Climate and Weather

New Jersey has relatively warm summers and cold winters, with moderate temperatures in the fall and spring. From June through August, it's common for temperatures to reach the 90s F/32+ C during the day in all parts of the state, though cool sea breezes keep the coast comfortable in a state with fairly high humidity (68% average on the coast, 57% inland). At the shore, when the moist breeze can make it seem chilly despite the mid 60s F/17 C temperatures. Expect rain to be evenly distributed throughout the summer. In the cold winter months New Jersey gets its share of snowstorms, particularly in the higher elevations of the northwestern part of the state, close to the Pocono Mountains of Pennsylvania. Trenton and Newark range from 24 to 41 F/-3 to 5 C in January, while it's 24 to 42 F/-3 to 6 C in Atlantic City.
Highest Temperature
110 degrees
July 10, 1936 - Runyon
Lowest Temperature
-34 degrees
January 5, 1904 - River Vale
Avg. Temp:
High - Low
85.6 degrees - 24.2 degrees

New Jersey Points of Interest

New Jersey is beaches, casinos, historical sites, gardens and mountains making it a desirable destination for all travelers.

Favorite attractions include Atlantic City and the Boardwalk, Battleship New Jersey, Cape May, the Revolutionary War battlefield sites, the Jersey shore, Delaware Water Gap, the Edison National Historic Site in West Orange, Princeton University, Liberty State Park, Jersey City, and the N.J. State Aquarium in Camden, and much more.

New Jersey Highest, Lowest, and Mean Elevations (Feet)

Mean Elevation: 250 feet

Highest Point: High Point: 1,803 feet

The High Point monument is located in Montague Township at the highest point in the state of New Jersey. From the parking lot, 1,803 feet above sea level, or the observation deck 220 feet up you can see for miles around. On a clear day you can see New Jersey, New York, and Pennsylvania.

Lowest Point:
Atlantic Ocean
Sea level

New Jersey Land Area (Square Miles)

Geographic Center
In Mercer County, 5 mi. SE of Trenton
Longitude: 74°33.5'W
Latitude: 40°4.2'N
Total Area
8,721.30 sq. mi
47th
Land Area
7,417.34 sq. mi
71.97%
Water Area
1,303.96 sq. mi
18.03%
Forested Land Area
41.9%
Dimensions
(Length - Width)
150 miles
70 miles
County Information and County History
Almanac Online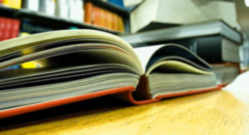 Information on people & places that make US a great place to live, visit, or study.