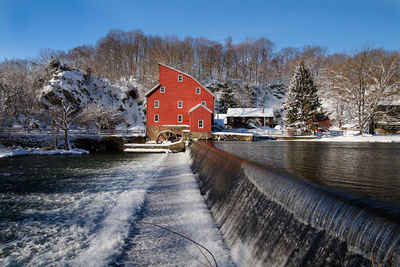 State Economy
The United States is one of the largest and most technologically developed countries in the world. The Gross Domestic Product of the country in terms of purchasing power parity of the country has reached at $12.36 trillion (2005 est.). A central feature of the US economy is a reliance on private decision-making ("economic freedom") in economic decision-making. This is enhanced by relatively low levels of regulation, taxation, and government involvement, as well as a court system that generally protects property rights and enforces contracts.
New Jersey Economy
Agriculture and Industry in New Jersey
New Jersey economy is a set of human and social activities and institutions related to the production, distribution, exchange and consumption of agriculture and industry goods and services. The balance between New Jersey various economic sectors differs largely between various regions and other states in the US.
New Jersey's real gross state product in 2012 was estimated to be $438,173 which was $250,733 and 134% and 2 times higher than the national state average, $187,440. New Jersey has the 7th highest GSP out of the 50 states.
New Jersey has been a leader in industry since Thomas Edison established his research laboratory in Menlo Park in 1876. The color television and videotape recorder were both invented in New Jersey research facilities. The state continues to be a leader in technology.
New Jersey produces chemicals, pharmaceuticals, machinery, electronic equipment, and processed foods. Pipelines carrying oil from Texas and Oklahoma come to an end in Bayonne, New Jersey. Oil refineries in nearby Carteret and Linden process this natural resource.
Agriculture plays a major role in the state's economy. Dairy products, fruits, nuts, vegetables, and greenhouse and nursery items are produced.
New Jersey is a leading transportation and shipping center with busy ports located on the Newark and New York Bays. The state is also a thriving vacation destination due to its ocean resorts, lakes, mountains, and forested areas.
New Jersey Agriculture:
Nursery stock, horses, vegetables, fruits and nuts such as cranberries, tomatoes, and blueberries, seafood, and dairy products.
New Jersey Industry:
Chemical products, food processing, electric equipment, printing and publishing, tourism.

The Bureau of Economic Analysis estimates that New Jersey's total state product in 2004 was $416 billion. Its per capita personal income in 2004 was $41,636, 4th in the United States of America and 126% of the national average of $33,041. Its median household income is also the highest in the nation with $55,146. It is also ranked 2nd in the nation by the number of places with per capita incomes above national average with 76.4%. Nine of New Jersey's counties are also in the wealthiest 100 of the country. Women in New Jersey earn the highest per capita income as stated in a 2002 article in the Newark Star-Ledger.

Its agricultural outputs are nursery stock, horses, vegetables, fruits and nuts, seafood, and dairy products. In particular, cranberries and eggplant are two of the state's largest crops. Hammonton in the southern part of the state is known as the blueberry capital of the world. Its industrial outputs are pharmaceutical and chemical products, food processing, electric equipment, printing and publishing, and tourism. New Jersey's economy has a large base of industry and chemical manufacturing. Additionally, New Jersey is home to the largest petroleum containment system in the world, outside of the Middle East. Although the state is certainly not defined by these activities, their existence and visibility to those passing through the state along some of its major highways does contribute to many jokes about pollution and ironic plays on the state's nickname, the "Garden State." In terms of quantity and quality, New Jersey ranks ninth in the union, in the number of manufactured goods that come from this state's factories.

New Jersey hosts a significant number of business headquarters. Fifty Fortune 500 companies have headquarters or conduct business from Morris County alone. New Jersey is said to have the largest concentration of Fortune 500 companies in the world: nearly one hundred companies on the Fortune 500 list have headquarters or conduct business from New Jersey. Paramus is noted for having one of the highest business per person ratios in the nation. Several New Jersey counties such as Essex, Morris, Middlesex, Union, and Bergen counties have been ranked in the World Almanac 2002, as being among the top 15 highest per person per capita income areas in the country. New Jersey has the nation's most diverse economy, with its major industries being agriculture, tourism, nursery products, electronics, manufacturing equipment, pharmacuticals, etc. This diversity enables New Jersey to weather volitility in the national economy and it contributes to New Jersey's low unemployment rate, which is well below the national average. New Jersey's geographical location between Philadelphia and New York City has helped New Jersey to grow and thrive since the time of its creation as a state in 1702. Another of New Jersey's great strengths is its large and well-educated labor pool that supports the myriad of industries that exist today. The Port Newark-Elizabeth Marine Terminal is the world's largest container port. Newark Liberty International Airport is ranked as number 7 in the top ten list of the nation's busiest airports and among the top 20 busiest airports in the world.

Six Flags Great Adventure in Jackson is one of the largest theme parks in the world. It is home to the largest wild safari outside of Africa and is now home to the world's tallest and fastest rollercoaster, Kingda Ka. As of 2001, New Jersey makes $30 billion each year from tourism as stated in the Star-Ledger article "The Best Of New Jersey". New Jersey is one of the top ten most visited states in the nation.

---