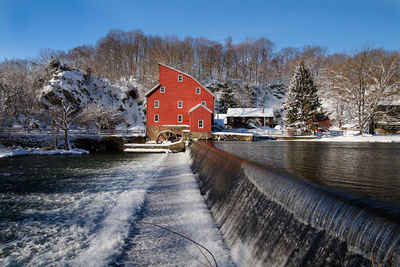 New Jersey Counties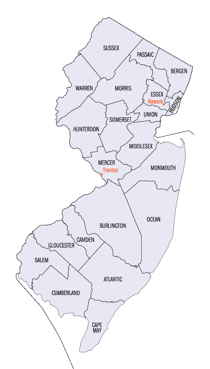 Click Image to Enlarge
New Jersey Counties
New Jersey has twenty-one counties. New Jersey's first counties were created as administrative districts within each province, with East Jersey split in 1675 into Bergen, Essex, Middlesex and Monmouth counties, while West Jersey's initial counties of Burlington and Salem date to 1681. The most recent county created in New Jersey was Union County, created in 1857.
Hudson County, New Jersey
Hudson County Education, Geography, and History
Hudson County, in the state of New Jersey, lies west of the lower Hudson River and New York City.As of 2014, Hudson County's Census-estimated population was 669,115. The county was named for Henry Hudson, the sea captain who explored the area in 1609. Part of New Jersey's Gateway Region in the New York metropolitan area, Jersey City is its largest city and county seat.
Etymology - Origin of Hudson County Name
Hudson is named for Henry Hudson, the famous explorer.
Demographics:
County QuickFacts: CensusBureau Quick Facts
Hudson County History
Hudson County was originally called Pavonia, the land of the Peacock, after its original owner, the Dutchman Michael Pauw (Peacock). Part of the domain of the Dutch West Indies Company, the area was governed by Peter Stuyvesant, who established the town of Bergen in 1660. In 1674, all of New Amsterdam (and New Jersey) became English colonies, including Hudson County, which was then still part of Bergen County.
In 1804, Col. John Stevens laid out the "New City of Hoboken"and in the same year, counseled by Attorney Alexander Hamilton, a group of New York City lawyers bought the old ferry site of Paulus Hook (Jersey City). Steam ferries and railroads brought boom times, leading to the official establishment of Hudson as new county in 1840, the smallest in New Jersey. Following the Civil War, Hudson County became a center of industry, home to giants in the soap, tobacco, light bulb, steel, oil, elevator, and engineering fields. Though claimed by New York City, the Statue of Liberty stands in New Jersey waters, on Hudson County's shores.
Past Lady Liberty and through Ellis Island came millions of immigrants over the next century, swelling the tiny county's population and packing it's ever more urbanized landscape. Hudson County became the gateway for generations of new Americans who toiled in the factories, rail lines and on the docks of industrial age America. Those waves of immigrants set the tone for a County that still proudly celebrates it diverse neighborhoods and a local cultural mosaic composed of more than a hundred nationalities.
Geography: Land and Water
According to the 2010 Census, the county had a total area of 62.31 square miles (161.4 km2), including 46.19 square miles (119.6 km2) of land (74.1%) and 16.12 square miles (41.8 km2) of water (25.9%). Based on land area, it is the smallest of New Jersey's 21 counties, less than half the size of the next smallest (Union County)] and the eighth-smallest of all counties in the United States.

Hudson is located in the heart of New York metropolitan area in northeastern New Jersey. It is bordered by the Hudson River and Upper New York Bay to the east; Kill van Kull to the south; Newark Bay and the Hackensack River or the Passaic River to the west; its only land border is shared with Bergen County to the north and west.

The topography is marked by the New Jersey Palisades in the north with cliffs overlooking the Hudson to the east and less severe cuesta, or slope, to the west. They gradually level off to the southern peninsula, which is coastal and flat. The western region, around the Hackensack and Passaic is part of the New Jersey Meadowlands. Much of the land along the county's extensive shoreline and littoral zone was created by land reclamation.

The highest point, at 260 feet (79 m) above sea level, is in West New York; the lowest point is at sea level.

Ellis Island and Liberty Island, opposite Liberty State Park, lie entirely within Hudson County's waters, which extend to the New York state line. Liberty Island is wholly part of New York. Largely created through land reclamation, Ellis Island covers a land area of 27.5 acres (11.1 ha), with the 2.74-acre (1.11 ha) natural island and contiguous areas comprising an 3.3 acres (1.3 ha) exclave of New York. Shooters Island, in the Kill van Kull, is also shared with New York. Robbins Reef Light sits atop a reef which runs parallel the Bayonne and Jersey City waterfront.


Much of the county lies between the Hackensack and Hudson Rivers on geographically long narrow peninsula, (sometimes called Bergen Neck), that is a contiguous urban area where it's often difficult to know when one's crossed a civic boundary. These boundaries and the topography-including many hills and inlets-create very distinct neighborhoods. Kennedy Boulevard runs the entire length of the peninsula. Numerous cuts for rail and vehicular traffic cross Bergen Hill.
Neighboring Counties
Bordering counties are as follows:
New York County, New York and Kings County, New York to the east
Essex County, New Jersey and Union County, New Jersey to west;
Richmond County, New York to the south;
Bergen County, New Jersey, the only one with which it shares a land border, to the north and west. Given its proximity to Manhattan, it is sometimes referred to as New York City's sixth borough.
Education
Colleges and universities are Hudson County Community College (HCCC), New Jersey City University (NJCU), Saint Peter's College, all in Jersey City, and Stevens Institute of Technology in Hoboken. The University of Phoenix and Rutgers University offer classes within the county. The Christ Hospital School of Nursing was established in 1890 and since 1999 has run a cooperative program with HCCC. In 2014 it will merge with the Bayonne Medical Center nursing school.

Each municipality has a public school district. All but two have their own public high schools. East Newark students attend Harrison High School and Guttenberg students attend North Bergen High School. Hudson County Schools of Technology is a public secondary and adult vocational-technical school with locations in North Bergen, Jersey City, Union City and Harrison. There are private and parochial elementary and secondary schools located throughout Hudson, many of which are members of the Hudson County Interscholastic Athletic Association.
---
Compare More Colleges and Universities

Find more schools to match to your needs.