Grant County, Wisconsin
Grant County Education, Geography, and History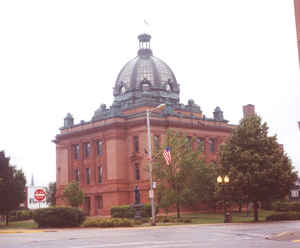 Grant County is a county located in the state of Wisconsin. Based on the 2010 census, the population was 51,208. Its county seat is Lancaster.

Grant County comprises the Platteville, WI Micropolitan Statistical Area. It is in the tri-state area of Illinois, Iowa, and Wisconsin
Etymology - Origin of Grant County Name
Grant County was named for a river of that name flowing into the Mississippi. The origin of the name of the stream is traditionary, being ascribed to "a trapper who had his cabin on its banks" -Wis. Hist. Colls., i, p. 112. The name was probably assigned during the English regime in Wisconsin (1763-96), when a number of Scotch and English traders made headquarters at Prairie du Chien, or at Cahokia, Illinois, and traded up and down the river. Among these was one James Grant (see Wis. Hist. Colls.., x, p. 503), a prominent Montreal merchant; see Id., xii, p. 65. The Indian appellation for the stream appears to have been "Shequak" see map in William H. Keating, Long's Expedition up the Mississippi (Philadelphia, 1824).
[Source: Kellogg, Louise Phelps. "Derivation of County Names" in Proceedings of the State Historical Society of Wisconsin for 1909, pages 219-231.]
Demographics:
County QuickFacts: CensusBureau Quick Facts
Grant County History
John W. Hunt's 1853 Wisconsin Gazetteer
"GRANT, County, is bounded on the northwest and north by the Wisconsin river, which separates it from Crawford and Richland, on the east by Iowa and Lafayette, on the south by the northern line of the State of Illinois, and on the southwest by the State of Iowa, from which it is separated by the Mississippi river. The eastern boundary extends north, on the 4th principal meridian, about 50 miles. The southern boundary on Illinois river is only about 10 miles, and its river coast is about 100 miles in length. The seat of justice is at Lancaster, near the centre of the county. Its principal streams are Grant, Big and Little Platte, Greene and Blue rivers. The surface of the country consists of a series of ridges, high rolling prairie and timbered lands. The ridges are filled with fissures, which are abundantly supplied with ores of zinc, lead, and occasionally copper. It is one of the best mineral counties in the State, and there is no other in which the soil is better adapted to the raising of wheat and corn. The county is well supplied with timber, and has many fine streams abounding in springs of pure water. It is said that there is neither lake, swamp, nor stagnant pool of water in the county. ... The population in 1838 was 2,763; 1840, 3,926; 1842, 5,937; 1846, 12,034; 1847, 14,016; 1850, 16,169; 2,861 dwellings, 707 farms, 78 manufactories."
GRANT.
From: Handbook of Wisconsin by S. Silas, 1855
pg. 71-73
Population 23,130; in 1850,16,169; increase 6,961.

This County is in the south-western corner of the State, and one of the oldest. The first settlers, after the Indian traders, located in this County, and its lands were the earliest surveyed and brought into market. In consequence, in accordance with law allowed to on page 11, all the lands, in that County are offered to settlers at 50 cents per acre. There has been, since that law went into effect, a very large sale of lands in that County, and consequently an increase of population. The largest portion of the public lands is in the northern part of the County. The lands are nearly all good, there being less marsh than in any other County in the State.

The first settlers of Grant were attracted there by its richness in mineral wealth. A large amount of lead is sent from this County, but in what quantities, there are no means of ascertaining accurately. In a recent letter, written by Dr. Percival, our State Geologist, who has been for some time a resident of that region, he states that it was difficult to ascertain either the amount of mineral raised, or of wheat grown, information which can only be fully obtained by a thorough examination by the census taker, our constitution requiring the census to be taken in 1855. He states further that the amount of produce raised is much larger this year than heretofore, the miner finding agriculture a more sure employment; but that there has been but little grain exported, the whole surplus being required to supply the immigrants into this and the Counties north.

A large portion of Grant County cannot be surpassed by any other portion of the State, either in the richness of the soil or beauty of its scenery. Unfortunately, either a desire for change, or a wish to seek other localities where they can for the present be nearer market, has induced many of the proprietors to offer their lands for sale. It presents, therefore, strong inducements to purchasers who wish to cultivate their own farms, nor is the time far distant when the lands of Grant County will bring a larger price than any other in its neighborhood.

Lancaster is the County Seat. Population, 1,614.

Platteville is a place of the largest business, and has a good Academy established some years since, which is under excellent management. Population of the Village, 1,425.
Geography: Land and Water
As reported by the Census Bureau, the county has a total area of 1,183 square miles (3,065 km2), of which, 1,148 square miles (2,973 km2) of it is land and 35 square miles (92 km2) of it (3.00%) is water.
Neighboring Counties
Bordering counties are as follows:
Crawford County, Wisconsin - north
Richland County, Wisconsin - northeast
Iowa County, Wisconsin - east
Lafayette County, Wisconsin - east
Jo Daviess County, Illinois - southeast
Dubuque County, Iowa - south
Clayton County, Iowa - west
Education
---
Compare More Colleges and Universities

Find more schools to match to your needs.