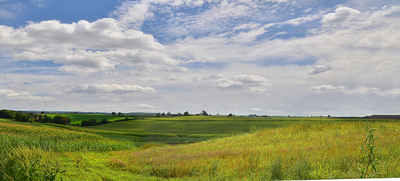 Wisconsin Counties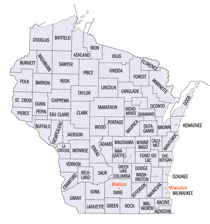 Click Image to Enlarge
Wisconsin Counties
There are seventy-two counties in the state of Wisconsin. Wisconsin became part of the Territory of Michigan and divided into two counties: Brown County in the northeast along Lake Michigan and Crawford County in the southwest along the Mississippi River. The state of Wisconsin was created from Wisconsin Territory on May 29, 1848, with 28 counties.
Wisconsin Counties: History and Information
Find a brief history of Wisconsin Counties
Wisconsin is one of the fifty United States of America, located in the north central part of the United States. It borders two of the five Great Lakes and four US states (Illinois, Iowa, Michigan and Minnesota). Wisconsin's capital is Madison, and its largest city is Milwaukee.
In 1634, the Frenchman Jean Nicolet was the first person to explore Wisconsin. He founded the Green Bay colony. During the next 150 years, the area was settled primarily by French fur traders. France then transferred the territory to Britain in 1763. The United States acquired the Wisconsin territory after the Revolution in 1783 but it remained under British administration until the War of 1812. The nineteenth century saw settlement by Yankees, Cornish miners, and German, Scandinavian and Swiss settlers.
Wisconsin, bordered by the states of Iowa, Minnesota, Michigan and Illinois, as well as Lakes Michigan and Superior, has been part of United States' territory since the end of the American Revolution; the Wisconsin Territory (which included parts of other current states) was formed on July 3, 1836. Wisconsin ratified its constitution on March 13, 1848, and was admitted to the Union on May 29, 1848, as the 30th state. There are 72 Counties in Wisconsin

A border dispute with Michigan was settled by two cases, both Wisconsin v. Michigan, in 1934 and 1935.
County
2000
Population
Square
Miles
County Seat
Created
Adams County
18,643
648
Friendship
1848
Ashland County
16,866
1,044
Ashland
1860
Barron County
44,963
863
Barron
1859
Bayfield County
15,013
1,476
Washburn
1845
Brown County
226,778
529
Green Bay
Buffalo County
13,804
684
Alma
1853
Burnett County
15,674
822
Siren
1856
Calumet County
40,631
320
Chilton
1836
Chippewa County
55,195
1,010
Chippewa Falls
1845
Clark County
33,557
1,216
Neillsville
1853
Columbia County
52,468
774
Portage
1846
Crawford County
17,243
573
Prairie Du Chien
Dane County
426,526
1,202
Madison
1836
Dodge County
85,897
882
Juneau
1836
Door County
27,961
483
Sturgeon Bay
1851
Douglas County
43,287
1,309
Superior
1854
Dunn County
39,858
852
Menomonie
1854
Eau Claire County
93,142
638
Eau Claire
1856
Florence County
5,088
488
Florence
1882
Fond du Lac County
97,296
723
Fond Du Lac
1836
Forest County
10,024
1,014
Crandon
1885
Grant County
49,597
1,148
Lancaster
1836
Green County
33,647
584
Monroe
1836
Green Lake County
19,105
354
Green Lake
1858
Iowa County
22,780
763
Dodgeville
1829
Iron County
6,861
757
Hurley
1893
Jackson County
19,100
987
Black River Falls
1853
Jefferson County
74,021
557
Jefferson
1836
Juneau County
24,316
768
Mauston
1856
Kenosha County
149,577
273
Kenosha
1850
Kewaunee County
20,187
343
Kewaunee
1852
La Crosse County
107,120
453
La Crosse
1851
Lafayette County
16,137
634
Darlington
1846
Langlade County
20,740
873
Antigo
1879
Lincoln County
29,641
883
Merrill
1874
Manitowoc County
82,887
592
Manitowoc
1836
Marathon County
125,834
1,545
Wausau
1850
Marinette County
43,384
1,402
Marinette
1879
Marquette County
15,832
456
Montello
1836
Menominee County
4,562
358
Keshena
1961
Milwaukee County
940,164
242
Milwaukee
1835
Monroe County
40,899
901
Sparta
1854
Oconto County
35,634
998
Oconto
1851
Oneida County
36,776
1,125
Rhinelander
1885
Outagamie County
160,971
640
Appleton
1851
Ozaukee County
82,317
232
Port Washington
1853
Pepin County
7,213
232
Durand
1858
Pierce County
36,804
576
Ellsworth
1853
Polk County
41,319
917
Balsam Lake
1853
Portage County
67,182
806
Stevens Point
1836
Price County
15,822
1,253
Phillips
1879
Racine County
188,831
333
Racine
1836
Richland County
17,924
586
Richland Center
1842
Rock County
152,307
720
Janesville
1836
Rusk County
15,347
913
Ladysmith
1901
Sauk County
55,225
838
Baraboo
1840
Sawyer County
16,196
1,256
Hayward
1883
Shawano County
40,664
893
Shawano
1853
Sheboygan County
112,646
514
Sheboygan
1836
St. Croix County
63,155
722
Hudson
1840
Taylor County
19,680
975
Medford
1875
Trempealeau County
27,010
734
Whitehall
1854
Vernon County
28,056
795
Viroqua
1851
Vilas County
21,033
873
Eagle River
1893
Walworth County
93,759
555
Elkhorn
1836
Washburn County
16,036
810
Shell Lake
1883
Washington County
117,493
431
West Bend
1836
Waukesha County
360,767
556
Waukesha
1846
Waupaca County
51,731
751
Waupaca
1851
Waushara County
23,154
626
Wautoma
1851
Winnebago County
156,763
439
Oshkosh
1840
Wood County
75,555
793
Wisconsin Rapids
1856
State Resources:
---