Wisconsin Famous People
Famous Americans: History and Biographies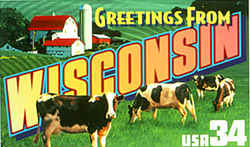 Links to histories and biographies of the famous people of Wisconsin. Many famous people of Wisconsin have made significant contributions to the history of our nation and the state of Wisconsin. These famous Americans, famous entertainers, famous players, famous scientist, famous singers, famous statesmen, famous women, heroes, great explorers, and others Wisconsin famous Americans have all made Wisconsin their home. This list includes Wisconsin historical figures, celebrities and those individuals of Wisconsin who have influenced the lives of others.
---
More Famous People of Wisconsin
Find more more Wisconsin famous people below. You may not even realize many of these famous people were born in Wisconsin or notable associated with Wisconsin, including actors, actresses, explorers, historical figures, inventors, musicians, novelists, professional athletes, important politicians, singers, sport stars and more.
Roy Chapman Andrews naturalist and explorer, Beloit
John Bardeen inventor, Madison
Ellen Corby actress, Racine
William Defoe actort, Appleton
Tyne Daly actress, Madison
Jeanne Dixon seer, Medford
Chris Farley actor, Madison
Zona Gale author, Portage
Woody Herman band leader, Milwaukee
Loretta Sell Hildegarde singer, Adell
Thomas Hulce actor, Whitewater
George F. Kennan diplomat, Milwaukee
Robert La Follette politician, Primrose
Allen Ludden tv host, Mineral Point
Alfred Lunt actor, Milwaukee
Frederic March actor, Racine
Jackie Mason comedian, Sheboygan
Charles and John Ringling circus entrepreneurs, Baraboo
Pat O'Brien actor, Milwaukee
Georgia O'Keeffe painter, Sun Prairie
Les Paul musician, Waukesha
Amy Pietz actress, Oak Creek
Charlotte Rae actress, Milwaukee
William H. Rehnquist jurist, Milwaukee
Gena Rowlands actress, Cambria
Spencer Tracy actor, Milwaukee
Bob Uecker baseball player, Milwaukee
Thorstein Veblen economist, Cato Township
Orson Welles actor and producer, Kenosha
Thornton Wilder author, Madison
Charles Winninger actor, Athen
Frank Lloyd Wright America's most famous architect; born in Richland Center, Wisconsin. Wright designed everything from banks and resorts, office buildings and churches, a filling station and a synagogue, a beer garden and an art museum. Some of his most famous structures include the Guggenheim Museum in New York City, Fallingwater, a private home in western Pennsylvania and the SC Johnson and Son Wax Company Administration Center in Racine, Wisconsin.