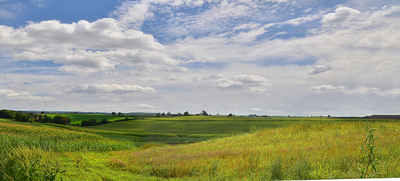 Wisconsin Counties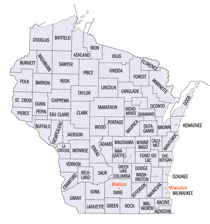 Click Image to Enlarge
Wisconsin Counties
There are seventy-two counties in the state of Wisconsin. Wisconsin became part of the Territory of Michigan and divided into two counties: Brown County in the northeast along Lake Michigan and Crawford County in the southwest along the Mississippi River. The state of Wisconsin was created from Wisconsin Territory on May 29, 1848, with 28 counties.
Manitowoc County, Wisconsin
Manitowoc County Education, Geography, and History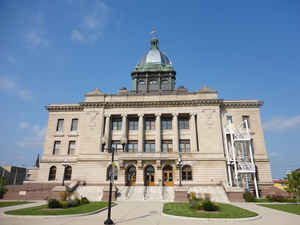 Manitowoc County is a county in the state of Wisconsin. Based on the 2010 census, the population was 81,442. Its county seat is Manitowoc. The county was created in 1836 prior to Wisconsin's statehood and organized in 1848.

Manitowoc County comprises the Manitowoc, WI Micropolitan Statistical Area.
Etymology - Origin of Manitowoc County Name
Manitowoc County takes its name from a small river within its boundaries. The origin of this Indian word is variously given. The first constituent, "manito," is conceded by all to be the Indian word for spirit, or mysterious influence; hence "spirit land," "devil's den," etc., have been assigned as its meaning; Wis. Hist, Colls., i, p. 117; iii, p. 337; Gannett, Place Names, p. 170.

Rev. E. P. Wheeler (Ms. in Society's library) gives its significance as "spirit woods;" which appears to be borne out by Henry R. Schoolcraft, who says it signifies "a standing or hollow tree that is under a mysterious influence.'' This would seem to point to the erection of a wooden cross on the banks of this river, allusion to which we find in the journal of Father J. B. Buisson St. Cosme, dated 1699-1700. He declares that such a cross was reared in this locality in the latter part of the seventeenth century. His words are: "the 4th of October we came to another small village of Poux [Potawatomi] on a little river where Rev. Father Marais had wintered with some Frenchmen and planted a cross"; J. G. Shea, Early Voyages (Albany, 1861), p. 50.
[Source: Kellogg, Louise Phelps. "Derivation of County Names" in Proceedings of the State Historical Society of Wisconsin for 1909, pages 219-231.]
Demographics:
County QuickFacts: CensusBureau Quick Facts
Manitowoc County History
Manitowoc County, created in 1836 as a territorial county, is named for the Chippewa word "munedoo-owk" meaning "the place of the good spirit." Located in northeast Wisconsin, the county seat is Manitowoc.
John W. Hunt's 1853 Wisconsin Gazetteer
"MANITOWOC, County, is bounded on the nortlh by Brown and Kewaunee, on the east and southeast by the State line in Lake Michigan, on the south by Sheboygan, and on the west by Calumet and a portion of Outagamie. The general formation of the surface is moderately undulating, and in some parts very agreeably diversified with hills and valleys. The soil is good and well watered, with springs and creeks, and is well adapted to tillage and grazing. The county is densely timbered with maple, oak, elm, birch, ash, pine, and hemlock. The population in 1840 was 235; 1842, 263; 1846, 629; 1847, 1,285; 1850, 3,713; at present estimated, 7,000. Dwellings, 16; farms, 37; and manufactories, 22."
MANITOWOC.--Population 13,050.
From: Handbook of Wisconsin by S. Silas, 1855
pg. 84-85
This County is situated on Lake Michigan and is at present the most northern County on the Lake, at whose ports any business is done. It is heavily timbered, and does a large business in pine lumber. There are several large saw mills on the Manitowoc River. Much of the land is yet in the hands of the Government, and is of a superior quality. It is well watered, produces good wheat, and its numerous streams furnish abundance of power.

Manitowoc, at the mouth of Manitowoc River, is the principal place of business, and is well located for future growth and prosperity. A rail road is chartered to run from this place to Menasha, at the foot of Lake Winnebago, is now building, and will be completed at a time not far in the future. The Green Bay and Lake Shore Rail Road diverges from the Lake to Green Bay at this point.

Twin Rivers is another thriving port, also engaged in the lumber trade, six miles north-east of Manitowoc.

This County lies in the Green Bay land district--office at Menasha.

Geography: Land and Water
As reported by the Census Bureau, the county has a total area of 1,494 square miles (3,869 km2), of which, 592 square miles (1,532 km2) of it is land and 902 square miles (2,337 km2) of it (60.40%) is water.
Neighboring Counties
Bordering counties are as follows:
Kewaunee County, Brown County: North
Lake Michigan: East
Sheboygan County: South
Calumet County: West


Education
---
Compare More Colleges and Universities

Find more schools to match to your needs.