Milwaukee County, Wisconsin
Milwaukee County Education, Geography, and History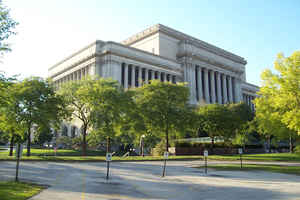 Milwaukee County is a county in the state of Wisconsin. Based on the 2010 census, the population was 947,735 and was estimated to be 956,406 in 2014. It is the most populous county in Wisconsin and the 45th most populous in the United States. Its county seat is Milwaukee, which is also the most populous city in the state. The county was created in 1834 as part of Michigan Territory and organized the following year.

Milwaukee County is included in the Milwaukee-Waukesha-West Allis, WI Metropolitan Statistical Area as well as the Milwaukee-Racine-Waukesha, WI Combined Statistical Area.
Etymology - Origin of Milwaukee County Name
Milwaukee received its name from the Indian word Millioke which means "The Good Land", or "Gathering place by the water." Another interpretation is "beautiful or pleasant lands".
Several competing explanations have been proposed. Milwaukee takes its name from the river, which had been the site of an Indian village since Wisconsin was first known to Europeans (for the variations in spelling see H. E. Legler, "Wisconsin Place Names," in Wisconsin Academy of Sciences, Arts, and Letters Transactions, xiv, p. 24). Legler declares that this word means "council place." The majority of authorities appear to consider it equivalent to "good land" (see Wis. Hist. Colls., iii, pp. 290, 337; xii, p. 393; Handbook, p. 863. See also D. H. Kelton, Annals of Fort Mackinac (ed. of 1884), p. 150). It was apparently pronounced by Indians as "Meneawkee" or "Mahnawaukee," probably a Potawatomi word meaning "a rich beautiful land." Early Wisconsin settler Joshua Hathaway inclined to the belief that the final name was derived from the blending of two words, "Mellioke," the old name of the river, and "Mahn-a-waukke," the gathering place. Many spellings were given to the city's name until, in 1844, it officially became "Milwaukee." It is generally regarded as of Potawatomi origin, meaning "fine land." It was known to have been an Indian council place, the chosen spot believed to have been rising ground in the vicinity of modern Wisconsin Ave. and Fifth St.
[Source: Sheboygan Daily Press, March 19, 1936; Milwaukee Journal, Oct 30, 1921; Milw. Public Museum Bull 6:399; Milwaukee Journal, Nov. 16, 1926; Proceedings of the State Historical Society of Wisconsin, 1909:219-231.]
Demographics:
County QuickFacts: CensusBureau Quick Facts
Milwaukee County History
Milwaukee County, created in 1834 as a territorial county, is derived from a Native American word "Mahnawaukee-Seepe" meaning "gathering place by the river." Located in southeast Wisconsin, the county seat is Milwaukee.

Description from John W. Hunt's 1853 Wisconsin Gazetteer: "MILWAUKEE, County, is bounded on the north by Washington, east by the State line, south by Racine, and west by Waukesha. It was established and set off from Brown, Sept. 6, 1834, and fully organized. The seat of justice is established at the city of Milwaukee. This county was originally covered with a heavy growth of hard timber. The soil is good and well adapted to the raising of grain and to gardening. The streams are the Milwaukee, Menomonee, and Root rivers and Oak creek. "
[Source: Hunt, John W. Wisconsin Gazetteer (Madison, 1853)]
MILWAUKEE.--Population 46,067.
From: Handbook of Wisconsin by S. Silas, 1855
pg. 86-88
Is one of the smallest Counties, and depends upon its commerce more than its agriculture or manufacturers. It has been densely wooded with hard timber, and at least one half of its surface is yet covered with it. Every foot of public land is of course long since taken up, and the majority of the farms are small and well tilled.

Milwaukee, the County Seat, is the largest city in the State, and through this port a great part of the exports and imports pass. From it lead out the Milwaukee and Mississippi Rail Road, now completed to Madison, with a branch to Janesville--the Watertown, completed to Watertown, and partly graded to Columbus, to be continued to Portage or some other point on the Wisconsin--the La Crosse and Milwaukee, running to Hartford and nearly completed to Beaver Dam--and the Lake shore from Chicago to Milwaukee. Other Roads, either tributary to these or independent lines, are under way, which is fast rendering this city the centre of a large Rail Road system. No place in the west has combined so completely, healthiness of location, abundant water power, facilities of manufacture, and equal agricultural lands in its immediate vicinity.

A larger amount of wheat, by 360,000 bushels, was shipped from this port during 1854 than from any other port on the Lakes, and this difference will be increased during 1855 by over 1,000,000 bushels. The wheat of Wisconsin is from 3 to 5 cents more per bushel than that raised farther south, on account of its superior quality, which fact will always secure to this port the pre-eminance of being the largest wheat shipping one in the west.

Geography: Land and Water
As reported by the Census Bureau, the county has a total area of 1,190 square miles (3,081 km2), of which, 242 square miles (626 km2) of it is land and 948 square miles (2,456 km2) of it (79.70%) is water.
Neighboring Counties
Bordering counties are as follows:
Ozaukee County - north
Racine County - south
Waukesha County - west
Washington County - northwest
Education
---
Compare More Colleges and Universities

Find more schools to match to your needs.