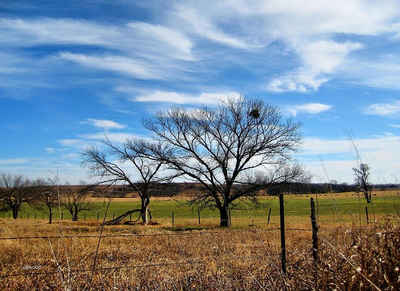 State Economy
The United States is one of the largest and most technologically developed countries in the world. The Gross Domestic Product of the country in terms of purchasing power parity of the country has reached at $12.36 trillion (2005 est.). A central feature of the US economy is a reliance on private decision-making ("economic freedom") in economic decision-making. This is enhanced by relatively low levels of regulation, taxation, and government involvement, as well as a court system that generally protects property rights and enforces contracts.
Oklahoma Economy
Agriculture and Industry in Oklahoma
Oklahoma economy is a set of human and social activities and institutions related to the production, distribution, exchange and consumption of agriculture and industry goods and services. The balance between Oklahoma various economic sectors differs largely between various regions and other states in the US.
Oklahoma's real gross state product in 2012 was estimated to be $138,296 which was $49,144 and 26% lower than the national state average, $187,440. Oklahoma has the 29th highest GSP out of the 50 states.
Agriculture is an important industry in the state of Oklahoma. Historically, cotton was the leading cash crop, but this has been succeeded by wheat. Other leading crops include hay, peanuts, sorghum, and soybeans.
Livestock and livestock products make up the majority of Oklahoma's yearly farm income. Most of the state's cattle ranches are concentrated in the Panhandle and northern portions of Oklahoma. Poultry and hogs are also significant sources of income, and are raised primarily in the eastern half of the state.
Mineral wealth is great throughout the state. Petroleum, including oil and natural gas, has been a major income-producing product for Oklahoma since 1888 when the first oil well was drilled. The state also mines large deposits of gypsum, iodine, coal, granite and limestone.
Chief manufactured products include industrial machinery, transportation equipment, fabricated metal products, electronic equipment and processed foods. The state's two major industrial and transportation centers are Tulsa and Oklahoma City.
Each year, millions of visitors from out-of-state visit Oklahoma to enjoy the state's 57 state parks, Indian villages, and historic sites. Numerous reservoirs through the state provide many recreational opportunities for tourists.
Oklahoma Agriculture:
Cattle, wheat, milk, poultry, cotton.
Oklahoma Industry:
Transportation equipment, machinery, electric products, rubber and plastic products, food processing.
Oklahoma is a major fuel and food-producing state. Thousands of oil and natural gas wells dot the Oklahoma landscape. Millions of white-faced beef cattle graze on Oklahoma's flat plain and low hills. Fertile fields produce vast crops of wheat. Its agricultural outputs are cattle, wheat, milk, poultry, and cotton. Oklahoma ranks fourth in the nation in the production of all wheat, fourth in cattle and calf production; fifth in the production of pecans; sixth in peanuts and eight in peaches. Its industrial outputs are transportation equipment, machinery, electric products, rubber and plastic products, and food processing. Its 1999 total gross state product was $86 billion, placing it 29th in the nation. Its 2000 per capita personal income was $23,517, 43rd in the nation. Oklahoma City suburb Nichols Hills is ranked first on Oklahoma locations by per capita income at $73,661.

Oklahoma City is the principal economic engine of the state, centered on the finance, retail, governance, entertainment, and tourism sectors. The city has numerous manufacturing and processing plants as well as a growing biotech research and health center. Oklahoma City has a large aviation market and its location at the intersection of I-35, I-40, and I-44 makes Oklahoma City an important distribution and shipping point.

Oklahoma City is home to many corporate and regional headquarters including Devon, Chesapeake Energy, Kerr-McGee, Six Flags, Sonic, SBC, The Hertz Corporation, BancFirst, OGE Energy, Bank of Oklahoma, Hobby Lobby, Dobson Communications, Express Personnel Services, Oklahoma Publishing Company, Globe Life and Accident Insurance, AOL, and Big Daddy's BBQ Sauce.

Tulsa is centered around energy, aerospace and telecommunications and the city has the nation's most inland waterport, the Tulsa Port of Catoosa. Companies based in Tulsa include The NORDAM Group, BOK Financial Corporation (BOKF), Williams, Oneok, Wiltel, QuikTrip, Mazzio's Corporation, Dollar-Thrifty, and Vanguard. Other employers include MCI, TV Guide, SBC Communications, Dish Network, DirecTV, USCellular, Cingular, and Onex. Tulsa is also home to an American Airlines maintenance center, the largest airline maintenance base in the world.


.
---