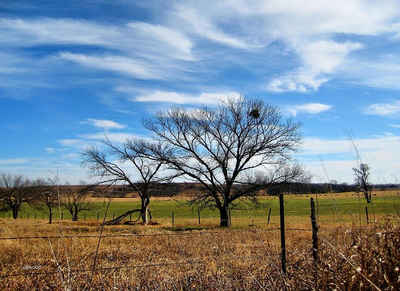 Oklahoma Counties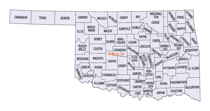 Click Image to Enlarge
Oklahoma Counties
There are seventy-seven counties in Oklahoma. Oklahoma originally had seven counties when it was first organized as the Oklahoma Territory. These counties were designated numerically, first through seventh. New counties added after this were designated by letters of the alphabet. The first seven counties were later renamed. The Oklahoma Constitutional Convention named all of the counties that were formed when Oklahoma entered statehood in 1907. Only two counties have been formed since then

Oklahoma Counties: History and Information
Find a brief history of Oklahoma Counties
When Oklahoma Territory was established in 1890 seven counties were outlined and were designated first, second, third, fourth, fifth, sixth and seventh respectively. Thereafter as other counties were added, when additional lands were thrown upon to settlement, they were designated by the letters of the alphabet. Later on, by vote of the people, county names were adopted.
The first seven counties, designated by numbers, later took the following names: Logan, Cleveland, Oklahoma, Canadian, Kingfisher, Payne and Beaver.
When the Kiowa-Comanche and Wichita-Caddo Reservations were opened to settlement in 1901, the Secretary of the Interior caused the boundaries of the three counties to be defined and their names assigned by executive proclamation.
The Constitutional Convention named all of the counties which were formed from that part of the state of Oklahoma which was included in the Indian Territory together with several new counties which were formed from portions of Oklahoma Territory. Two new counties have been formed and named since the state was admitted to the Union.
County
2000
Population
Square
Miles
County Seat
Created
Adair County
21,038
576
Stilwell
1907
Alfalfa County
6,105
867
Cherokee
1907
Atoka County
13,879
978
Atoka
1907
Beaver County
5,857
1,814
Beaver
1890
Beckham County
19,799
902
Sayre
1907
Blaine County
11,976
929
Watonga
1895
Bryan County
36,534
909
Durant
1907
Caddo County
30,150
1,278
Anadarko
1891
Canadian County
87,697
900
El Reno
1890
Carter County
45,621
824
Ardmore
1907
Cherokee County
42,521
751
Tahlequah
1907
Choctaw County
15,342
774
Hugo
1907
Cimarron County
3,148
1,835
Boise City
1907
Cleveland County
208,016
536
Norman
1890
Coal County
6,031
518
Coalgate
1907
Comanche County
114,996
1,069
Lawton
1907
Cotton County
6,614
637
Walters
1912
Craig County
14,950
761
Vinita
1907
Creek County
67,367
956
Sapulpa
1907
Custer County
26,142
987
Arapaho
1891
Delaware County
37,077
741
Jay
1907
Dewey County
4,743
1,000
Taloga
1892
Ellis County
4,075
1,229
Arnett
1907
Garfield County
57,813
1,058
Enid
1895
Garvin County
27,210
809
Pauls Valley
1907
Grady County
45,516
1,101
Chickasha
1907
Grant County
5,144
1,001
Medford
1895
Greer County
6,061
639
Mangum
1890
Harmon County
3,283
538
Hollis
1909
Harper County
3,562
1,039
Buffalo
1905
Haskell County
11,792
577
Stigler
1907
Hughes County
14,154
807
Holdenville
1907
Jackson County
28,439
803
Altus
1907
Jefferson County
6,818
759
Waurika
1907
Johnston County
10,513
645
Tishomingo
1907
Kay County
48,080
919
Newkirk
1895
Kingfisher County
13,926
903
Kingfisher
1890
Kiowa County
10,227
1,015
Hobart
1891
Latimer County
10,692
722
Wilburton
1907
Le Flore County
48,109
1,586
Poteau
1907
Lincoln County
32,080
959
Chandler
1891
Logan County
33,924
745
Guthrie
1891
Love County
8,831
515
Marietta
1907
Major County
7,545
957
Fairview
1909
Marshall County
13,184
371
Madill
1907
Mayes County
38,369
656
Pryor
1907
McClain County
27,740
570
Purcell
1907
McCurtain County
34,402
1,852
Idabel
1907
McIntosh County
19,456
620
Eufaula
1907
Murray County
12,623
418
Sulphur
1907
Muskogee County
69,451
814
Muskogee
1907
Noble County
11,411
732
Perry
1897
Nowata County
10,569
565
Nowata
1907
Okfuskee County
11,814
625
Okemah
1907
Oklahoma County
660,448
709
Oklahoma City
1891
Okmulgee County
39,685
697
Okmulgee
1907
Osage County
44,437
2,251
Pawhuska
1907
Ottawa County
33,194
471
Miami
1907
Pawnee County
16,612
570
Pawnee
1897
Payne County
68,190
686
Stillwater
1890
Pittsburg County
43,953
1,306
McAlester
1907
Pontotoc County
35,143
720
Ada
1907
Pottawatomie County
65,521
788
Shawnee
1891
Pushmataha County
11,667
1,397
Antlers
1907
Roger Mills County
3,436
1,142
Cheyenne
1895
Rogers County
70,641
675
Claremore
1907
Seminole County
24,894
632
Wewoka
1907
Sequoyah County
38,972
674
Sallisaw
1907
Stephens County
43,182
877
Duncan
1907
Texas County
20,107
2,037
Guymon
1907
Tillman County
9,287
872
Frederick
1907
Tulsa County
563,299
570
Tulsa
1907
Wagoner County
57,491
563
Wagoner
1907
Washington County
48,996
417
Bartlesville
1907
Washita County
11,508
1,004
Cordell
1897
Woods County
9,089
1,287
Alva
1893
Woodward County
18,486
1,242
Woodward
1907
---