Oklahoma Famous People
Famous Americans: History and Biographies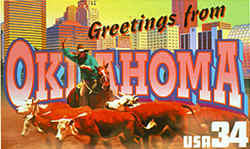 Links to histories and biographies of the famous people of Oklahoma. Many famous people of Oklahoma have made significant contributions to the history of our nation and the state of Oklahoma. These famous Americans, famous entertainers, famous players, famous scientist, famous singers, famous statesmen, famous women, heroes, great explorers, and others Oklahoma famous Americans have all made Oklahoma their home. This list includes Oklahoma historical figures, celebrities and those individuals of Oklahoma who have influenced the lives of others.
Troy Aikman (1966 - ) Football player who led the Dallas Cowboys to 3 Super Bowl titles (1992,93,95); lived in Henryetta.
Johnny Bench, born in Oklahoma City in 1947, is considered to be one of baseball's greatest catchers. He played for the Cincinnati Reds between 1967 and 1983, pioneered the technique of one-handed catching, and hit 389 career home runs during his career. Bench received the Most Valuable Player Award in 1970 and 1972. In 1989 he was elected to the Baseball Hall of Fame.
Garth Brooks (1962 - ) Famous Country/Western singer who has sold over 104 million albums; born in Tulsa.
Jeremy Castle (1974 - ) Country music singer/songwriter; born in Oklahoma City, raised in Blanchard.
L. Gordon Cooper Jr. (1927 - ) Astronaut; born in Shawnee.
John Hope Franklin (1915 - ) Author, born in Rentiesville.
James Garner (1928 - ) Famous actor; born in Norman.
Vince Gill (1957 - ) Famous singer; born in Norman.
Woody Guthrie (1912 - 1967) was born in Okemah, Oklahoma. He was a prolific American folk music composer and performer who wrote more than 1,000 songs. His legacy of music, ballads, prose, and poetry reflects the most significant events of the 20th century including the Great Depression, the Great Dust Storm, World War II, and the Cold War.
Paul Harvey (1918 - ) Broadcaster; born and raised in Tulsa.
Toby Keith (1961 - ) Famous Country Western Singer; born in Clinton.
Jeane Kirkpatrick, political scientist and government official, was born in Duncan, Oklahoma in 1926. She was a college professor and Democratic Party activist, but changed parties due to her opposition to President Carter's foreign policies. In 1981, she became the American ambassador to the United Nations. She returned to university teaching in 1985.
Mickey Mantle (1931 - 1995) Baseball player. He was a star player for the New York Yankees; born in Spavinaw.
Reba Nell McEntire (born March 28, 1955) is an American country music singer, songwriter and actress. Reba Nell McEntire was born on March 28, 1955, in McAlester, Oklahoma. She began her career in the music industry as a high school student singing in the Kiowa High School band, on local radio shows with her siblings, and at rodeos. While a sophomore in college, she performed the National Anthem at the National Rodeo in Oklahoma City and caught the attention of country artist Red Steagall. He brought her to Nashville, Tennessee, where she signed a contract with Mercury Records a year later in 1975. She released her first solo album in 1977 and released five additional studio albums under the label until 1983. Signing with MCA Nashville Records, McEntire took creative control over her second MCA album, My Kind of Country (1984), which had a more traditional country sound and produced two number one singles: "How Blue" and "Somebody Should Leave". The album brought her breakthrough success, bringing her a series of successful albums and number one singles in the 1980s and 1990s.
Chuck Norris (1940 - ) Famous martial arts star and action movie star; born in Ryan.
Patti Page (1927 - ) Famous singer; born in Claremore.
Brad Pitt (1963 - ) Actor, famous for movies such as Legends of the Fall, Seven Years in Tibet and Meet Joe Black; born in Shawnee.
Alice Mary Robertson (1854-1931) Educator and social worker. She was the first woman from Oklahoma to be elected to the US House of Representatives (1921-1923).
Will Rogers (1879-1935) was born in Oologah, Indian Territory, now part of Oklahoma. He was a cowboy, actor, writer, and humorist, appearing in vaudeville, Broadway musicals, numerous movies, and the Ziegfield Follies. Best known for his unique wit and homespun philosophy, Rogers also worked as a syndicated newspaper columnist, and was a presidential candidate in 1928.
Blake Shelton (1976 - ) Famous Country/Western singer; grew up in Ada.
Maria Tallchief (1925 - ) Classical dancer and prima ballerina for the New York City Ballet; born in Fairfax.
James Francis "Jim" Thorpe (1888 - 1953) An Olympic champion and professional football legend; born near Prague.
---
More Famous People of Oklahoma
Find more more Oklahoma famous people below. You may not even realize many of these famous people were born in Oklahoma or notable associated with Oklahoma, including actors, actresses, explorers, historical figures, inventors, musicians, novelists, professional athletes, important politicians, singers, sport stars and more.
John Berryman poet, MacAlester
Iron Eyes Cody Cherokee actor
Ralph Ellison writer, Oklahoma City
Owen K. Garriott astronaut, Enid
Vince Gill singer, Norman
Chester Gould cartoonist, Pawnee
Ike,Taylor, Zac Hanson music, Tulsa
Roy Harris composer, Lincoln Cty
Van Heflin actor, Walters
Tony Hillerman author, Sacred Heart
Ron Howard actor, director, Duncan
Karl Guthe Jansky engineer, Norman
Ben Johnson actor, Pawhuska
Jennifer Jones actress, Tulsa
Shannon Lucid astronaut, Bethany
Mickey Charles Mantle baseball player, Spavinaw
Shannon Miller Olympic gymnast, Edmond
Bill Moyers journalist, Hugo
Daniel Patrick Moynihan N.Y. senator, Tulsa
Tony Randall actor, Tulsa
Oral Roberts evangelist, Ada
Dale Robertson actor, Oklahoma City
Dan Rowan comedian, Beggs
Robert Stemmons whistler, Tulsa
Jeanne Tripplehorn actress, Tulsa
Ted Shackleford actor, Tulsa
Wilma Mankiller Cherokee chief, Tahlequah