Idaho Famous People
Famous Americans: History and Biographies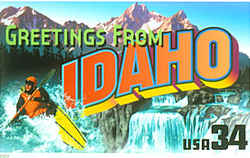 Links to histories and biographies of the famous people of Idaho. Many famous people of Idaho have made significant contributions to the history of our nation and the state of Idaho. These famous Americans, famous entertainers, famous players, famous scientist, famous singers, famous statesmen, famous women, heroes, great explorers, and others Idaho famous Americans have all made Idaho their home. This list includes Idaho historical figures, celebrities and those individuals of Idaho who have influenced the lives of others.
Joseph Albert "Joe" Albertson (October 17, 1906 - January 20, 1993) was the founder of the Albertsons chain of grocery stores and a notable philanthropist. Albertson was born in Yukon, Oklahoma Territory. He was one of four sons born to Rhoda and Earl Albertson. Before he was three, the family moved to Caldwell, Idaho, in 1909, where Joe grew up.(1907 - 1993) Grocery chain founder, opened his first grocery store in Boise.
Ezra Taft Benson (1899 - 1994) Former secretary of Agriculture, prophet of the LDS church; born in Whitney.
Gutzon Borglum (1867 - 1941) Born near Bear Lake, Idaho, the son of Danish immigrants, Gutzon may have learned his love of sculpting from his father who was a woodcutter. Borglum is best known for his work designing and working on the massive sculptures of Mount Rushmore, although he also did other pieces including a sculpture of the apostles for the cathedral of St. John the Divine in New York City, and a head of Abraham Lincoln that is now displayed in the Capitol Rotunda in Washington D.C. Although Borglum worked for 14 years on Mount Rushmore, he died before it was completed. The work was finished by his son, Lincoln, seven months later.
Lou Dobbs - Anchor and managing editor of CNN's Lou Dobbs Moneyline; grew up in Rupert.
Fred Dubois (1851 - 1930) Senator, born in Crawford County.
Bill Fagerbakke (born October 4, 1957) is an American actor and voice actor. Fagerbakke, who stands at 6 ft 6 in (1.98 m), was born in Fontana, California, and moved to Rupert, Idaho, as a youth. He is best known for his long-running-roles as Patrick Star in the animated series SpongeBob SquarePants and Michael "Dauber" Dybinski on the sitcom Coach. To date, he has also appeared in 11 episodes of the sitcom How I Met Your Mother as Marshall Eriksen's father Marvin.
Philo T. Farnsworth (1906 - 1971) Inventor of television. He first came up with the idea when he was only 14 years old. Emigrated to Rigby in 1919 at the age of 11.
Harmon Killebrew (1936 - )Played baseball for the Minnesota Twins and was elected into the Baseball Hall of Fame; born in Payette.
Patrick Francis McManus (born August 25, 1933 raised in Sandpoint, Idaho) is an American humor writer, who primarily writes about the outdoors. A humor columnist for Outdoor Life, Field & Stream, and other magazines, his columns have been collected in several books, beginning with A Fine and Pleasant Misery (1978) up through The Horse in My Garage and Other Stories (2012).
Ezra Pound (1885 - 1972) Born in Hailey, Idaho, Pound earned a degree from Hamilton College and then traveled abroad where he became interested in Japanese and Chinese poetry. He is considered to be a leader in the 20th century poetry, particularly the movement called "imagism," which stressed economy of language and ignored poetic conventions like rhyme and meter. He also became involved in Fascist politics in the 1920s, and was eventually arrested for treason against the United States and declared mentally ill. He finally won release from the hospital and lived the remainder of his life in Italy.
Paul Revere (1938 - ) Musician, raised in Caldwell.
Sacagawea (c. 1788 - December 20, 1812), also Sakakawea or Sacajawea, was a Lemhi Shoshone woman. Born in Eastern Idaho, Sacagawea was the daughter of a Shoshone chief, but was kidnapped by the Hidatsa tribe when she was about 10 years old. From there, she was purchased by a French Canadian trapper who made her his wife. The explorers Lewis and Clark hired the trapper, named Toussaint Charbonneau, as a guide and interpreter on their expedition in 1804. While on the expedition, Sacagawea gave birth to her first child and carried the child on a cradleboard throughout their travels. During the trip, Sacagawea was asked to serve as an interpreter for a group of Shoshone Indians, and discovered that the leader of the group was her older brother, now the chief. When the expedition came to an end, Charbonneau's services were no longer required, and no one really knows what happened to Sacagawea. Some say she died in an epidemic in 1812, and others believe she eventually rejoined the Shoshone and died there in 1884. Her image now appears on the U.S. one dollar coin.
Picabo Street (1971 - ) Born in Triumph, Idaho, this two-time Olympic medalist skier with the unconventional name came from an unconventional family. In fact, her parents believed that a child should be able to choose her own name, so for the first two years of her life, they called her "Little Girl." It was only when her parents tried to get a passport for her to travel to Mexico when she was two that US officials insisted that they give her a "real name." They chose "Picabo" after a village in Idaho (the word means "Shining Water" in a Native American language), but told Picabo she could change her name if she wanted to... she decided to keep it. When Picabo was 16, she won the National Junior Alpine Ski Championship and in 1994, she won a silver medal in downhill skiing at the Winter Olympics in Norway. Four years later, she won a gold medal at the Winter Olympics in Nagano, Japan, just months after a severe knee injury in a ski accident.
Julia Jean "Lana" Turner (February 8, 1921 - June 29, 1995) was an American film and television actress. Discovered and signed to a film contract by Metro-Goldwyn-Mayer at the age of sixteen, Turner first attracted attention in They Won't Forget (1937). Born in Wallace, Idaho, Lana Turner was "discovered" while drinking soda at a Hollywood café. She signed with MGM and became a celebrated film actress and movie sex symbol. Married seven times, Turner was romantically connected to numerous actors. In 1958, Turner's daughter stabbed gangster Johnny Stompanato, but it was judged justifiable homicide. Turner died in Century City, California, on June 29, 1995.
---
More Famous People of Idaho
Find more more Idaho famous people below. You may not even realize many of these famous people were born in Idaho or notable associated with Idaho, including actors, actresses, explorers, historical figures, inventors, musicians, novelists, professional athletes, important politicians, singers, sport stars and more.