Idaho State Gem or Stone
Star Garnet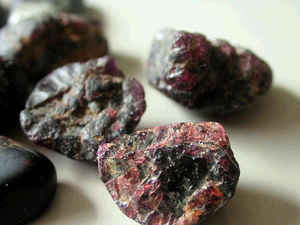 (Quartz)
Adopted on February 25, 1967.
Adopted by the 1967 legislature as Idaho official state stone, or state gem, the Idaho Star Garnet, (Quartz,) is known worldwide by collectors. Garnets are complex silicates, related to Quartz, and found almost exclusively in Idaho in Latah and Benewah counties. Star Garnets are a natural stone, not synthetically produced. Star Garnet, Idaho's state gem, comes from only two places in the world: India and Northern Idaho near St. Maries. The Idaho State Forestry Service sponsors a fee digging site at Emerald Creek, in the St. Joe National Forest, off State Highway 3, about 10 miles east of Clarkia, in Latah County.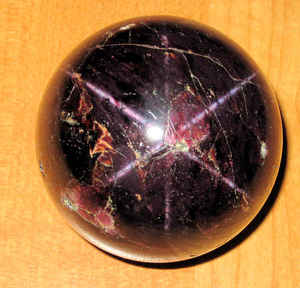 Shown below is the "Star of Idaho" - reported to be 3322 carats and the world's largest six-rayed star garnet.
Star garnets are mined in a few places around the world. However, the six-ray star garnet can be found in only two locations: near Clarkia, Idaho, and in India. These semi-precious gems were formed by tremendous pressure during the Jurassic Period.
Alluvial deposits of almandite garnet were discovered in the early 1880's near Fernwood in Benewah County, but commercial gem and industrial mining did not start until the early 1940's. The deposits are on Emerald, Carpenter, and Meadow Creeks about 6.4 km from a mica-garnet schist formation. The garnet-bearing gravels are about 1 m to about 1.2 m thick and contain 8% to 15% garnet. These deposits are the basis of the largest industrial garnet mine in the nation and also produce gem garnet. Additionally, star garnets are produced from the placers of Purdue Creek in Latah County.
Star Garnets are more rare than either Star Rubies or Star Sapphires. Normally the star in the Idaho Garnet has four rays, but occasionally one has six rays as in a Sapphire. The color is usually dark purple or plum and the star seems to glide or float across the dark surface. The star is caused by intrusions of the mineral rutile.
Garnet forms from a whole family of minerals: aluminum, calcium, chromium, silicon, oxygen, magnesium, manganese, iron, and vanadium, into several classifications of garnet. The Almandine or almandite garnet when included with pyroxene or amphibole creates a chatoyance that yields four and occasionally six ray stars. Idaho's deposits also are the only ones in the world, besides India, that produces significant amounts of star garnets. These Almandine or almandite garnets are translucent, purplish-red stones that show four- or six-ray stars when cabochon cut, or are transparent, deep red stones that can be faceted. The asterism is the result of silky rutile inclusions. Star garnet can be differentiated from other garnet by the silk inclusions. There is not much garnet of this quality left In Idaho or India either.
Gem-quality garnets also are produced commercially from an area of the Little North Fork and North Fork of the Clearwater River in Clearwater County. They range from purplish rose-red to a highly prized "special pink." Gem-quality garnets occur at a number of other locations in Idaho and are periodically mined by hobbyists or professional collectors for the gemstone market.
JANUARY Birthstone: Garnet: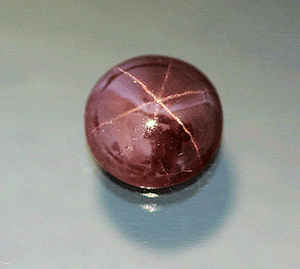 Garnet is the birthstone for January, and is also the accepted anniversary gemstone for the 2nd year of marriage. The gemstone's resemblance to pomegranate seeds earned its name, from the Latin word for the crimson fruit, granatum. Its deep red color symbolizes passionate devotion, friendship, vitality, and balance. Garnet, derived from the word granatum, means seed, and is called so because of the gemstone's resemblance to a pomegranate seed.
The gemstone dates back to 3100 BC, when the Egyptians used garnets as inlays jewelry. Legend holds that Noah hung a large garnet in the ark for illumination. It reportedly also gives its wearer guidance in the night, protection from nightmares, and according to Egyptians, is an antidote for snakebites and food poisoning. Garnets are durable and brilliant and the most popular color of a garnet is reddish-brown, it comes in other colors such as purple, pink, violet, green, yellow, orange, red, brown, black, and even colorless.
Idaho Session Laws
State Gem
Idaho Session Laws, 1967, page 56.
AN ACT, ESTABLISHING THE STAR GARNET AS THE OFFICIAL STATE STONE, OR STATE GEM, OF THE STATE OF IDAHO.
Be It Enacted by the Legislature of the State of Idaho:
Section 1. The star garnet is hereby declared to be the official state stone, or state gem, of the State of Idaho.
Approved February 25, 1967.
Idaho Laws
The law designating the star garnet as the official Idaho state stone or state gem is found in the Idaho Statutes TITLE 67 STATE GOVERNMENT AND STATE AFFAIRS, CHAPTER 45, STATE SYMBOLS, Section 67-4505.
TITLE 67
STATE GOVERNMENT AND STATE AFFAIRS
CHAPTER 45
STATE SYMBOLS
67-4505. STATE GEM DESIGNATED. The star garnet is hereby declared to be the official state stone, or state gem, of the state of Idaho.

History:
[67-4505, added 1967, ch. 33, sec. 1, p. 56.]
---